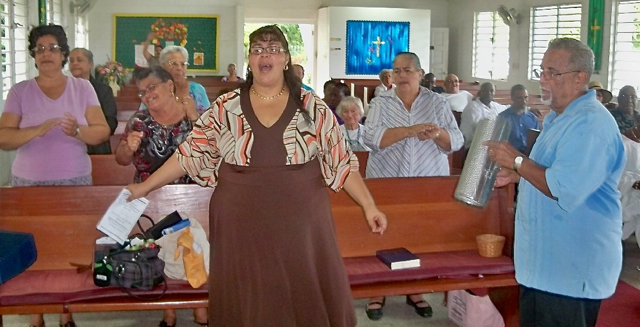 In years gone by, people in the Virgin Islands got down on their knees and offered prayers of thanksgiving and praise after making it through another hurricane season unscathed. Now church groups are reviving the custom.
Following service Sunday at the St. Croix Reformed Church, a bespectacled, white haired gentleman who has seen many storm seasons come and go, said Hurricane Thanksgiving Day used to be a very solemn day. He recalled that when he was a youngster the children weren't even allowed to play and carry on during the day or they would be in trouble.
Prayers, praise, and thanksgiving are important when you have made it safely through a hurricane.
Hurricane Thanksgiving Day was a territorywide holiday observed the third Monday in October, one half of a pair of days marking the season with prayer. At the beginning of the season, Hurricane Supplication Day was traditionally held the fourth Monday in July with people praying for a safe season. Government workers had the days off with pay until 1999, when Gov. Charles Turnbull eliminated the government holiday due to budget restraints.
The Rev. Ronald Walker of Word of Faith International Christian Center on St. Thomas, said when he moved to St. Thomas in 1997 he noticed people weren't going to church or giving thanks to God on the day off.
"They weren't praying; they were going to the beach," Walker said. "The Lord placed on my heart to give glory for a safe season. As long as I'm living here I'm not going to see a hurricane or an earthquake." He believes prayers have kept St. Thomas safe.
"In 1998 Hurricane George leaped over St. Thomas and landed on Puerto Rico," Walker said. "It was a close one."
In 1998 he organized what he calls "Peace be Still Season," a thanksgiving, praise and worship day held at Emancipation Garden on St. Thomas. He said they generally draw about 150 to 200 people of all denominations that join the praise and worship service. He gives a sermon and there is dancing and singing led by the Word of Faith Praise Team.
Walker said he wants to sound the alarm that the service is open to everyone. The thanksgiving service will be Oct. 20 from 6:30 to 8:30 p.m.
He added most local churchgoers normally pray daily and Sundays for a safe season. "Prayers move God and God moves the mountain," Walker added.
On St. Croix, the Interfaith Coalition hosts a Hurricane Thanksgiving Breakfast and Prayer Service on Veteran's Day.
Tahirah Abubakr, president of the coalition, said the coalition has a breakfast on Veteran's Day so more people can attend on their day off. The coalition has held the breakfast for about two dozen years. Attendance fluctuates, she said, and the organizers would like to see more young people attend. Organizers are working on plans to get youth involved with music at the service.
Abubakr said they serve a traditional Crucian breakfast and ask for a freewill offering. It will be from 9 to 11 a.m. on Nov. 11. They have not yet determined where it will held, but the location will be announced soon.
The coalition was started in 1989 by a group of ministers after Hurricane Hugo devastated St. Croix. The ministers coordinated efforts to help repair homes, get information in and out, and supplies and materials in.
The coalition is an organization that brings the community together through a brotherhood of faiths, including Christians, Muslims, Bahá'ís, Jews, Mormons, Buddhists, and Ifa/Yoruba. Abubakr said coming together as a community and serving the community is what the coalition is about.