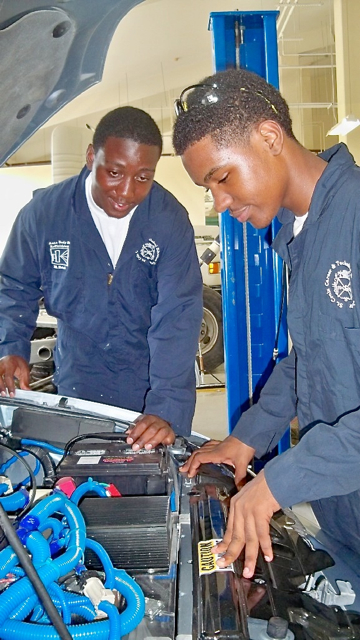 High school automotive students on St. Croix are racing toward an electric future. This school year students will restore, re-engineer and convert a 1989 Mitsubishi into an electric race car.
Students, faculty, and the administration are excited about the program in the Mechanical Trades/Automotive Department at St. Croix Career and Technical Education Center.
"It feels great to be directly involved in a new era of racing here on St. Croix," said Roberto De'Jesus, a junior in the automotive program. He said he has been around racing and working on cars for as long as he can remember.
"With this type of program we focus mostly on the project, not just the end result," Joseph Schrader, assistant principal at CTEC, said. "We follow the latest curriculum, finding exciting, hands-on, innovative projects that give and maintain motivation in our students."
Schrader said in the CTEC electric-car program, students increase all levels of technical and academic skills.
"We give students the foundation and prepare them, enhancing academics with innovative technology finding connections to many subject areas such as physics, science, math, business, electrical engineering, research, history, and more," Schrader said.
At the 2011 Agriculture and Food Fair, CTEC unveiled a 1995 Chevy Cavalier students restored, converting the original power train of an internal combustion engine to an electrical motor powered by a battery pack.
With a smile, Schrader proudly said the car and students have won awards in science fairs, the Agriculture Fair and local expos. The car has been in two local automotive expos and in August it was on Tortola for the British Virgin Islands Motor Sports Association Car Show during the BVI Carnival.
Schrader said the instructors and students will follow National Hot Rod Association and Electrical Vehicle Drag Racing Association standards while building the car. Auto mechanics instructor Francis Diaz will work with the students to retrofit the car with an electric motor. Christopher Smith, auto body instructor, will primarily be responsible for the show quality of the car.
Baldwin Hendricks, diesel technology instructor and a 2006 graduate of the automotive program, said their goal is to see the electric car program succeed and his focus is to see that the students become something in life and succeed at something they are passionate about.
Schrader said they generally have around 125 students in the three areas of automotive, diesel technology, and auto body. He said a lot of what the students are learning at the high school level at CTEC is taught in post secondary classes, so they end up ahead when they go to college and technical school.
Late Friday afternoon at CTEC the students, clad in neat and clean navy coveralls, are cleaning and straightening their work areas. In the large bright garage there are cars and semi trucks that they work on. The whole garage, tools, and equipment are clean and orderly.
Michael Sully, a senior in diesel technology, said he is excited about all the new tools and equipment he hasn't seen before that he will learn to use working on the race car.
"It's exciting working on the new race car project which has never been done before on St. Croix," Mark Fatal, a senior in auto body repair, said.