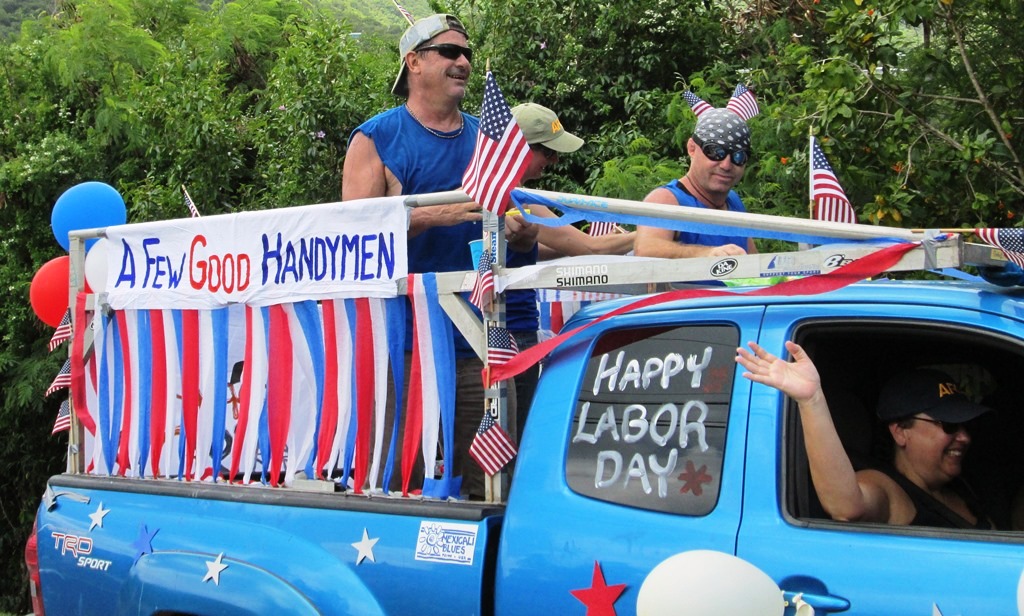 Coral Bay's Labor Day parade is usually a tad on the small side with only a handful of entries, but this year the organizers outdid themselves. On Monday, more than 20 groups made their way along Route 107 from the cluster of restaurants on the far side of Coral Bay to the village ballfield.
"I had a lot of support," said Jackie Clendinen, who helped organize the parade.
Clendinen said in days past, her Auntie Gerda Marsh was instrumental in making the parade a Coral Bay tradition. Clendinen said she wanted to bring the annual parade back to that standard.
Dressed in white, Clendinen rode on the hood of a white car near the front of the parade as Miss Labor Day.
Several royalty and royal contenders from events gone by were on hand to grace the parade with their smiles.
Raven Phillips, who ran for the junior miss title in this year's Festival celebration, reprised the green and pink dress she wore for the flower segment of the competition. Its design with pink flowers is aimed at raising cancer awareness.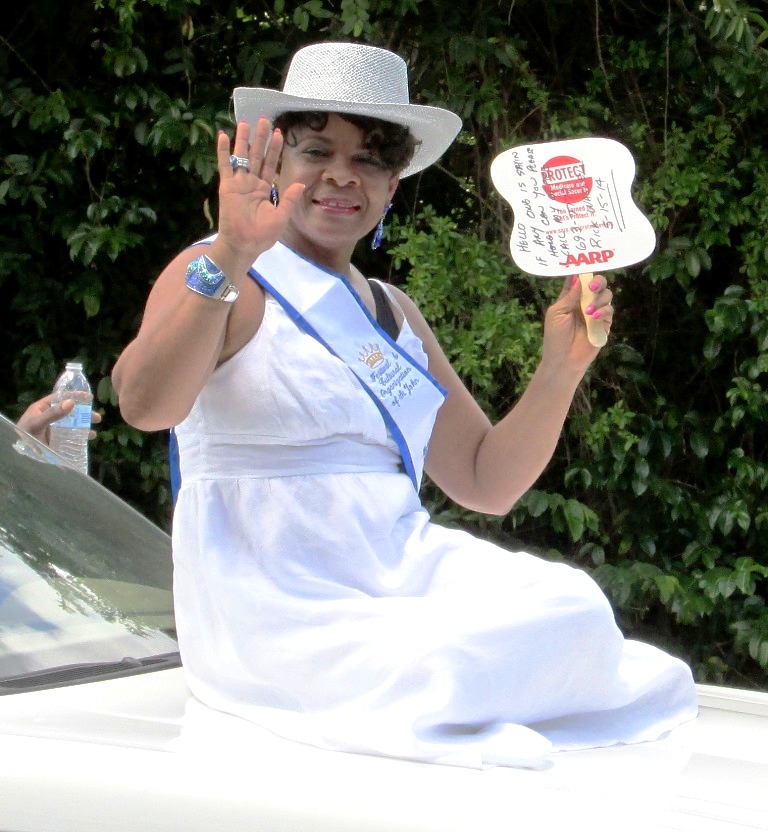 Several Coral Bay businesses dressed up cars and trucks with streamers, balloons and even empty cans in imaginative efforts to transform their vehicles into something parade worthy.
Keep Me Posted mail service stuck U.S. Postal Service cardboard express mail envelopes and red, white and blue balloons all over a white Suzuki.
Coral Bay Organic Gardens, better known as Josephine's, featured bright pink bougainvillea spilling out of the sides of its red pickup truck.
A Few Good Handymen had a blue truck filled with beefy guys in sleeveless blue T-shirts, and the Coral Bay Community Council had President Sharon Coldren at the front wearing butterfly wings.
Caneel Bay Resort entered a float with a handful of people dressed up in gold costumes.
While the parade and the party at Coral Bay ballfield is all in fun, several groups sported signs that referred to the pressing issue now facing Coral Bay – the proposed development of a 145-slip marina now under review by the Coastal Zone Management Committee.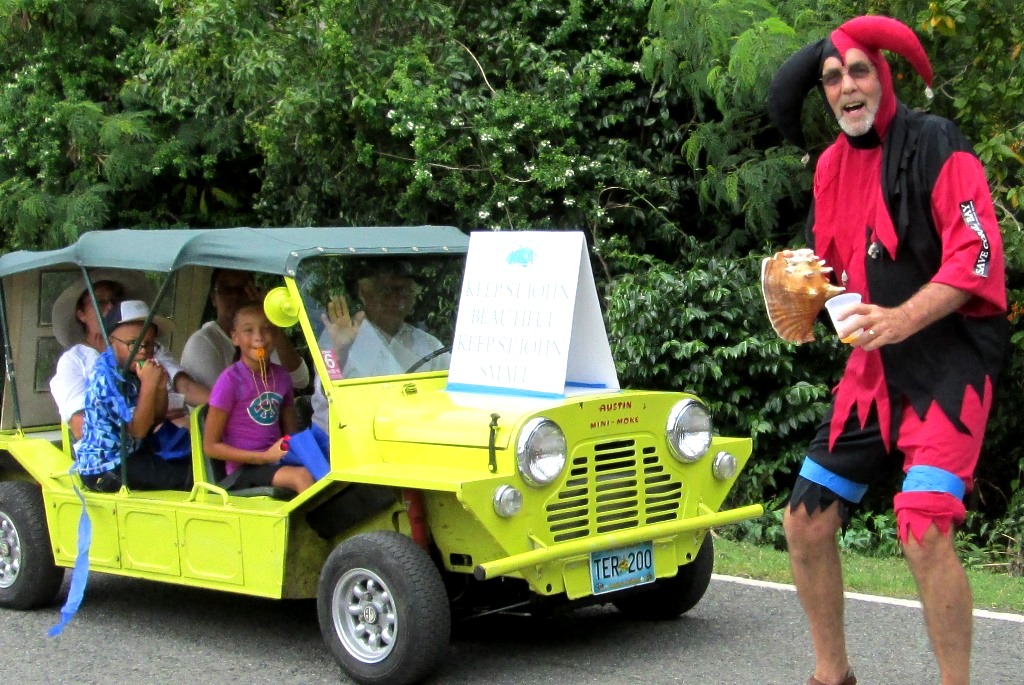 "Keep St. John Beautiful. Keep St. John Small," read the sign on a yellow Mini-Moke driven by Doug White.
And the closure in June of Guy Benjamin School, which sits adjacent to the ballfield, was not far from the minds of some people.
"This is a nice little parade but too bad about the school," Ina Lee said.
And this being an election year, supporters of two gubernatorial candidates, Delegate Donna M. Christensen and Kenneth Mapp, set up tents at opposite ends of the ballfield.
St. John resident Jane Johannes had lobster, fish, kallaloo, cake and local drinks for sale at her table positioned about midway between.
Further down the road in front of Pickles restaurant, several craftspeople set up shop.
"It's going to be fun," Tracy Keating said, displaying her leather goods.
Many of the parade goers hailed from the Coral Bay area.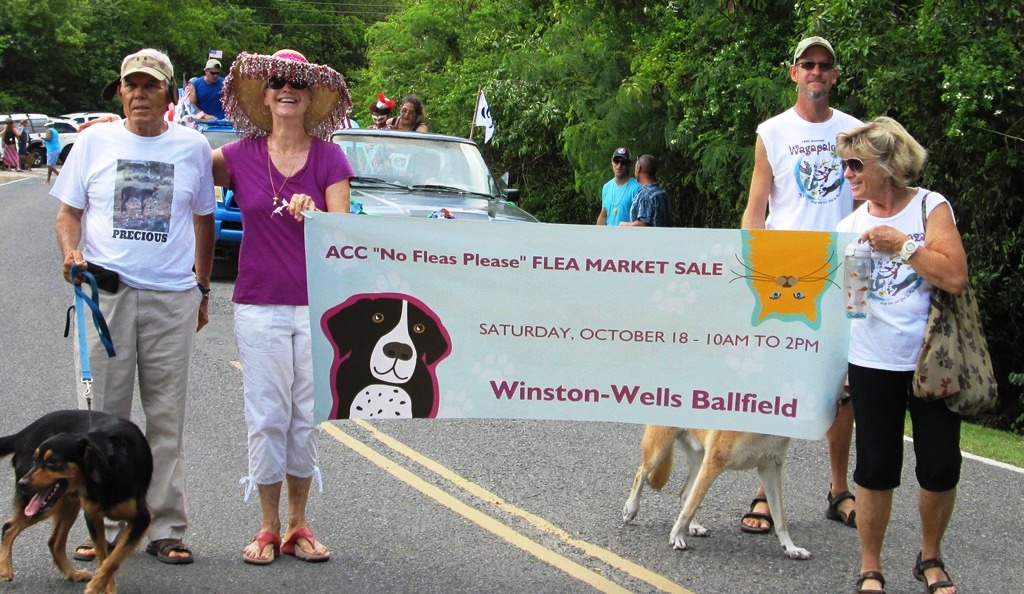 "I come every year. It's traditional," Coral Bay area resident Marilyn Miller said.
Others trekked out from Cruz Bay and its environs to take in the parade and enjoy the party.
"We brought our flags because we're very patriotic," said Beverly Bizewski, waiting with a handful of American flags for the parade to begin.
Bizewski said she went to a Coral Bay Labor Day Parade in 1976.
"It had one majorette and one truck," she said.
Ellen Berry Gillott came all the way from St. Thomas, a trip she said she made every year for about 30 years.
"It gives me a tiny town feeling. I've loved it every time," she said.