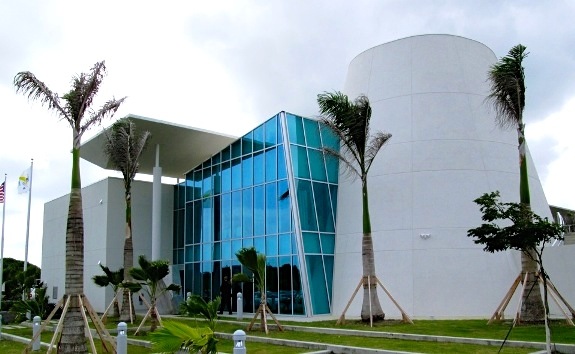 The University of the Virgin Islands Research and Technology Park building on the university's St. Croix campus has been awarded "LEED Silver Certification" by the Green Building Certification Institute for being energy efficient and environmentally friendly, according to the RTPark.
Standing for Leadership in Energy and Environmental Design, having LEED certification means the building was designed and built using strategies aimed at achieving high performance in key areas of human and environmental health. These include sustainable site development, water savings, energy efficiency, materials selection and indoor environmental quality.
In 2012 RTPark Executive Director David Zumwalt said LEED certification would free up $500,000 in federal funding for the building, reducing the tech park's debt level. (See Related Links below)
According to a statement from the RTPark, its 64 West Center on the St. Croix campus achieved LEED certification by incorporating sustainable strategies throughout the project's design, construction and operational phases, including energy, lighting, water and material uses, which in turn reduces greenhouse gas emissions, contributes to a healthier environment for visitors and tenants, and lowers costs. The building's main wing has a north-south orientation to minimize southerly exposure and take advantage of prevailing easterly breezes, the release states.
The building's energy saving features include:
– a light exterior color to reflect daylight radiant heat;
– storm water and rainwater management systems to reduce facility water demands;
– permeable pavements, vegetated conveyance swales, bio filtration and underground detention in rain tanks for storm water;
– underground cisterns to collect rainwater;
– solar water heating;
– and high-efficiency lighting and cooling systems.
It uses renewable energy sources, including a roof-mounted photovoltaic system and wind turbine, reducing energy demand on utility power.
"RTPark's 64 West Center was the first of what now are several sustainable initiatives under way on the campuses of UVI," said UVI President David Hall in the statement. "Environmental design and energy efficiency are key priorities for this institution."