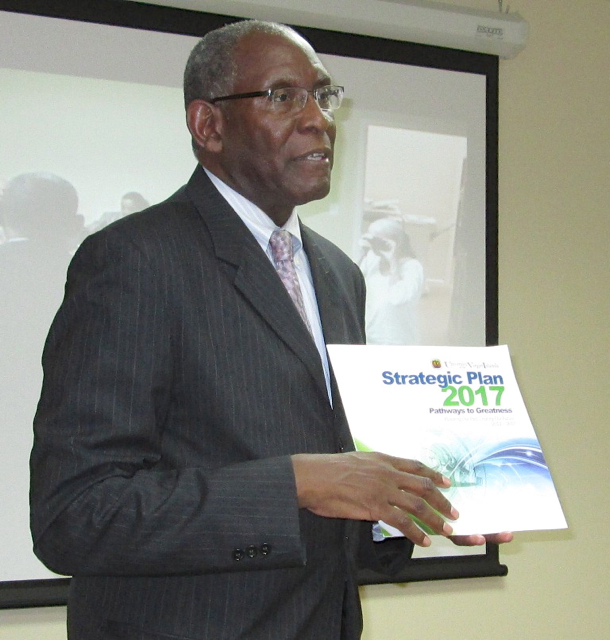 The Senate Budget committee heard requests for increased appropriations for next year from the University of the Virgin Islands and the UVI Research and Technical Park Friday at the Earle B. Ottley Legislature on St. Thomas.
In the morning session, David Hall, UVI president, listed accomplishments, the economic impact of the university and why an increase in the budget was necessary. The UVI board of trustees approved a 2015 budget of almost $47 million, but Gov. John deJongh Jr. requested $30,121,968 for the four-year college. Hall said that $29 million was needed for operating expenses, alone.
During his testimony, Hall criticized deJongh's $500,000 budget reduction and an additional $100,000 deferment to UVI's Senior Reserve Officers' Training Corps.
"Though this program is important, it has operated without this support in the past and is not as critical to us as being able to deliver classes and other programs. Therefore we are asking the 30th Legislature to restore our funding to its present level and consider increasing our budget in key areas outlined below," Hall said.
UVI budget increases included $75,000 for the Senior Citizens Tuition Assistance Fund, $600,000 in a debt service line for a multi-purpose facility on the St. Croix campus and $300,000 for enrollment management support and scholarships.
Hall said that the General Fund appropriation of $24 million would be used for salaries, wages and fringe benefits as well as books, equipment, supplies, laboratories and professional services.
Although not in the budget request, Hall asked the Senate to support Gov. deJongh's $700,000 from the Internal Revenue Matching Fund for the proposed School of Medicine facilities, including a classroom building and simulation center.
The location of medical school buildings has not been determined, according to Hall, despite numerous questions and encouragement from St. Croix senators. The UVI board will make recommendations in September, he said. Under questioning by Sen. Terrence "Positive" Nelson, Hall confirmed the St. Croix campus "is going to participate" in the medical school.
Sen. Tregenza Roach asked about accreditation for a medical school. Interim Dean Benjamin Sachs said paperwork amounts to "three King James Bibles" with information about each course, clinical rotation and assessments.
Hall listed "guiding principles" senators should take into account when deciding budget requests, including the economic, social and education impact of the entity on the territory. Early in his testimony, he discussed an economic impact analysis by New York consulting firm Appleseed Inc.
According to Hall, the report credited 930 jobs in the Virgin Islands, directly and indirectly on UVI payroll, purchasing and construction in 2013. More than $35 million in wages and salaries were paid and $65.2 million in territory-wide economic output can be attributed to the school, he said.
Off-campus spending by students and visitors to UVI last year accounted for 152 full time jobs, almost $4 million in salaries and $18.29 million in economic output throughout the Virgin Islands. Senators were given a copy of the report.
The report calculated that for every dollar invested in UVI, there was a 307 percent return on the investment, Hall said. According to the Appleseed Inc. research, 77 percent of UVI graduates remain in the territory.
Senator Nereida "Nellie" Rivera-O'Reilly complained that the Appleseed study results were not broken down by campus. She also requested a list of employees by island and commented the board seemed to be predominantly St. Thomas residents.
Hall answered that there were six members from St. Croix and six from St. Thomas with the remaining representing St. John or off-island residents.
Senators listened respectfully but several questioned the salary increase received by Hall in January, when the board voted to raise his salary11 percent to $350,000 for the next five years. Hall told the committee that considering what he gave up, the salaries aren't that different. Additionally, Hall agreed to raise $22.5 million over the next five years.
"There is great concern in the community regarding UVI's capacity to maintain increased salaries," Sen. Myron Jackson said.
David Zumwalt, director for the Research and Technical Park, defended his budget request of $1.2 million while pointing out the the V.I. government hasn't funded the park since 2011when $190,000 was allocated. Last year, a $400,000 Senate appropriation was never received, he said, despite several requests. Staff and expense reductions were necessary to combat the lost revenue, according to Zumwalt.
Currently, there are 22 business tenants at the RTPark with over 200 employees. The 18,000 square foot building is 100 percent occupied he said and there are several new applications.
There were no votes or recommendations from senators on Friday. Committee members who attended the hearings included Jackson, Rivera-O'Reilly, Nelson, Chairman Clifford Graham, Sens. Donald "Ducks" Cole and Clarence Payne. Sen. Judi Buckley was present on the Internet. Non-members present were Roach, Sens. Kenneth Gittens and Janette MillinYoung