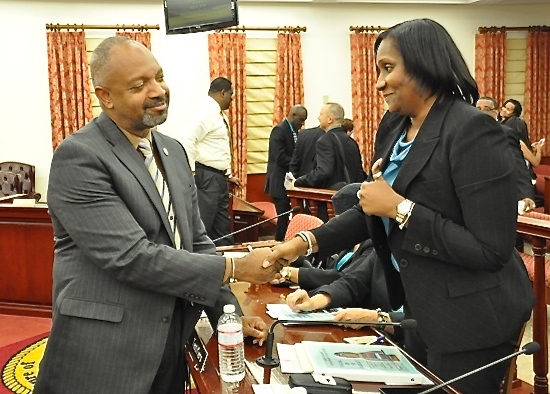 Drainage and sewer work at St. Croix Central High should begin within two weeks and is supposed to be finished in time for school to open this fall, Education Commissioner Donna Frett-Gregory told the Senate Finance Committee during budget hearings Wednesday.
The school was closed and students doubled up at St. Croix Educational Complex after several worsening odor events, culminating in a March 18 incident which led to 35 students seeking medical attention at the Gov. Juan F. Luis Hospital.
An extensive investigation with the U.S. Environmental Protection Agency, V.I. Waste Management Authority and V.I. Department of Planning and Natural Resources found sewer gas to be the most likely and only detected potential source of the odors. [Operation Breath Easy Executive Summary] Plans for repair work on the sewers and storm drains were begun and two weeks ago the department issued a statement saying work should begin within two weeks.
"It is mission critical that the school campus is reopened next school year," Frett-Gregory told the Finance Committee Wednesday.
The replacement of the system is being led by Public Works, she said. A contract is being written up now at Property and Procurement and work is scheduled to begin within the next two weeks, she said.
"We have received commitments from Public Works that the projects will be completed in time for the opening of the new school year," Frett-Gregory said.
This year Education needs another $500,000 in addition to its budget request, to buy consumable math textbooks and replacement textbooks for the upcoming school year, and needs $300,000 annually, going forward, she said. And in the upcoming year, Education will adopt two new texts in science and social studies, which will cost $3 million. The department will shortly send a legislative proposal for the immediate textbook needs, she said.
Staffing shortages, which have been a growing problem for several years now, are reaching a critical point.
"The Department of Education's inability to adequately staff schools in the upcoming school year continues to present a significant concern," she said. Recruitment is difficult for a number of reasons. "One important variable is the V.I. Board of Education's local teaching requirements that restrict the hiring of applicant who would otherwise be deemed highly qualified in other jurisdictions," Frett-Gregory said. Some candidates are rejected for lacking specific items while others are approved with similar credentials, creating uncertainty over how to be approved, she said.
"Another variable is the department's inability to be competitive (with pay) with other school districts nationally," she said. "Our inability to fill our vacancies has resulted in the department heavily relying on the substitute pool: 77 in the St. Thomas/St. John district and 76 in the St. Croix district. To date, we have made a total of 26 job offers and 14 have declined," she said.
There are 147 school based vacancies including core and hard-to-fill areas such as English, Social Studies, Math, Foreign Language, ESL, Physical Education, Special Education and school nurses, according to the department.
Education's budget for FY 2015 includes $159.5 million from the V.I. General Fund, by far the largest single V.I. government agency budget, accounting for more than 20 percent of the $709.5 FY 2015 General Fund budget.
This is a $2.7 million reduction from last year and the continuation of a downward trend.
"Over the past six fiscal years the department has suffered a reduction of approximately $42 million, which has impacted security guard services, reduced bus routes, reduced janitorial services, etc." Frett-Gregory said.
The $159.5 million from the General Fund includes $95.6 million for wages and salaries; $38.2 million for Social Security and Medicare taxes and fringe benefits for 2,195 classified civil service positions and 90 exempt positions. Another $3 million is for materials and supplies, and $14.5 million is budgeted for "other services and charges," which includes school busing contracts, janitorial services and security services. Utilities are budgeted at $8.2 million, which is a $5.9 million reduction from the previous year, due to energy efficient retrofitting at the schools.
Education also expects $2.7 million in V.I. funding categorized under Miscellaneous, with $1.5 million of that for school maintenance; $250,000 for school track and field maintenance; and $173,000 for interscholastic travel. Much of the remainder will go to pass-through programs overseen by the department for the V.I. Career and Technical Education program and several scholarships.
Federal funds from grants and other sources are expected to give Education another $39.9 million, bringing its total budget to $208.3 million.
Sen. Janette Millin Young questioned the reasoning behind the recent closing of the Guy Benjamin Elementary School closure. Frett-Gregory said there were not enough students or teachers to keep the school open.
Sen. Jackson expressed concern about the state of schools named in honor of prominent Virgin Islanders, specifically the J. Antonio Jarvis School Annex. Jackson showed slides of the buildings and of rooms in the Jarvis School packed floor-to-ceiling with school desks and chairs. He raised the same concerns when Property and Procurement presented its budget June 28, and was told the Jarvis School was still under the control of Education because it still had Education property in it. Frett-Gregory said she had been under the impression that the building was under the jurisdiction of the Department of Property and Procurement and would be forwarding a transfer letter to make the transition official.
No votes were taken at the information gathering budget hearing. After each agency discusses its budget before the Finance Committee, the committee and then the full Legislature will debate, amend and vote on a series of pieces of legislation that comprise the budget in September.