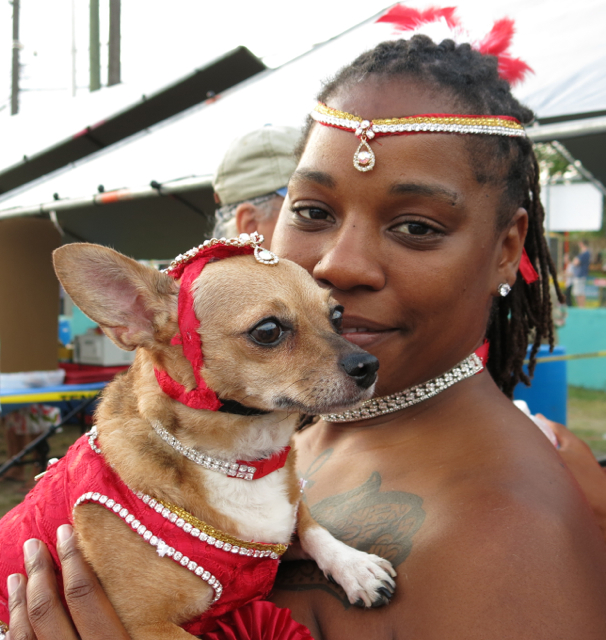 St. John went to the dogs on Saturday evening as a crowd of almost 100 people gathered at Winston Wells Ball Field in Cruz Bay for the 14th Annual Wagapalooza, a dog show with a distinctly St. John flavor.
The event is one of the main fundraisers for St. John Animal Care Center, the island's sole welfare organization dedicated to the health and care of abandoned and abused cats and dogs. St. John ACC runs with scant government funding and relies on annual fundraisers such as Wagapalooza to keep its no-kill shelter in operation.
One of the night's biggest winners was honored posthumously as Callie, a well known ACC shelter dog who passed away on May 8 from cancer, was given the night's Babe Award.
Callie was brought to the ACC shelter three years ago, malnourished and abused. She lived at the organization's Cruz Bay shelter until about four months ago, when she was adopted by David Guidi and Denise Walker, who enjoyed Callie's last few months.
"We had her for four months and we had such a great time with her," said Walker. "She's buried under a mango tree so she's still with us. And we just rescued another pup so she passed the baton."
The Babe Award is given each year at Waga to a former ACC dog that exemplifies "that rescue dogs go the farthest," said Michael Beason, one of the night's emcees.
Wagapalooza categories ranged from Best Look Alike and Best Old Timer to Best Trick and Best Costume, with close competition in each division giving the four judges – architect Rob Crane, V.I. Junior Olympic sailor Paige Clarke, veterinarian Laura Palminteri and St. John Community Foundation Executive Director Celia Kalousek – a difficult time.
Additional top honors of the event are the Waga King and Waga Queen, selected from all of the evening's entrants. It was a close call between the four sets of participants, but in the end Jodi Tanino's Denzel Washington and Deanna Somerville's Sweetie Pie were named Waga King and Waga Queen, respectively.
"Every time Denzel runs away, which is often, it is Sweetie Pie who brings him home," said Tanino about the relationship between her dog and neighbor Somerville's dog.
Ribbons were also handed out for Best Friend, Puppy Love, Best Haircut, Best Junior Handler, Best Trick, Best Costume, Best Old Timer and Best Look Alike. Dan Boyd's two-and-a-half-year-old, 130-pound Great Dane Olive Oyl won best costume for her "Lovango Long Horn" get-up; horns and an udder.
"She runs Lovango Cay," said Boyd. "She's in charge over there."
Sadie, a 12-year-old Golden Retriever, also captured the judges' hearts, taking third place for Best Old Timer and top honors for Best Trick for her impressive math skills.
"She adds and subtracts," said Sadie's owner Jim Bowen. "I ask her 'What is two plus one,' and she barks three times. She can subtract too; it's pretty cool."
Another crowd favorite was Taliah, an eight-year-old Chihuahua and Corgi mix, who won Best Look Alike with owner Crystal Allen.
"This is our third year in Wagapalooza," said Allen. "We won the first year and the second year we didn't get a ribbon, so we have big hopes this year."
Allen hand stitched Taliah's bright red feather and sequins show girl outfit and wore a matching red sequins bustier herself.
"I love making her outfits, and by now people expect to see us at Waga," Allen said. "It's like 'What is Taliah going to wear this year.'"
With a bounce house and face painting for the kids and food from KatiLady Catering and Queen of Tarts, the sizable Wagapalooza crowd was entertained all night. Brenda Wallace helped Beason with the emcee duties, and the event also featured raffle prizes, a full bar and plenty of T-shirts for sale.
The show was organized by ACC board of directors member Lucy Banks, who thanked the crowd before the evening ended on Saturday night.
"This is a wonderful event and we know our numbers increased because we ran out of hot dog buns and had to go out and buy more," said Banks.
An official amount raised at the 14th Annual Wagapalooza was not immediately available as ACC officials were still tallying the evening's totals.