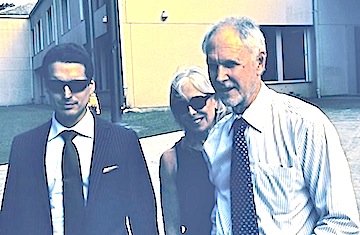 Twelve jurors unanimously convicted Jose G. Ventura, 43, of Estate Whim and Jose M. Rivera Jr., 39, in the June 2001 torture murder of V.I. Police Officer Wendell "Lazee" Williams after a day and a half of deliberation. The V.I. Superior Court jury acquitted Maximiliano Velasquez, 40, of Estate Clifton Hill.
All three verdicts suggest the jury paid close attention to the questioning of eyewitness Theresa Coogle and believed her account of what occurred that summer night 14 years ago, despite some variations in details in statements given several years apart.
Earlier in week after the prosecution rested its case, V.I. Superior Court Judge Darryl Donohue acquitted two other defendants, Sharima Clercent and Juan Velasquez, on the grounds that there was insufficient evidence to support a conviction.
At 2:35 p.m. Thursday the court room door opened and, with family and friends of the victim to the left and family of the accused to the right, eight armed officers, four facing each way, stood in the hallway, passively watching both sides. Donohue said good afternoon. He admonished everyone in the gallery "to exercise self control" or be removed.
The jury was ushered in from the left. A woman on the jury handed the verdict to a marshal, who handed it to Donohue to read.
Then the jury foreperson read the verdicts, starting with the acquittal of Max Velasquez.
Cries of relief were audible on the defense side of the aisle. She then read the verdicts for other two, Jose Ventura: guilty … Jose Rivera: guilty," she read, saying the jury found the two guilty of first degree murder, under the section of the V.I. Code that says it's first degree murder when it is "perpetrated by means of poison, lying in wait, torture, detonation of a bomb or by any other kind of willful, deliberate and premeditated killing."
Rivera's mother, who is also mother to Max and Juan Velasquez, two who were charged but acquitted in the case, burst into tears and was inconsolable as the jury was polled and each affirmed his or her verdicts. The men's mother had been there every day of the trial, quietly listening, and ready with a smile and friendly word to everyone around her during the frequent recesses.
Donohue addressed Max Velasquez, telling him he would be released that day after some final paperwork.
"I was surprised and disappointed," Gordon Rhea, Rivera's attorney, said after the verdict. "But I respect the jury system, even though I disagree with the verdict in this case. This case is not over and I expect to file a motion to dismiss shortly," Rhea said. If that is not successful, Rivera will appeal the jury verdict, he said.
Ventura's attorney, Danny Cevallos, said he and his client were also disappointed.
"We think we presented enough evidence of reasonable doubt," Cevallos said. He added he would also be filing a motion to dismiss, but said it was too early to talk about appeals before the judge ruled on motions to dismiss.
Max Velasquez's attorney, Hannibal O'Bryan, had other feelings. "I have to say, justice has been served at last," he said, adding that Velasquez had "waited a long time for this."
"He was in detention for over two years. His life was destroyed basically," O'Bryan said. "It is not a day to be sad or happy," but rather something the community can now put behind it, he said.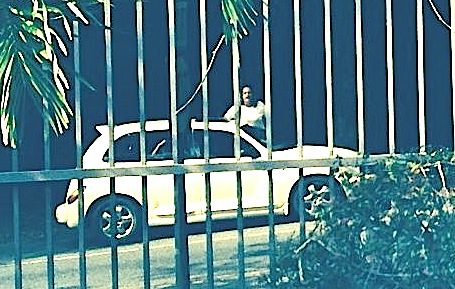 A sister of one of the accused stopped her car on the far side of Queen Mary Highway from the courthouse while TV2 News interviewed the defense attorneys and began screaming that her brother was living with her in Florida with the eyewitness at the time of the killing, so neither of them could have been on St. Croix.
In convicting Rivera and Ventura, but acquitting Max Velasquez, the jury appeared to give great weight to Coogle's testimony, which directly implicated Rivera and Ventura with the killing, but only implicated Velasquez in being present.
She testified Velasquez called her after dinner the night of the murder, around June 14, 2001, and asked her to pick him up, directing her to come to Grape Tree Bay. Once there, Coogle said, she saw Max Velasquez standing by the side of the road, so she parked and he led her to an abandoned-looking building nearby.
"I walked inside … there was Jose Rivera, Jose Ventura and another person named Michael and another man I did not know," she said. That man "was on his knees, hands tied behind his back. He looked lifeless," she said. She later found out it was Williams "because of the news," she said.
"I saw the officer get shot in the hand. I saw him get shot in the mouth," she said.
Assistant Attorney General Kippy Roberson, the sole prosecutor on the case, asked Coogle: "Who was the person who shot him in the hand?"
"Jose Rivera," she said.
"And the person who shot him in the mouth?" Roberson asked.
"Jose Ventura," she said.
"What did you do then?" Roberson asked.
"I went outside and threw up. Max Velasquez followed me outside," Coogle said.
Roberson asked what Velasquez had said and Coogle replied, "To get it together." She testified she was told to help clean up or that she would be killed too.
Donohue gave Cevallos and Rhea until Feb. 21 to file motions to dismiss the jury verdict. Sentencing was set for April 4 at 11 a.m.
Editor's Note: The article has been revised to correct Attorney Danny Cevallos name.
E