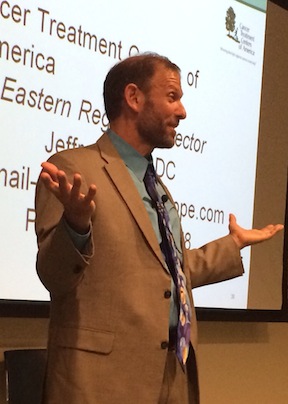 Empowering the patient is an important element in fighting cancer, Dr. Jeffrey Sklar told cancer patients and survivors Wednesday in a lecture on St. Thomas.
Sklar, a practicing chiropractor for 17 years, serves as eastern regional director for Cancer Treatment Centers of America and he is one of a series of speakers invited by the Charlotte Kimelman Cancer Institute to give free monthly lectures.
Sklar's talk, attended by about 20 people, focused on empowering the patient and building a safety net around patients dealing with aggressive cancer treatments.
Sklar said his passion for cancer patients began as a personal journey, having had three immediate family members suffer from different types of cancer. His own mother, he shared, came to him with what he initially thought was simply back pains, but turned out to be a type of slow-metastasizing cancer.
"My focus is to help patients with pain reduction," Sklar said, "with the intention of reducing the need for pain medication."
Supporters of patients suffering pain, cancer-related or not, often underestimate the affliction, thinking patients are just exaggerating, Sklar said, adding that pain management is important in fighting cancer.
This is where chiropractors like himself come in, he said. Oncologists fight the cancer, while chiropractors help make the battle easier to bear for patients.
In his chiropractic work, Sklar shared, he places the patient's table at the center of the room, symbolic of how cancer treatment, even healthcare in general, should approach healing. Referencing the 1998 film "Patch Adams," Sklar said he believes that if you treat a disease, you either win or lose, but if you treat the person, you always win.
Battling the disease is no longer just the job of the doctor but a collaborative effort between health care providers and patients, Sklar said. Patient empowerment, then, is an important part of the equation.
"It should be how health care is delivered," he said. "When you're in a room with a provider, we're talking about being an advocate for yourself. You all understand about self-advocacy and being heard and making sure that your questions are answered and not just shrugged off."
Patient empowerment, according to Sklar, follows some basic tenets, including the belief that patients cannot be forced to follow a lifestyle dictated by others. As consumers, patients also have the right to make choices and act on them, Sklar said.
He suggested some simple activities that patients themselves embark on to cope with the effects of cancer treatment. He said practicing meditation, for example, can elicit a sense of peace and shared his own meditative experiences.
Simple things like listening to music also has therapeutic effects, said Sklar. He shared a story of a patient from West Virginia who walked in with a cane, complaining about sciatic pain. Sklar played some bluegrass, the patient's preferred genre, while going through chiropractic treatment.
"When we were done with treatment, he popped off the table and shook my hand, said 'Glad to meet you,' started bopping down the hall, and I said, 'Bill, you forgot your cane!'" Sklar said. "It was a combination of chiropractic and music."
Sklar said he advocates different treatments that patients can try with qualified health practitioners.