The repeated shouts of "Man-up" echoed through the large tent assembled on the St. Croix campus of University of the Virgin Islands Monday morning as the school hosted its fourth annual MAN-UP male empowerment conference.
The theme this year for the many hundreds of young men in attendance is creating a positive future.
UVI President David Hall called those in attendance lucky, saying that if they allowed the process of the conference to work itself on them and they listened to the messages being delivered, the conference could change their lives.
"I don't say that just in words. I say that in knowing that many of us have had our lives transformed because we listened to words of wisdom from someone in our lives," Hall said.
"And I believe that can happen to each one of you today, no matter how well you're doing in school, no matter how poorly you're doing in school. There is another level and you can get to that next level, and part of this event is to inspire you to get to that next level."
Hall added that UVI continued to hold the event because the young men in attendance were important to the future of the Virgin Islands and the world. "If we lose you, then all of us lose," he said.
Besides UVI, the Departments of Human Services and Education were also big supporters of the event.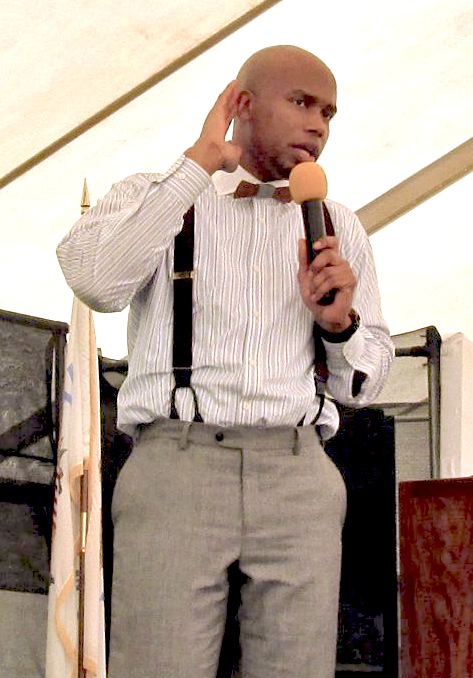 In a message to attendees from Human Services Commissioner Christopher Finch, he wrote that the absence of fathers in the home, particularly among the African-American community, was one of the "most daunting crises of the modern age and that the involvement of the entire community was necessary to stem the tide."
"Thanks to the bold intervention of the University of the Virgin Islands, this all-male student conference addresses the matter in a proactive manner among the next generation of fathers," Finch said. "This conference is therefore critical to addressing this social problem."
Education Commissioner Donna Frett-Gregory wrote that it was the responsibility of educators to develop and implement strategies that encourage young men to stay the course for a productive future and to make dropout prevention and high school completion a priority.
Noting a decreasing dropout rate in the territory, Frett-Gregory said the department's decision to collaborate in hosting the conference was "indicative of our efforts to help the territory realize a significant decrease in the rate of school dropouts."
When it came to the main keynote address, attendees were treated to the wise and powerful words of Baruti Kafele, an urban public school educator in New Jersey for more than 20 years and the author of six books, two of which have been bestsellers.
Kafele first came to fame as an elementary school teacher of the year and then later as a principal of four different middle and high schools, one of which – Newark Tech –he helped transform from that of a low-performing school to one that eventually would receive acclaim from the magazine U.S. News and World Report as being one of the best in the country.
Kafele's words were powerful, his voice stern as he told his story of triumph and gave his opinion of what it meant to be a real man.
"Being a man is not just something you grow into as you come to age. Being a man is something that you earn over a period of time," Kafele said. "There are certain behaviors you need to exhibit before we can call you a man."
Kafele, who relayed his story of doing poorly in high school and "walking the streets doing nothing" for the first 23 years of his life, said he didn't even exhibit the qualities of being a man himself until he read a book about the lives of Malcolm X and Dr. Martin Luther King on his very first day of college.
He said one of the most important qualities to becoming a man was insuring one knew himself and knew how to "dig deep" by thinking critically and analytically.
"If you open up your mind and begin to think and begin to analyze and begin to critique and understand yourself, the world and your place within it, then you increase the probability exponentially that you will soar to the highs of heights and evolve into the young men you were born to be," Kafele said to applause at one point. "You've got to know you and realize there is more to you than just the individual sitting in the chair."
He continued, harping on respecting oneself and "respecting women to the fullest" as being two of the most important qualities to becoming a man.
"You've got a story that goes back thousands of years and therefore a responsibility and obligation to be great. How dare anybody in this room settle for average or mediocrity or failure? How dare you squander your education….You've got to know you and you've got to love you," Kafele said.
He also said if one is to be a man, a whole man, then there was no place for the "N" word and no place for sagging.
"I can't be a 'N' word and a man at the same time," Kafele said. "It's either one or the other, and the 'N' word can't be a man by definition because it's a contradiction."
When it came to the issue of sagging, Kafele said men don't sag and that when he sees a man's underwear, that's problematic.
"Men don't do that," he said. "Men wear their pants to their waist, and when you see a man with his pants falling off, then that's a boy trapped in a man's body."
At that point, a young man with his pants sagging below his waist got up on his own fruition and walked out. A few minutes later, the same youngster returned, his pants now pulled up and his underwear no longer visible.
Kafele's words apparently struck a chord immediately.
"Try to determine your purpose for your life," he said in closing. "All of us have a purpose that we're supposed to fulfill. You've got to see yourself achieving greatness and excellence and then once you see it, you can turn the light on and start writing your plan."
With a fired-up and engaged crowd, Kafele couldn't resist one last interaction as he finished his remarks, and he asked the young men to repeat after him the following.
"I am a superstar. I am a winner. I am a champion. I am not a loser. I am not an underachiever. I am not a failure," Kafele said. "Because I'm a winner, a champion, a superstar, and I'm going to be extraordinary."
The MAN-UP male empowerment conference moves to UVI's St. Thomas campus Tuesday at the sports and fitness center and is scheduled to start at 9 a.m.