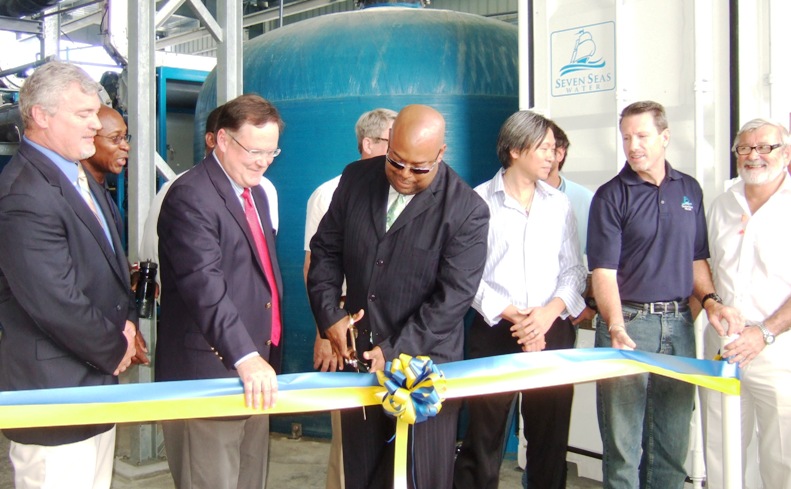 A ribbon cutting ceremony Wednesday marked the opening of the V.I. Water and Power Authority's Sea Water Reverse Osmosis plant, which is already converting millions of gallons of seawater into drinking water every day.
The reverse osmosis plant, located in Estate Richmond adjacent to the power facility, will produce 2.2 million gallons of drinking water a day – enough for every WAPA customer on St. Croix, according to Tom Williams, senior project manager for Seven Seas Water Corp, the contractor.
The plant can potentially produce 3.3 million gallons a day if necessary, he said, by powering up installed spare parts.
The reverse osmosis facility converts WAPA's water production from a thermal desalination project used for the last 30 years. Using reverse osmosis technology, drinking water is projected to cost about half as much for WAPA to produce, which means lower rates for the consumer, according to WAPA Executive Director Hugo Hodge.
Reverse osmosis technology separates salt and other solid contaminates from seawater. Pressure pumps force the seawater through thin membranes that capture salt, minerals, solids, bacteria and other chemicals. Then the pH is adjusted to improve the taste and the water is disinfected.
Speaking at the ribbon cutting ceremony, Gerald Groner, chairman of WAPA's governing board, said the process is environmentally friendly, cleaner, and "a dramatic improvement in the cost."
Hodge estimated that consumers will save up to 30 percent on their water bills.
Hodge thanked Sen. Alicia "Chucky" Hansen for sponsoring legislation that helped secure land for the reverse osmosis plant, noting that that the Senate was not helpful this week in its attempt to legislate rates.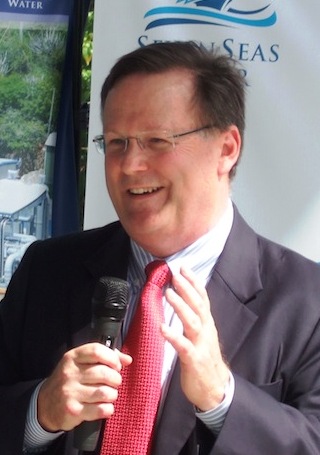 During the ceremony, Robert Dixon, Seven Seas Water's chief executive officer, said that WAPA began working with Seven Seas in 2010, when the company constructed a temporary reverse osmosis plant on St. Croix that produced 1.1 million gallons of water a day. Seven Seas also built a facility on St. Thomas in 2011.
The St. Thomas facility produces 3.3 million gallons a day, Dixon said, adding that Seven Seas will maintain both plants for the next 20 years.
"Our work starts today. Our works starts for a 20-year relationship where it's our commitment to deliver water – day in, day out – of high quality. That's our commitment," Dixon said.
Mario Mondo, Seven Sea's Caribbean president, said the company's scholarship and internship programs have already begun to "strengthen the fabric of our community."
Seven Seas was established in 1996 on St. Croix. The company now is the largest water producer in the Virgin Islands and has offices on all three islands, as well as 20 additional plants in Trinidad, South America, India and other parts of Asia.