With more than 60 family members and friends gathered in the yard of her seaside John's Folly home, Mary Wiltshire turned 100 on Wednesday.
"Happy birthday to you," sang the crowd, and Wiltshire sang along with them.
Wiltshire said she felt "good" about turning 100, summing it up.
Born not far from where she lives today, as Mary Roberts, she married Reginald Wiltshire and the couple had 13 children
Her daughter, Mariel Matthias, said the number of grandchildren, great-grandchildren and great-great-grandchildren are too numerous to count.
As they took their turns at the microphone, some of the visitors explained their relationship to the guest of honor.
"It's such a pleasure to have you with us at this age," her son, Clarence Wiltshire, said, echoing the remarks made by many others.
Mary Wiltshire was dressed for the occasion in a crimson suit, pearls and a white hat. Sitting in her wheelchair under a tent just yards from the sea, she listened as visitor after visitor sang her praises.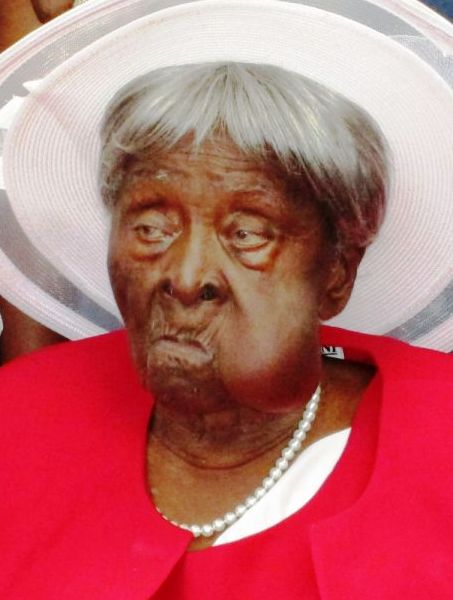 The birthday party included entertainment by the combined Emmaus and Bethany Moravian Church choirs. Mano Boyd saluted Wiltshire by blowing the conch and playing the trumpet. Delroy "Ital" Anthony played the drums.
"African Queen, we love you," Anthony sang.
Her grandson, Ernest Matthias, said that Mama, which is what the family calls her, taught him me a lot, including sweeping the yard.
Mary Wiltshire was known for her skill at picking whelks, conch and lobster, an attribute she tried to pass on to her children and grandchildren.
Others spoke about her willingness to walk great distances to get to Calvary Baptist Church.
She was a hard worker, working at gardening, sewing and helping elderly people by cleaning their houses, Mariel Wiltshire said.
Even by today's standards, John's Folly is remote. Growing up it was a place where there was no electricity, where water came from a well and where everyone cooked with wood and coal. All her children and her grandchildren helped out.
He daughter added that she was also "very strict."