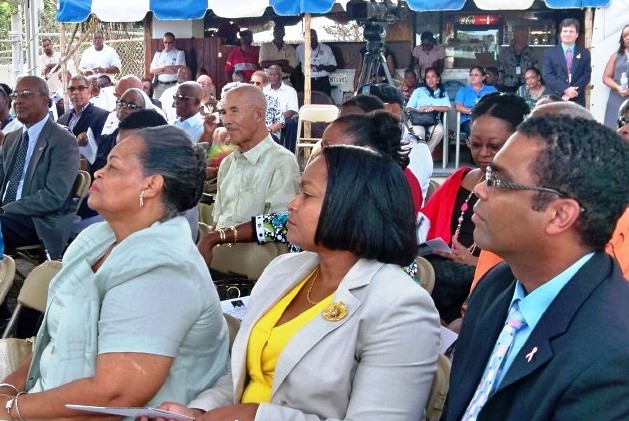 The St. Croix seaplane terminal was named Wednesday for Cpt. Svend Aage Ovesen Jr., a Crucian who soared to great heights in island's the aviation industry. Ovesen died April 15, 2002, when he crashed his twin engine propeller aircraft into a car dealership in Puerto Rico while flying a chartered medical evacuation.
Originally there was a bill in the Senate to name the terminal after St. Croix resident Maureen O'Hara Blair, an actress whose husband, Charles Blair, founded Antilles Airboats. Blair died when his seaplane crashed in 1978.
Instead, in Dec. 2011, an amendment sponsored by then Sens. Usie R. Richards and Neville James changed the name to Svend Aage Ovesen Seaplane Terminal in bill 29-0070.
About 150 people gathered for the ceremony Wednesday in the shade of a tent and the snack stand at the terminal in Watergut.
Ovesen's son, Gerald Ovesen, spoke on behalf of the family. He said his mom, Alfreda Smith-Ovesen, was the foundation for his father to be able to keep his dreams in the sky. He added that Wednesday was his birthday and the naming of the terminal was the best gift he could receive.
Smith-Ovesen, another son and daughter, Kraigg Ovesen and Karole Ovesen-McGregor, also attended the ceremony.
Other speakers included Richards, James, Lt. Gov. Gregory R. Francis, V.I. Port Authority Executive Director Carlton Dowe, Seaborne Airlines Chief Executive Officer Gary Foss, Sen. Shawn-Michael Malone and Cpt. Irving Clifford, co-pilot with Ovesen.
Ovesen was born in Frederiksted in 1942 to Svend and Josephine Ovesen. After high school he joined the Navy and was in communications. In 1963 he started work on St. Croix at Pan-American World Airways as an operations and communications agent. He worked his way up to director of the airlines until 1976 when Pan-Am ended operations on St. Croix.
In 1998 Ovesen earned his license to operate seaplanes, single and multi-engine planes. His got his first job as a pilot in 1978 flying for Antilles Airboats. He was the first native Virgin Islander to captain an Antilles Airboat that serviced the U.S. Virgin Islands, the British Virgin Islands and Puerto Rico.
Ovesen and his wife had their own charter air service, Crucian International Airline, using an executive eight-seat aircraft. He was one of the principals and founders of St. Croix Air Park. The Ovesens expanded their charter services to include medical emergency evacuations.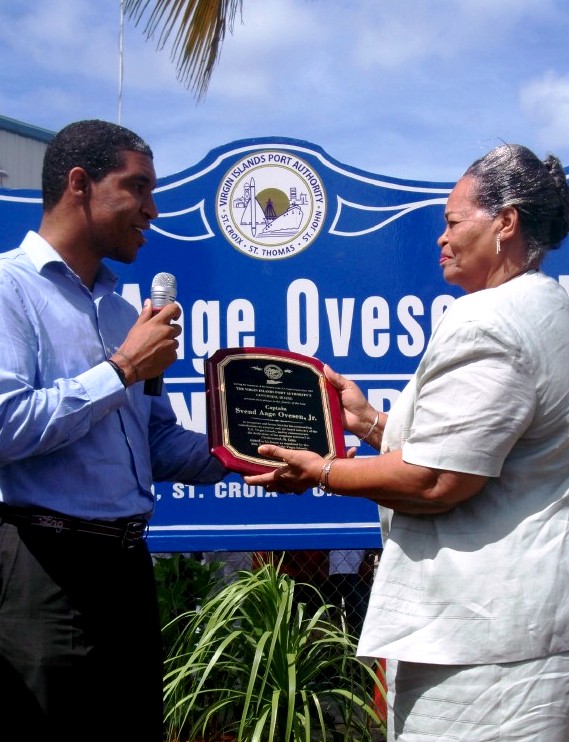 In April 1995 Ovesen and Clifford set two speed records flying a III Astra AJ 24 jet from St. Croix to New York City and from Boca Raton, Fla., to St. Croix.
As well as being an aviator he was a dedicated family man, coaching his children's little league teams, teaching them to swim, and hiking with them. He also has other children: Kelvin, Svend III and Hans Ovesen.
Smith-Ovesen said that today brought tears of sadness and happiness. "I'm so happy to see him recognized for doing what he loved," she said.