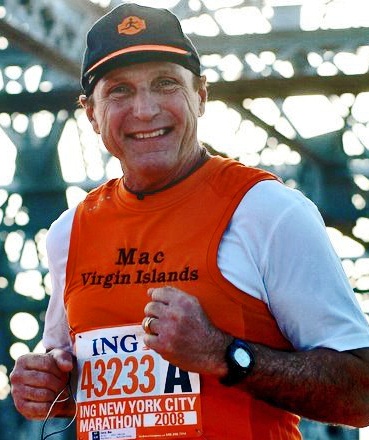 Two St. Thomas entrants with very different backgrounds but mutual missions – raising funds for diseases with which they have intimate experience – will be in this year's New York City Marathon on Nov. 3.
Veteran marathoner Elliot "Mac" Davis, 62, is running the marathon for the sixth time, while Amy Derksen, who will be 42 on marathon day and who moved to St. Thomas with her family in June from Denver, is eager to get going for her first NYC Marathon.
Davis, who is still battling cancer, is running for the American Cancer Society in the Virgin Islands. Derksen, who had an open heart surgery in 2009 after finding out she had a genetic and potentially fatal heart defect, is running for the Texas-based John Ritter Foundation, which raises awareness about and does research for aortic disease.
Ritter, the star of television shows "Three's Company" and "8 Simple Rules," died in 2003 when his aortic valve was torn as a result of a defect similar to Derksen's.
In fact, though Davis and Derksen have yet to meet, Davis was moved to contribute to Derksen's cause because his son, Joseph, who is well now, has had open heart surgery for aortic disease.
That being said, you won't see the two running around the island together. They each have their own training regimens.
Should you see a tall, good looking blondish guy being pulled down the waterfront by a tiny shih tzu, that would be Davis on one of his easy midweek training days. He says the 2-year-old Otis is possibly the world's, and certainly the territory's, only distance-running shih tzu.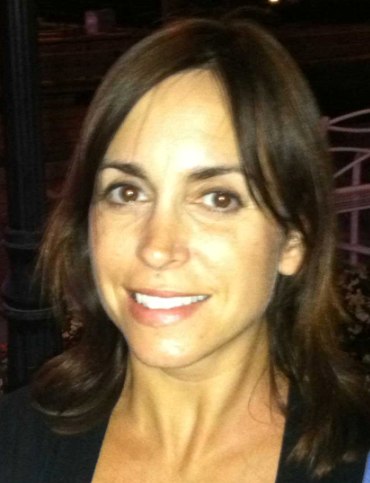 Davis, on the other hand, is something of a record-setter. He started off at the Nashville Marathon as sort of a lark, in 2001, and followed that with his first bid in the NYC race in 2002, after he learned his cancer, which had been in remission, had returned.
Davis runs three long ones a week, starting about 2:30 a.m. from the hospital to the airport and back about 20 miles. Or from the hospital to the pump station and back twice, which is 18 miles. He's been doing this for the last four months, beginning with about 15 miles a week and winding up with 30 miles. The other days he bikes about 20 miles.
Davis clearly enjoys the fundraising aspect of his journey. For the past two months, Davis has once again been in a new trial with an experimental drug. Since his cancer has been called inoperable and incurable, Davis had been an eager candidate for new drug trials, some of which have had crippling side effects, once landing him in the hospital.
He said the fundraising keeps him distracted, "so I don't feel sorry for myself." Self-pity is not a part of Davis' regimen. So far he has exceeded his goal of raising $5,000. He has more than $6,000 and is now shooting for $7,000. "We got a $1,000 anonymous donation the other day!" he said.
He and his wife, Debbie, will be going to Boston to the Dana-Farber Harvard Cancer Center to see if the current drugs are effective next week.
Davis is quick to mention Debbie, without whom he says he wouldn't still be on the planet. They are a close-knit family, with daughter, Elizabeth, and sons, Joseph and Eliot.
Davis said, "I'm going to find out next Tuesday if the drug is working and then on to New York. It'll be a celebration if the drugs are working or a consolation if they are not."
The statement is indicative of the attitude the family has had to adopt for the past 11 years of Davis' continuing battle against the disease. It's not off-beat humor; it's the reality they live with gracefully and well.
Amy Derksen is finding that working out on St. Thomas at sea level a somewhat different than in Denver, the mile-high city, where the air is thin, dry and cool.
"It's not been easy, adjusting," she admitted. However, Derksen, like Davis, is a trooper.
Moving here in June with her family – husband, Marlo, and children Gabe, 7, and Lily, 5 – because of her husband's job, she still had to set aside time for marathon training, along with getting the children in school and starting a new life in a new latitude.
But, she said, it had to be done. She was registered for last year's race with the Ritter Foundation, but that was cancelled because of Hurricane Sandy, which she found out about when the whole family was in New York. "It was the right decision," she said, "but still disheartening."
This year she has found a running partner, Charlotte Wardell, who is a neighbor and has kids the same ages and in the same school.
Derksen and Wardell run from Yacht Haven Grande to the airport and back, about 20 miles. Then, Derksen said, they run from Peterborg to Magens and back, and some days it's just the treadmill in the gym. She said she feels after several months of training, she is good to go.
Derksen said her surgery came as a shock to her. "I'd been told that I had a heart murmur," she said, "several years before, but I had no reason to think it was serious and I wanted to get pregnant. Then, when Lily was 18 months old, I felt a flutter, and decided I'd better get it checked. I was in good physical shape so I wasn't concerned. But when I went to the doctor he discovered I had an aneurism on my aorta and, two weeks later, I was in the hospital. He saved my life."
Now about the marathon, Derksen said she read a book called "Barefoot in November," about a guy who had run the NYC Marathon. "I was thinking, I could do that and, when I found the Ritter Foundation was looking for runner, I applied and was accepted. I was really excited."
To help Davis contribute to the American Cancer Society, go to www.crowdrise.com/runmacdaddy.
To help Derksen contribute, go to www.crowdrise.com/TeamRitterINGNYCMarathon2013/fundraiser/amyderksen