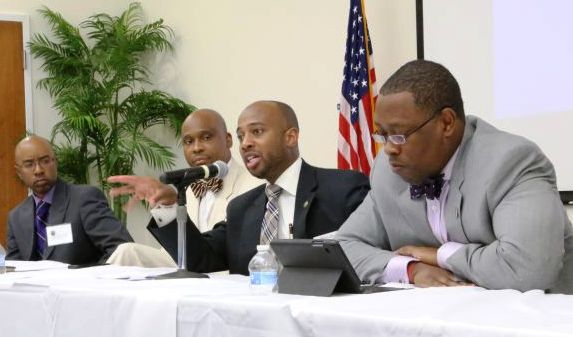 Beginning Thursday and continuing for the rest of the week, a think tank of experts from the territory and abroad will be exploring some of the issues facing black males in the territory and the challenges that they face – particularly those thinking about going into education.
The International Colloquium on Black Males, now in its second year, is being co-hosted by the University of the Virgin Islands and the University of Wisconsin's Equity and Inclusion Laboratory. Along with giving education professionals and students a chance to participate in discussions at UVI's campuses in both districts, the conference also allows speakers and panelists a chance to engage in several "immersion activities" designed to give them a better feel of the local population and its experiences.
The first colloquium was held at England's University of Leeds, and organizers said Thursday that the location of the event greatly influences the discussion.
"Where we are is a very important factor when we're considering the issues facing black males in our society," said Jeremy Merryweather, a research assistant at the Equity and Inclusion Laboratory. "Black men in the U.K. might not face the same issues as a black man in America, or anywhere else for that matter, so it's important, as we're doing this, that we cover the entire scope when we're creating these kinds of think tanks and global discussions."
On Wednesday, colloquium participants spent most of the afternoon on a cultural and historical tour of St. Thomas, and then headed to UVI's Administration and Conference Center for the official kickoff, where – after welcoming remarks – Ohio State University's associate provost and Bell Research Center director, James Moore III, spoke about how to make the college or university environment more "sexy" for black males.
Moore said his center encouraged students to focus on solidarity, building skills and engaging teachers as much as possible. Building confidence is also important, he added.
"We try to focus on skills, and will, and the act of asking for help and making students aware of what their resources are," Moore said. Ohio State's focus on athletics creates a competitive environment that pushes young men to thrive and excel and Moore also said the center tries to build the same kind of competitive environment in the classroom.
A leadership institute also helps train faculty on the art of pushing students toward academic success, and Moore said that part of the process is getting students to work more closely with their professors.
Because of the efforts, the center has a high retention rate, with students of other cultures and more females pushing to enroll.
The other side of the coin is, once a student is engaged, getting him to stay focused on his major, particularly those in education-related fields. Moore and other speakers said a large number of black males lean toward athletics because professional careers "help pay the bills," but they also need something to fall back on once their careers are over.
"What's the link between athletics and education?" Moore asked.
He spoke about the need for colleges to be more flexible, allowing students to customize their majors so that what they're learning stays "attractive" and relevant.
"We need to think how can we make what we have work better for black males on our campus," Moore said to the audience, which was made up mostly of professors and other experts in the education field.
Throughout the day, other panelists shared their experiences with students on campuses across the country. Associate psychology professor Bryant T. Marks, for example, spoke about some of the methods he uses to inspire black males participating in a Black Male Initiative he founded at Morehouse College.
Marks said he brings students into a forum where they are able to share their life experiences, using multimedia, and pushes them to answer four questions: who am I, what do I believe, why do I believe what I believe and what do I feel I'm meant to do.
"One thing I've learned in this is that, like all human beings, all black males have a story and if you engage them, they will come back to you," he said.
The colloquium continues Thursday on both UVI campuses, beginning at 8 a.m.