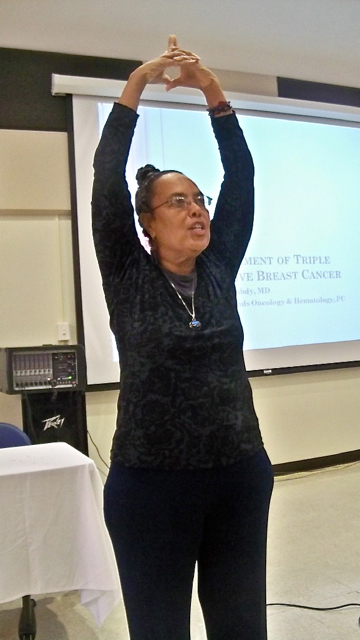 The heavy breathing and light petting going on Saturday morning in the Great Hall at the University of the Virgin Islands' St. Croix campus was all about being healthy.
Cancer survivors, care givers, health care providers, and supporters were learning how folks can thrive, not just survive cancer, at the Yvonne Ashley Galiber Foundation Breast Cancer Awareness Conference.
"Thriving Not Just Surviving" was the theme of the fourth annual conference.
"It's important for survivors to live more fully, love more passionately and learn more about surviving cancer," founder Yvonne Ashley Galiber said.
Charlene Springer, a specialist in manual lymph drainage, demonstrated on volunteers how to massage, pump and play with lymph nodes to drain them. Springer, a wellness and alternative health expert, spoke about the importance of a healthy lymph system for cancer patients and everyone else.
Springer said the lymph nodes clean up what isn't good for the body. She added the lymphatic system swells when there is a problem or infection. The lymphatic system, which is through out the whole body, carries natural killer cells. If there is soreness that doesn't go away she suggested seeing a doctor.
JoAnn Jones, a yoga instructor and breast cancer survivor, showed deep-breathing techniques and demonstrated how to do a deep throated "ocean breath." She also told how to focus and do slow and steady deep inhalations and exhalations. She demonstrated light stretching of the neck, shoulders, arms, legs and feet to relieve the stresses of cancer treatment.
"To de-stress, take breathing breaks and little moments of relaxation," Jones said. "Yoga keeps me alive and stress free."
Hematologist-oncologist Dr. Erole Hobdy spoke to the group of about 80 women, men and children about triple-negative breast cancer, which tends to strike women younger than 40. In triple-negative breast cancer the patients are missing estrogen and progesterone receptors and Her2/neu receptors. She said obesity is one of the biggest risk factors, and black and Hispanic women are at high risk. She said the prognosis is worse than other types of breast cancer.
Hobdy owns Virgin Islands Oncology & Hematology PC.
Dr. Samuel Hughes, radiation oncologist for the Charlotte Kimelman Cancer Institute and president of Radiation Associates of the Virgin Islands, told the conference audience that they don't have to go to the states for radiation treatment. He said funds for travel and lodging are available through the Community Foundation of the Virgin Islands.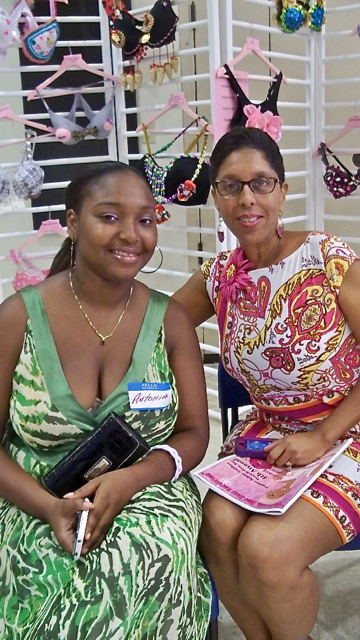 "Real People, Real Talk" was a discussion between the audience and Dr. Dante Galiber, Celeste Morris, Leslye Webb, Luz E. Belardo-Websterr and Dyma Bianca Williams. Cassandra Dunn, a survivor and WAPA spokeswoman, moderated the discussion. The locals and state siders on the panel shared their perspectives on how cancer has affected their lives as a patient, survivor, care partner, family member, and physician.
"This conference has been a very positive experience for me," said Lili Cornelius, a 41-year-old cancer survivor. "It showed how I can manage cancer. I really believe cancer doesn't have to be a death sentence."
Cornelius said she was diagnosed with triple-negative breast cancer almost a year ago. She said the relaxation and lymphatic segments of the conference were useful for her. She added it is important for the community to have opportunities such as the conference to learn everything they can to manage their health.
The conference also featured an exhibit of decorated bras entered in the 2013 YAGF "Beauty and the Bra: An Art Competition" fundraiser. Attendees cast their vote for $1 for their favorite original design, with the proceeds benefiting YAG's programs.
Galiber said she was happy and very impressed with the turnout considering some people have left the island.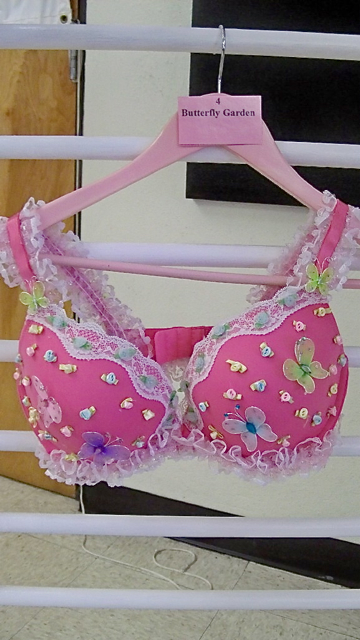 Representatives from the Gov. Juan F. Luis Hospital Women's Health Imaging Suite handed out information on services available and said the hospital was giving 20 free mammograms to uninsured women.
"Education is also a large part of what we do," Galiber said, "and we are proud that our annual conferences have heightened cancer awareness. We believe we have helped save lives by motivating men and women towards early cancer detection."
The Heart Center helped sponsor the conference.
Galiber survived breast cancer in 2005 and thyroid cancer in 2006, and has made it a priority through her foundation to help those who cannot access the quality medical care she received during her illnesses. Since 2007, YAGF has assisted about 350 uninsured or under-insured women with obtaining mammograms. The organization is working to raise money to support costs for those who require further medical services such as biopsies and pathology reports.
Those interested can volunteer, vote for bras, or find out about services offered by YAG Foundation by calling 1-340-332- 9115 or 1-340-626-6690.
According to the American Cancer Society, breast cancer is the most common cancer among women in the United States. About 232,000 women are expected to be diagnosed with breast cancer in 2013. While breast cancer death rates have been going down, about 39,620 will not survive this year, the society said. About 2,240 new cases of invasive breast cancer will be diagnosed among men and about 410 men will die from breast cancer.