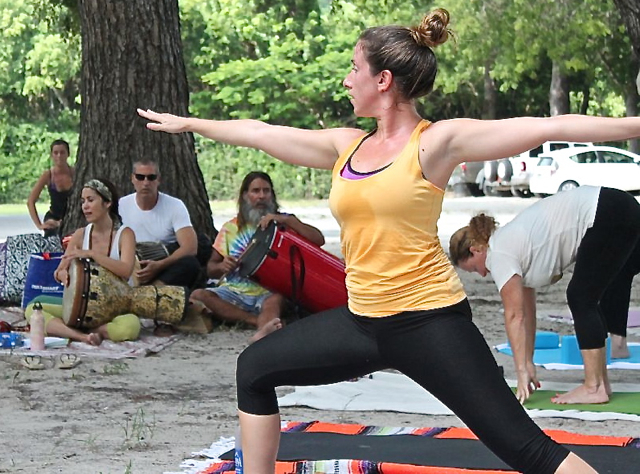 Some 30 yogis gathered in a colorful circle Sunday at Magen's Bay for the VI Global Mala Yoga for Peace Day in observance of the United Nations International Day of Peace.
For two hours, the group performed 108 sun salutations, each one a series of 12 yoga postures performed in a graceful flow. Forming two concentric circles, the women performed the postures to the sound of drums, maracas and the chanting of their fellow yogis. Every now and then, the women took turns at the center of the circle to lead the group.
"This is about creating peace within ourselves and sending that out to our homes, our communities and out into the world," said organizer Jenny Alvarez. "We set an intention prior to starting, our personal intention for what we're here to do today."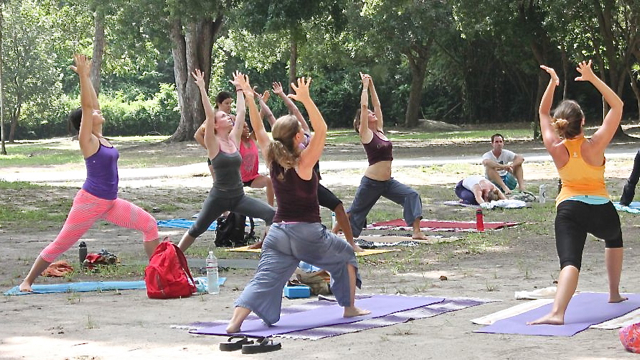 The Global Mala Yoga for Peace Project unites yoga practitioners through a lifestyle of collective consciousness and service. Each year, yogis gather in groups around the world and participate in peace-oriented events. These worldwide events coincide with the UN Day of Peace and National Yoga Month.
Laura Nagi, a co-organizer, had just finished her yoga-teacher's training when plans began for the first Mala Yoga event on St. Thomas.
"In the States, it happens everywhere on this day, but no one had ever organized one here," said Nagi. "So I told Jenny [Alvarez], 'We should gather. We need more peace in the Virgin Islands.'"
Alvarez related cheerfully how the first year was beset with obstacles: fire ants attacking the practitioners and thunderstorm messing up the sound system.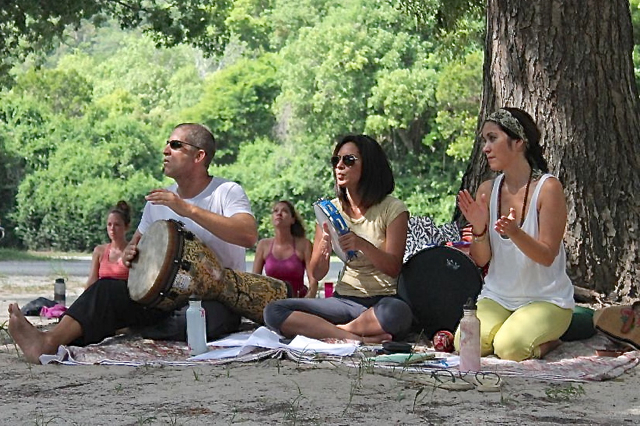 "In spite of all of that, everyone walked away feeling so much blessed," she said. "It just generates such a sense of community and peacefulness."
This year's event, the third on St. Thomas, was somewhat unplanned, as seen in the absence of wellness vendors that used to draw a larger crowd. The organizers focused most of the year on building a center for well-being, and only sent out an email two weeks ago inviting yogis on the island to participate in this year's Mala Yoga for Peace.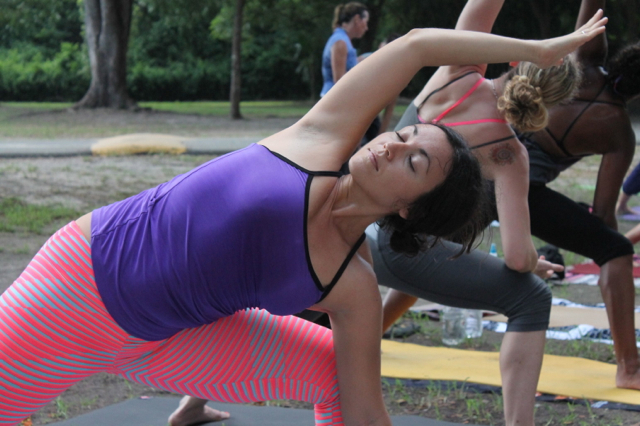 "We didn't want to let the day pass without gathering some of our friends and other yoga teachers and yogis together," said Nagi.
Nagi and Alvarez, who both practice legal mediation and dispute resolution, invite the community to make yoga a part of their lives.
"We think of yoga as the physical body doing movements, but for me, it's really about self-inquiry," said Nagi, who has been practicing yoga for 15 years. "The mat is just a place to look at myself. I'm doing yoga all day in all of my relationships and interactions, to see myself more clearly."
Alvarez agreed, adding, "I can't imagine my life without yoga now. It's a way to connect with myself, with the divinity within myself. It brings an amazing sense of peace and well-being."
Nagi added, "Definitely, the posture has many benefits: relaxation, meditation, opens up the energy of the body."
Both Alvarez and Nagi received their yoga teacher certification in April. They will open the Bliss Center for Well-being at Tillett Gardens by the end of the year.