A rowdy, angry crowd packed the University of the Virgin Islands' Great Hall on St. Croix Wednesday evening for a town hall forum discussing the government's proposed agreement with Hovensa on a 14-month sale process for the former refinery.
The tentative agreement, known as the fourth amendment to the Hovensa concession agreement, was negotiated between Hovensa, which stopped refining in 2012, and the V.I. government, and is before the Legislature for ratification. The Legislature can be approve the agreement or not, but cannot amend it, in a similar fashion as Congress approves treaties but does not negotiate them.
The agreement calls for the refinery to be sold by Aug. 15, 2014. If no one buys it, Hovensa can continue to operate the storage facility for up to five years from the ratification of the agreement.
The agreement would lower the company's yearly payment in lieu of property tax from $14 million to $7 million. In exchange, the V.I. government would receive 20 percent of the sales price or $50 million, whichever is less.
If no one buys it, Hovensa will continue paying the reduced $7 payment in lieu of property taxes for five years while operating as a storage facility. But afterwards, Hovensa would have to pay all its deferred property tax-alternative payments – some $7 million per year – and would be subject to all of its obligations under the third amendment to the concession agreement, the covenant that currently governs it.
If the refinery is sold within a year, Hovensa would be freed from its obligations to the V.I. government and a new concession agreement would be negotiated with the buyers.
Hovensa would not be freed from its environmental obligations governed by the Environment Protection Agency.
The St. Croix Economic Development Initiative, St. Croix Chamber of Commerce and UVI sponsored the town hall forum to try to spread information about the proposed deal and encourage public involvement.
"How we handle this moment in time only history will tell," SEDI Managing Director Anthony Weeks said at the beginning of the forum.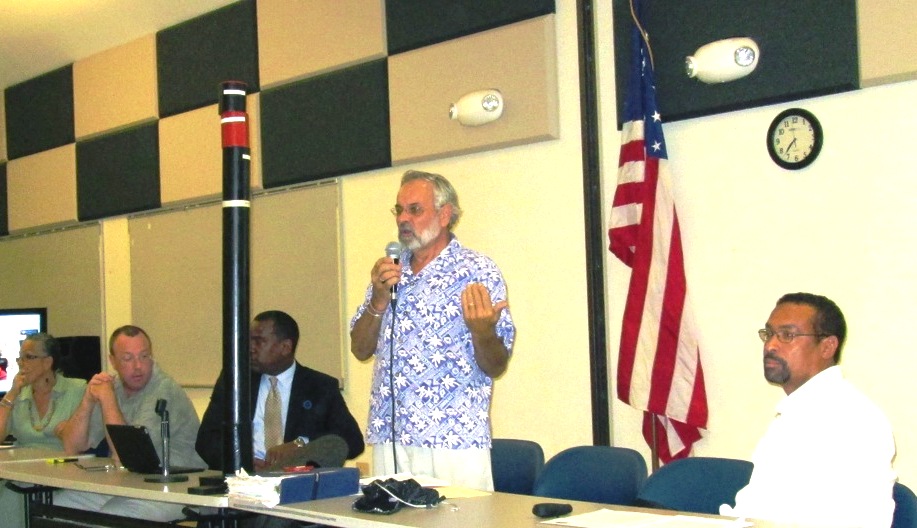 A panel of presenters, including Delegate Donna M. Christensen, St. Croix Environmental Association Executive Director Paul Chakroff, St. Croix Chamber of Commerce President Mark Eckard, Labor Commissioner Albert Bryan, and Planning and Natural Resources Commissioner Alicia Barnes spoke in support the proposed agreement.
Some in the audience, particularly those who live near or downwind from the refinery, made clear they strongly opposed any refinery whatsoever. Others opposed the agreement but not a refinery.
"Let's be honest; Hovensa was a major polluter," Chakroff said. But Chakroff argued that any reopened refinery would be required to be dramatically cleaner, partly because it would have to adhere to much stricter rules than the original refinery, which predated major anti-pollution laws.
Chakroff and several other panelists emphasized that the alternative to approving the agreement is not a better agreement, but limbo and likely years or decades of litigation.
"Be careful of what we are wishing for," he said. "If we don't allow them to move forward, it will hold it up, possibly for decades, with nothing happening. But if we allow them to sell the refinery, under the conditions of today's environmental protection laws, which are much more restrictive than 10 or 15 years ago, we will be in a much better position," he said.
Bryan pointed to terrible employment numbers in the wake of massive layoffs when Hovensa ceased refining operations and other dire economic news to hammer home his view that the territory needs the economic stimulus a reopened refinery would offer.
Christensen, who participated online via Skype, discussed some of the tradeoffs involved, saying that since the refinery stopped operations, "the environment is clearly very much improved, but the economy is in terrible shape."
If a new refinery converts to natural gas and focuses on lighter grades of oil than the heavy Venezuelan crude Hovensa used, it could provide a crucially needed economic boost and still be dramatically less polluting than the old refinery, she suggested. Barnes and Chakroff both confirmed this suggestion.
Several audience members said they opposed giving the refinery a reduced, $7 million annual payment in lieu of property taxes.
"We would temporarily give up $7 million for at least $50 million later," Eckard said. "We need this. A vote against this is a vote against the St. Croix business community," Eckard said, eliciting angry, contemptuous grunts and muttering from the audience.
St. Croix resident Cletus Emanuel asked Barnes whether the agreement would free Hovensa from its legal obligations to clean up the site.
"The short answer is nothing in the agreement or with its approval will make Hovensa less responsible," Barnes said, detailing the history of DPNR and the U.S. Environmental Protection Agency's actions against Hovensa.
She said Hovensa had wanted to include environmental issues in the agreement, but the government would not do so. Hovensa is still on the hook to clean up the site, and DPNR is still in litigation with Hovensa over groundwater contamination and cleanup, she said.
St. Croix historian Gerard Emanuel later followed up, asking Barnes to explain a passage in the agreement specifying that Hovensa's "obligations under the agreement shall be terminated … except as otherwise required by law."
Hovensa's continued obligation for environmental issues is covered by the phrase "as otherwise required by law," Barnes said. Federal law prevents Hovensa from getting rid of its liability, and the agreement does not mention or address the environmental issues, despite Hovensa wanting it to, she said.
St. Croix musician Wayne "Bully" Petersen said he thinks a lot of opposition to the agreement is driven by frustration that "we always appear weak in these negotiations."
"Can you say something to make us feel better that we are dealing from a position of strength and not just going, 'OK thanks, bye then'?"
Barnes said, "I think having an agreement was a major accomplishment because Hovensa did not even agree they wanted to sell the refinery. They wanted to hold onto their permits, keep the facility in mothballs and, when market conditions changed, start it up again." She added that while they did not say that was their plan, their actions strongly suggested so to her.
Several residents who live near the refinery said the health dangers from a refinery outweigh any economic benefits.
"I don't care how much money Hovensa made for us. Once they started to mess with my clean air and water, they became my enemy," said Estate Strawberry resident Delroy Miller, who recounted losing his sister to cancer, which he attributed to the refinery.
St. Croix teen Anumaat Kahena spoke last, saying she and her brother watched the forum and were shocked at the level of disrespect the audience gave the speakers.
"We can't expect to get a plan moving if we don't listen," she said, praising the panelists for volunteering to come out and try to answer questions from a hostile crowd. In the end, she came out against having any refinery on St. Croix.
"Many of my friends are for reopening Hovensa but, to me, if you place your money over your health, which is precious, you lose something of your soul," Kahena said.
The V.I. Legislature has scheduled a session Aug. 7 to vote on the proposed agreement.