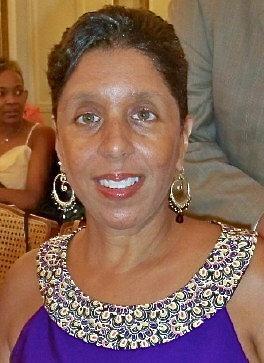 Yvonne A. Galiber has survived thyroid and breast cancer because, as she said, she was fortunate enough to have top-notch treatment in Connecticut.Now that experience has turned into a personal crusade.
Women on St. Croix need to educate themselves about early detection and find out how to get the care and treatment needed, she said. So in 2007 she founded the Yvonne A. Galiber Foundation, Inc. The foundation focuses on early breast cancer detection, raising awareness and empowering women.
According to Galiber, the organization has sponsored hundreds of women and men for breast cancer care since 2007, when it began funding screening and diagnostic mammograms, biopsies, and related medical procedures.
"Education is also a large part of what we do," Galiber said. "Our annual conferences have increased cancer awareness and assisted in saving lives by motivating women and men to early detection."
She has sponsored three breast cancer awareness conferences.
The foundation is now calling for community support with artistically designed bras. It is inviting artists, crafters, designers, costume makers, art students, cancer survivors and community groups to get creative, have fun, and design a prize-winning bra for the second annual "Beauty and the Bra: An Art Competition."
The competition will support the foundation efforts to bring more awareness to residents about breast cancer and and also help fund mammograms and other medical procedures for Virgin Islands cancer victims who can least afford these services.
Galiber said last year's competition was very successful and raised about $4,000, which was used not only to fund mammograms but also further diagnostic screening if initial findings required follow up.
Last year, 33 imaginative bras designed by women and men and embellished with feathers, beads, buttons, sequins, rocks, leather and other found and natural materials were on display at various locations on St. Croix and on the foundation's website. Supporters cast their $1 votes for their favorite entries and the three entrants receiving the most votes won prizes.
Winning last year's $100 first prize was Rasheeda A. Russell's "A Splash of Culture;" the $50 second prize went to "Abreast with Nature" by Colette Woodson Burgess, and "Survival" by Luz Navarro won $25. This year's entries will be on display for voting throughout Breast Cancer Awareness month in October.
"We are truly grateful for the support we received from the artists last year and we know we have a winner with this kind of fundraising activity," Galiber said. "Not only are we raising funds, but we have been making many new friends who contribute on behalf of someone they may know in the struggle or a loved one who sadly lost their life to this dreadful disease."
The foundation presently provides services on St. Croix but plans to expand throughout the territory. According to Galiber, the foundation has established an important role in the community as an advocate for breast cancer awareness and has undertaken a survey to collect data about the prevalence of cancer in the community. The foundation hopes to use the information to underscore the need for more data collection, research and financial assistance for Virgin Islanders.
The foundation also hosts support group meetings at 3 p.m. on the second Saturday of each month in the Juan F. Luis Hospital third floor conference room. The foundation focuses on health issues, nutrition, and other related topics.
But most importantly it fosters a camaraderie among survivors, family members and friends – an important aspect of the healing process, Galiber said.
Other foundation events include the fourth annual cancer awareness conference on Sept. 28 at the University of the Virgin Islands' St. Croix campus, which will feature important local and national speakers. There is also a tennis tournament fundraiser Oct. 4 through 6 at Carambola Tennis Club.
To stimulate the imagination, potential competitors in Beauty and the Bra can view last year's entries at www.yagvi.org. While the website is being updated for this year's competition, contest guidelines and entry forms can be requested by sending email to yagfoundation@gmail.com, or going to the Heart Center, PC, at Sunny Isle Medical Center Suite 9, from 9 a.m. to noon Mondays through Wednesdays. The entry forms also can be dropped off at the Heart Center, PC, or mailed to YAGF, Inc. P.O. 356, Christiansted, VI 00821.
Contest entry forms will be accepted until Sept. 13 and the deadline for entries is Sept. 20.
According to the American Cancer Society, breast cancer is the most common cancer among women in the United States.