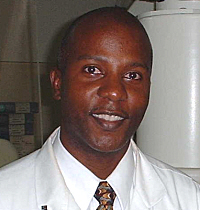 Dr. Kendall Griffith has resigned from his post as interim chief executive officer at the Juan F. Luis Medical Center, according to a press release issued by the hospital Tuesday night.
This is the second shakeup of top management at the hospital so far this year. Griffith took the position after former CEO Jeff Nelson resigned in January.
According to the release, Peter Abrahams, vice-president of facilities management, will step in as interim CEO.
Griffith, an accomplished cardiologist, has served a duel role since January, splitting his time between the CEO's office and the operating room. In the release, he is quoted as saying that the strain of being both an active doctor and a top administrator led to his resignation.
"I knew that accepting the position of interim chief executive officer while also practicing as a physician would be a challenge. It was a challenge that I willingly accepted because of the love for my patients, my hospital and my community," his statement reads.
Griffith goes on to say that he was grateful for the opportunity and that he was stepping down "with a heavy heart."
News of the resignation camejust hours after a special meeting of the St. Croix District Governing Board of Directors scheduled for Friday was canceled without explanation.
The meeting had been announced on Monday. While no agenda had been released, the date of the meeting coincided with a deadline set by Kye Walker, chairwoman of the district board, for the JFL executive staff to prepare a plan to further contract the hospital if its finances did not improve.
Griffith led the hospital during a tumultuous financial crisis that saw the termination of 24 employees in April, the need for an appropriation advance from the government to make payroll in May and regular shortages of supplies within the hospital due to vendors putting the institution on credit hold.
Griffith remained a vocal defender of JFL throughout his service as interim CEO, advocating for greater government funding and repeatedly stating his belief that the hospital's staff still provided exemplary care to patients despite the challenges facing them.
Amongst his accomplishments as interim CEO are the negotiation of a "plan of correction" with the Centers of Medicare and Medicaid Services that allowed JFL to continue to be reimbursed for treating patients insured through those programs and the implementation of plan to replace traveling nurses with permanent registered nurses, which, when complete, should save the hospital a large amount on payroll.
According to the release, Griffith will continue to work at JFL as a doctor and as the director of the Virgin Islands Cardiac Care Center.