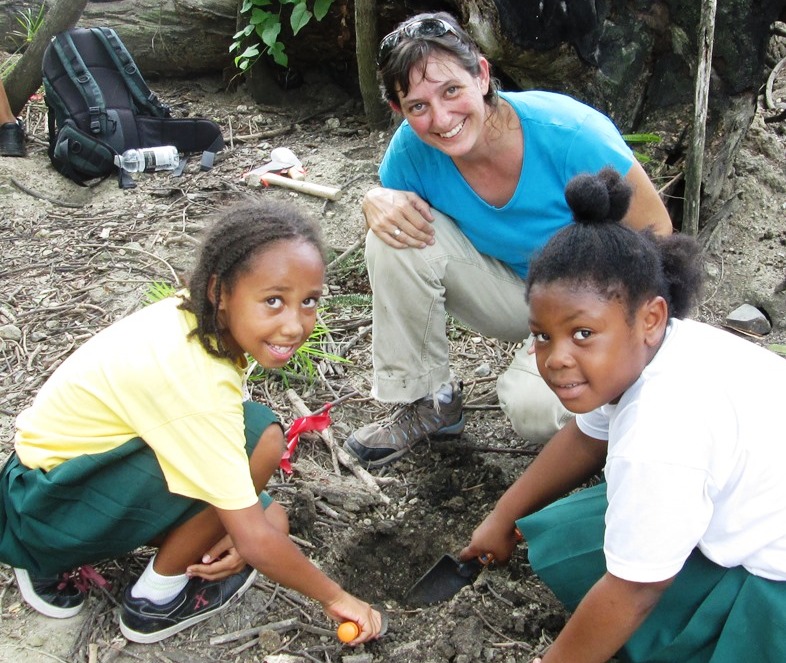 Toasty afternoon temperatures didn't put a damper on their enthusiasm as 13 fourth-graders from Guy Benjamin School joined forces with the Coral Bay Community Council to help with its restoration of the wetlands. The area sandwiched between Route 107 and the Agriculture Station is being replanted with native plants, and these students had one frangipani and four tyre palms to plant.
"Nature needs plants for us to breathe," said 10-year-old Gus Hayward. "Plants take in carbon dioxide and produce oxygen."
Ariana George, also 10, was out there to assist nature because it grows food for "us to eat."
Ten-year-old Sierra Matthias was busy planting so the trees can grow.
The Community Council has called on school groups before to help, but the main purpose of the planting session is education.
"We want them to learn about native plants and wetlands so they have a better appreciation for the environment," said Tricia Reed, the Community Council's environmental projects manager.
Guy Benjamin teacher Diane Cameron said that the students participated in the school's gardening program so this was an extension of that work.
She pointed out that the project was important because the students will be able to return in 10 years to see how the plants had grown.
"They'll remember planting them," she said.
St. John resident Gary Ray, who has a contract to replant the wetlands area, explained that he's a restoration ecologist who studied native plants and decided which ones would be planted where in the wetlands area.
He told the students that St. John has 650 species of native plants.
Because of the heat, it was a brief planting session, but Ray had time to tell the students how to build a berm around the plants to help contain water.
"When you plant you can't just walk away," he said, adding that once the students depart, he'll get some water for the plants.
As the session wrapped up, he noted that the coconut palms growing all around them were not native but rather came from the South Pacific area.
"And mangoes come from India," he said.