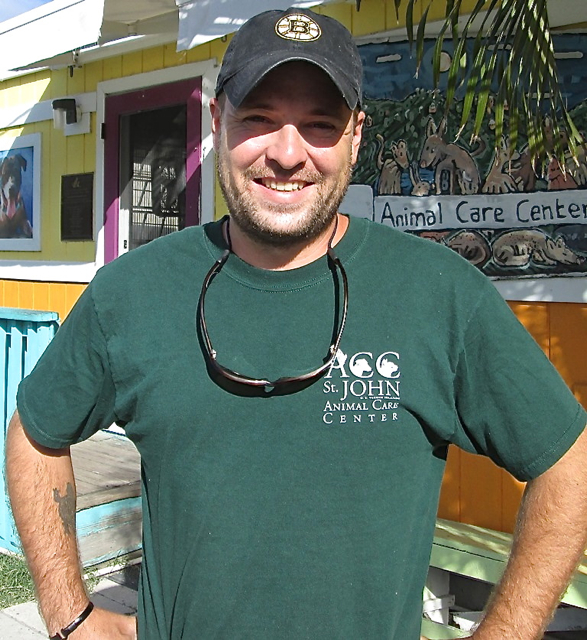 Ryan Moore, the manager at the Animal Care Center of St. John's shelter in Cruz Bay, loves animals.
"They give back. You give them a little attention and they give back 100 plus times," he said, adding that while he loves cats, he's definitely a dog person.
After working about six months at the shelter, Moore took over as manager in mid-February. With a part-time staff of three who mainly handle the animals living at the shelter, he's the point person when it comes to dealing with the public, handling adoptions and in the rare instance when animal abuse comes to his attention, dealing with legal issues.
He also organizes a cadre of local volunteers who walk the dogs and help clean the cages as well as the slews of vacationers who drop by for a walk with the dogs. He said volunteers also take the dogs on a Sunday hike to Lind Point, utilizing the help of vacationers to give the dogs their exercise.
"They make it a point of interest on their vacation," Moore said of both those who volunteer to walk the dogs and do the Sunday hike.
Some of those dogs get adopted by the vacationers, he said.
While the shelter works hard to raise money at events like its recent Wagapalooza, donations of money and goods are always welcome. Airline miles are appreciated because they can be used to transport adopted animals to the states. Additionally, Jet Blue allows its loyalty program members to convert unused miles into cash donations to the Animal Care Center. Since Jet Blue's miles expire after a year, it's a good way to prevent the miles from going to waste.
Moore said that people sometimes ship care packages containing items such as treats and dog beds. He said the shelter also needs disposable gloves, and puts plastic grocery bags to good use.
However, the biggest need is food. While the animals usually get dry food, Moore said canned food is welcomed because it's used to trap feral cats and as treats for those in residence.
The job comes with some sadness, of course. While the Animal Care Center runs a very successful spay and neuter program for feral cats, not all can be saved. Last year the Animal Care Center trapped 321 feral cats. They were tested for diseases. Those that weren't infected with feline HIV or leukemia were spayed or neutered. Most are released to feeding stations around the island to live out their lives.
In March, three or four out of the 32 cats trapped tested positive for the diseases.
Moore said that last year, the shelter cared for 65 dogs and about 20 cats.
And he said convincing some domestic pet owners that spaying or neutering is good for their animals sometimes takes some doing. However, he said the Animal Care Center has made inroads on this subject.
Animal abuse pains him.
"I hate to see animals suffer," he said.
The Mystic, Conn., native got his feet wet as a volunteer at animal shelters while working at Mystic Seaport historical area. He holds a bachelor's degree in history from Eastern Connecticut State University.
Moore, 31, moved to St. John in October 2011 after his girlfriend, Tiffany Holt, got a job as a liquor representative with Premier Wines and Spirits. The two settled with their black Labrador retriever, Tugs, into St. John life. Like many new arrivals, Moore worked here and there before landing the shelter job. He said they plan to stick around for a while.
"We're taking it day by day," he said.
Moore can be reached at the shelterby calling 1-340-774-1625.