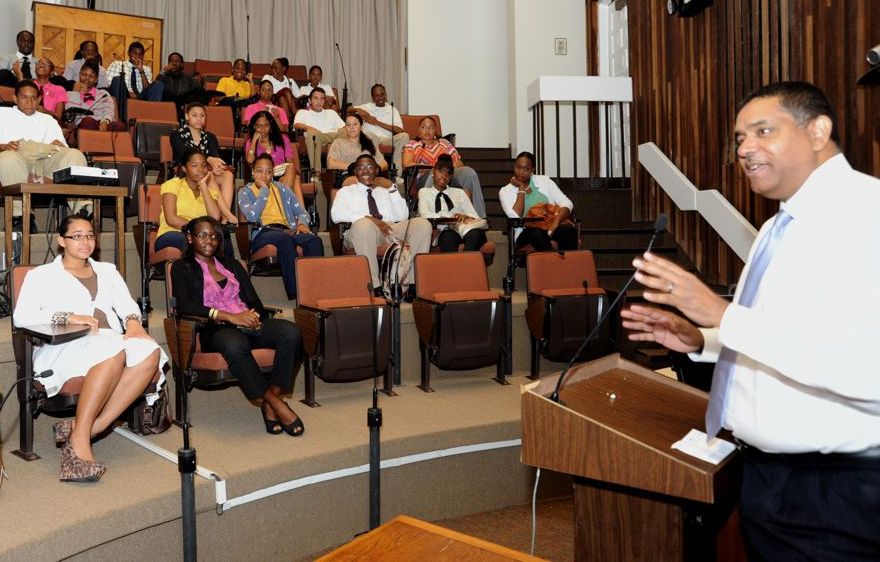 One good way for an entrepreneur to successfully create a business is to find a problem and craft and sell a solution to it, Gov. John deJongh Jr. told students participating in the High School Entrepreneurship Seminar organized by members of the Rotary Club of St. Croix Mid-Isle last week.
"Every business was developed on the need for a product and service," deJongh told the students at the seminar held last week, according to a Government House statement. "But instead of trying to decide what that need might be, try looking at it in a different way. Start by identifying the problems that need solutions and then find the product or service that fits the bill," the governor said.
"Look at yourselves first and make a list of the annoyances in your lives or the lack of assistance in a particular area or product. Then focus on one problem and determine the best way to solve it," deJongh said. "This could be the start of your great entrepreneurship."
The governor praised the young men and women for taking time to come and learn more about entrepreneurship.
"Whether you are a member of Future Business Leaders of America or simply motivated by interest in the business world, your attendance today indicates your desire to learn more about this subject. As high school students, this is the right time to explore possible careers, including business, as you make decisions about higher education and your futures," deJongh told the students, according to the statement.
Reflecting on his own career path, deJongh suggested success in the private sector can lead to government positions, and both play important roles in the wellbeing of the territory, he said.
"You may not know that I have always been involved in finance and public and private initiatives to encourage business development," deJongh said. "I helped draft the legislation that established the V.I. Public Finance Authority and served as the first executive director. I also was a member of the Industrial Development Commission and was chairman of the Virgin Islands Economic Recovery Task Force. I served as President of the St. Thomas-St. John Chamber of Commerce where one of my initiatives was ensuring private sector competitiveness for small businesses."
"I truly am a believer that business drives our economy and that it must be encouraged and protected," deJongh said.