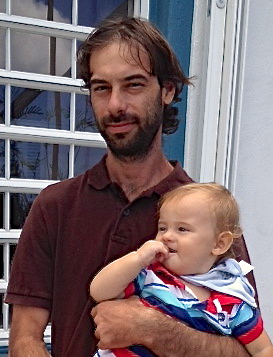 Man does not live by bread alone. Nor by sunning at one of the world's 10 most beautiful beaches. Nor by safari bus tours, zip line adventures nor sea trekking or parasailing. Not even by hitting the jackpot at the casino.
Now and then, "man" needs a quiet moment of reflection, a rousing hymn of joy, or the sight of an inspirational spire coaxing the gaze upward.
Fortunately, visitors to the Virgin Islands can find all these at any number of houses of worship where they are routinely welcomed by congregations of a variety of faiths.
"We cater to the tourists," said Monsignor Jerome Feudijo of Sts. Peter and Paul Catholic Cathedral on St. Thomas. "We go out of our way to make them feel at home. We acknowledge them and we say special prayers for them … as Catholics, they don't take a vacation from the church."
The cathedral is going through a multi-year restoration, which means tours have been temporarily curtailed because of safety concerns, he said. But once the restoration is complete, "we will revamp our hospitality ministry," Feudijo said, adding that the church hopes to work in conjunction with the V.I. Tourism Department.
For now, he welcomes visitors to regular services and tells them the congregation hopes they will return. "You will always have a pew here."
The Southgate Baptist Church, which is near a number of St. Croix's resorts, actively seeks visitors, according to the Rev. Ed Cullen.
"We try to be proactive," in welcoming tourists, he said. "We're blessed that we're very visible … You can't drive on an east end road without finding us."
Cullen said the church publishes a monthly newsletter and includes hotels and retail stores on its distribution list. It has a website and is on Facebook. People often check with the church before they leave home for their Caribbean vacation.
"We're a blended church," Cullen said, a fact he believes appeals to many visitors, as does the type of worship at Southgate, which features the Bible and old hymns.
"We do get a significant number of visitors," he said. During season, "we're pretty much guaranteed to have one or two sets of visitors every Sunday."
Southgate is one of several churches that reported a preponderance of Danish visitors in addition to those from the U.S. mainland.
At the Lord God of Sabaoth Lutheran Church in Christiansted, the Rev. Gerald Williams said he can count on anywhere from 10 to 50 Danes in church on Sundays from October to April, when there are regular tours every two weeks from Denmark to its former colony. The congregation even incorporates some Danish hymns into the service.
Lutheran denominations are particularly popular with the visitors, since it is the state church of Denmark. And no doubt the age of the church – it was erected in 1734 – adds to its historic appeal.
"Many tour groups have us penciled in as part of the itinerary," Williams said.
But you don't have to be from Denmark to get a warm reception.
"There's a part in our services when we welcome visitors, period," no matter where you're from, Williams said.
The Lutheran Church of the Virgin Islands in Cruz Bay has been welcoming visitors to St. John for generations.
"The church is open all day long, every day," said the Rev. Carlyle O. Sampson, pastor. Visitors – including the hordes who disembark daily at the ferry dock – are invited to come in, look, and pray. It's a novelty for most of them, Sampson said, because they aren't used to churches being open on the mainland unless there are services scheduled.
He said the church welcomes people from all faiths both during the week and for services.
St. John is home to many part-time residents, and Sampson said, "We look forward and we recognize them every year when they get back here."
First-time visitors especially are encouraged to introduce themselves, and the congregation, led by the choir, sings a song of welcome, he said. Numbers vary.
"Some Sunday as many as a dozen" visitors are present. "Other times, it's three or four."
At All Saints Anglican Cathedral in Charlotte Amalie, the story is similar. The historic church draws visitors who want to tour and some who want to worship.
Valerie Thompson, the administrative assistant who works in the church office, often steps in as impromptu guide during the week.
Visitors who attend service are greeted by the ushers and recognized during the service, Thompson said. If they want, they can share the microphone and tell everyone where they are from and a little about themselves. Those who sign the guest book and include an address receive a note of appreciation for their visit.
"There are some people who come here to get married, of course," Thompson added. Earlier this month a newlywed couple renewed their vows at a special ceremony at All Saints. "We facilitated them," she said. Like the church's outreach to seniors and to the needy, its ministry to visitors is part of its mission.
One of the most-visited religious structures in the territory is the St. Thomas Synagogue, which claims the distinction of being the oldest synagogue in continuous use under the U.S. flag, the oldest in the Caribbean, and the second oldest in the Western hemisphere.
The Hebrew Congregation welcomes people of all faiths to tour the building. It's open from 9 a.m. to 4 p.m. Monday through Thursday, from 9 to 3 on Friday and from 10:30 a.m. on Saturday. Groups are asked to call ahead to 1-340-774-4312 to arrange a guided tour, but individuals can just stop by.
Visitors are also welcome to services, said Rabbi Stephen Moch.
"We love it when people come to our service," he said. "That's when they see us as a congregation, not just a building."
Moch summed up the feeling expressed by many other clergy with a quote from the prophet Isaiah:
"My house shall be called a house of prayer for all people."