Pomp and circumstance, music, dance and heartfelt gratitude was evident Friday evening as elected officials and family members helped welcome the public to Carnival Village for 2013.
This year's theme, "A Tropical Scene" was visually evident in the 33 brightly colored booths that bordered the banner festooned Fort Christian parking lot.
This year's village honors Sir Frederick Anthony Larsen. Known affectionately as the "Ice Man" amongst longtime villagers, Larsen's family has provided ice to Carnival food vendors for the last 25 years.
As he received the official proclamation from Lt. Gov. Gregory R. Francis, Larsen brought over a dozen family members, including wife Anna, on stage, dedicating his success to his father and mother in an emotional speech.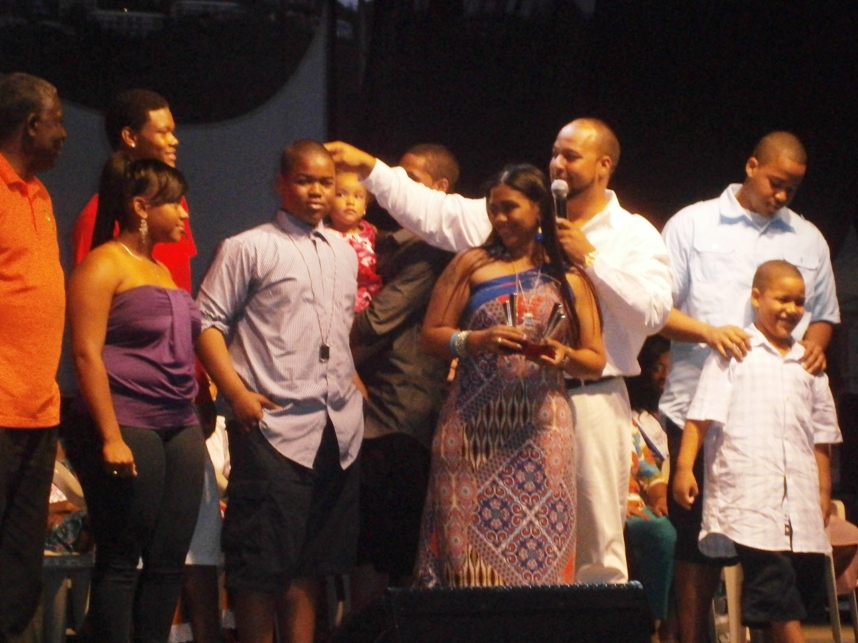 "It means so much to me to be able to publically thank my family tonight, those on stage with me and throughout the village, "said Larsen. "These booth vendors are my family as well."
Earlier in the evening, Carnival Queen Adisha Penn and Princess LaZonique Phillips, along with their respective royal courts, cut the ribbon to open the children's portion of the village.
Perennial ride favorites such as the tilt-a-whirl, the round-up and buckets of fun awaited parents and eager children alike. Games of chance, ring toss and balloon darts were stocked with stuffed animals and other prizes ready for the lucky winners.
The tempting scents of saltfish cakes, pates and flying fish filled the air as diners greeted friends and co-workers with a "Happy Carnival" salutation while sharing hugs and smiles with long-time residents who have returned home for the annual month-long celebration.
The booth run by the Ismay Frett-Weeks family was selected the overall winner of Best Booth based upon top graphics and art, customer service and relationship to theme. But if the lines in front of the bright orange food stand were any indication, the food is what won over the judges.
"Our booth is truly a family-run operation, from construction to graphics," said grandson Aubrey Booth. When asked about the dish most people request Booth, said "they come for the welks and rice. It is the best!"
Music continues nightly on the village stage through April 27.
Acting Police Commissioner Rodney Querrard assured all in attendance that his department has stepped up the presence of officers throughout the village and neighboring side streets. Officers and residents are all at a heightened state of awareness following the tragic events which occurred in Boston earlier in the week, he said.
While officers do not wish to inhibit everyone from enjoying the festivities, they do want to encourage Carnival goers to feel free to approach officers should they see any dangerous or suspicious activity.
"Rain won't stop the Carnival, but violence will," said Querrard.

Winners of this year's Best Booth were;
1st place Booth number 5, Ismay Frett-Weeks
2nd place Booth number 27, Martha Lewis
3rd place Booth number 3, Rosalyn Tittley