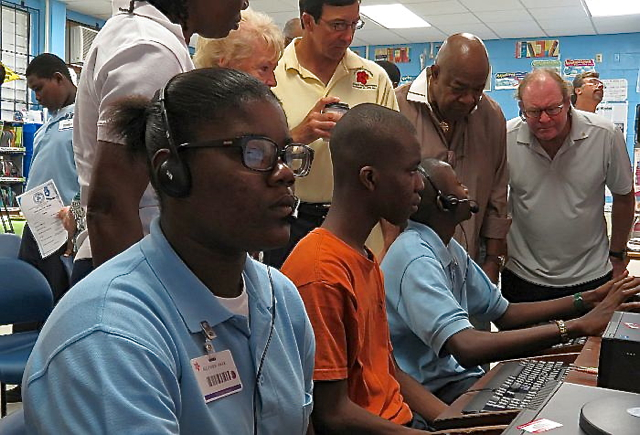 For the past eight years, the READ 180 program at Charlotte Amalie High has helped hundreds of ninth graders improve their reading skills. With a $30,000 donation from the Rotary Club of St. Thomas the school hopes the program can now be made available to sophomores also in need of a boost.
The Rotary club's donation came in the form of 30 computers that have already been installed in the school's three READ 180 labs, which is located in the ninth-grade wing on CAHS' St. Thomas campus. The labs' computers have been breaking down and the school has had to supplement with other equipment, such as laptops, in an effort to keep the program running since the beginning of the school year, school administrators said during an official presentation ceremony held Friday morning.
READ 180 was initially incorporated into the ninth-grade curriculum after administrators and staff noticed some of the students were coming in from junior high reading two to four grade levels behind, CAHS principal Carmen Howell said. The READ 180 software is designed to improve the students' skills and achievement levels by offering fun and creative lessons that build on each student's individual reading abilities.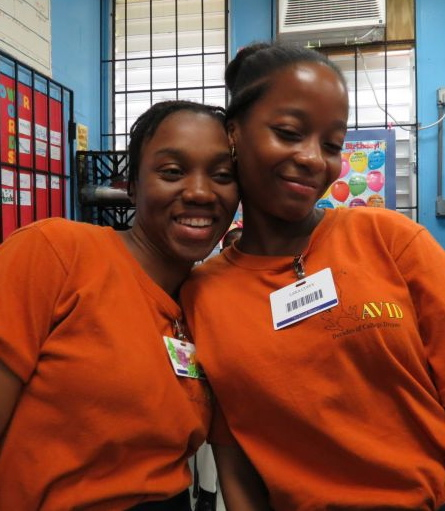 "We think it is critical for us to continue improving the skill level of our ninth graders so that they can tackle our rigorous high school curriculum," Howell said.
About 100 of the 400 ninth graders currently at the school have participated in the program, which Howell said is offered for either a semester or a full year.
Students are selected for the program based on their scores on a reading comprehension test given to all incoming ninth graders.
The benefits of the program were underscored Friday by several student speakers who said READ 180 has helped improve their comprehension levels, speaking ability and has even contributed to them doing better – because they understand more of what they read – in other subject areas.
"I used to hate to read because I thought it was boring," said ninth grader Jhad Berry. "Now I love to read."
The students also spent time giving Rotary Club of St. Thomas members a crash course in using the program, which not only uses technology to teach but gives students access to literature and other material that caters to their individual reading levels. READ 180 also allows the school's teachers to collect data on the students, who continue to take reading comprehension tests throughout the year in order to chart their progress and how effective the software is.
Rotary Club of St. Thomas' Club Services Director Jean-Pierre Montegut said during the ceremony that he was "humbled" by what the students had to say.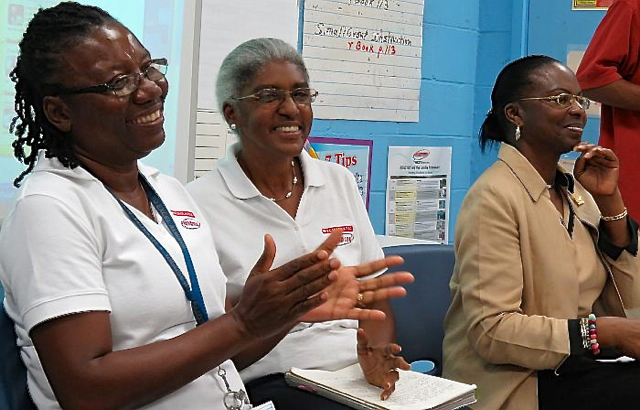 "This particular project started about two years ago," Montegut explained later, adding that a partnership between St. Thomas and another Rotary club in Union County, Ga., was formed in order to come up with the money needed to purchase the equipment.
"The way it works is, Rotary International will match certain funds that we put up on local level, so what we wanted to do is get a club that is outside of our district, because that way they would get matching funds from their Rotary system and help us get this project off the ground," Montegut said. "It really is a great opportunity to take clubs from different districts, put them together and that way the money grows so that we can do projects at this level."
Montegut said that once the paperwork was approved by Rotary International, the process of ordering the computers and getting them to St. Thomas moved fairly quickly.
Howell said later that the Rotary Club of St. Thomas has officially adopted CAHS and has been responsible for several projects at the school, including the building of a new welcome center at the front of the campus.