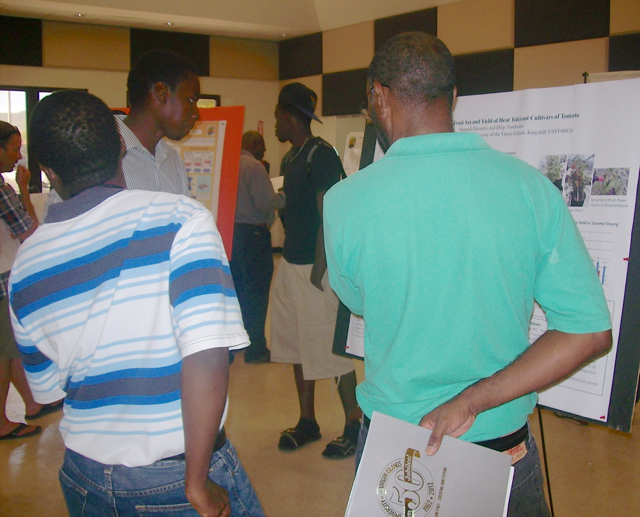 Coral reef analysis, changes in water quality and complicated bioluminescent research were some of the investigation by students at the University of the Virgin Islands on display at the annual Student Research Symposium Saturday at UVI's Great Hall on St. Croix.
Students in the College of Science and Mathematics and the Emerging Caribbean Scientist Program conducted research during the summer, some on UVI's two campuses. Other students traveled to the mainland to work on their research at some of the nation's prominent colleges. The symposium in UVI's Great Hall allowed students to showcase their research and results they found.
Velma Tyson, professor of mathematics and symposium coordinator, said the students' investigation and results presented at the annual symposiums continue to have a strong impact on her and show the inspiring opportunity UVI has to offer.
"In the past, the symposium only took place on St. Thomas," Tyson said.
She said Thomas Zimmerman, research associate professor at UVI, very instrumental towards having the symposium on St. Croix.
Tyson said the symposium allow students in the Emerging Caribbean Scientist Program majoring in either science, chemistry, applied mathematics, biology, nursing and physics to increase their research, gain exposure and promote excellence. She also said students who participate in the symposium always compete in an international competition.
"Every year, students at UVI compete amongst 700 universities," Tyson said.
She said last year, the students attended international competition in San Jose, Calif., and came back with awards.
Four graduate and 28 undergraduate students displayed their posters with the results of their research at this year's symposium. They also answered questions from the general public. They were accompanied by their faculty mentors, who helped them with their research, along with family and friends.
The students were judged by 41 judges on visual material, content, presentation and the ability to answer questions about their project. Tyson said there will be a first, second and third place winners. The announcement of the winners and a certificate will be provided during the week.
Shamali Dennery said his research allowed him to explore why tomatoes do not sprout well in the Virgin Islands. He worked with Dilip Nandwani, research assistant professor of horticulture at UVI. Dennery's research focused on the effect of 4-chlorophenoxyacetic acid – a synthetic pesticide – on two cherry tomato cultivars, Terenzo and Summer Cherry. He tested the heat tolerance of the tomatoes.
"I chose my topic because I did not know the main reason why tomatoes cannot live in tropical regions," Dennery said.
He said during the summer, tomato plants are faced with flowering plants that produce angiosperm. Dennery evaluated the effect of 4-CPA on the heat tolerant cultivars of the tomato plants in the Virgin Islands climate and his results showed that the 4-CPA allowed tomatoes to increase and yield in tomato crops mostly grown during the summer time.
Anthonios Doliotis did a comparative study to determine the water quality parameters of bioluminescence in Mangrove Lagoon and Salt River Bay on St. Croix, focusing on the salinity and temperature of the water. He said he was inspired by researcher E.J. Phillips, who conducted a similar study.
"Bioluminescent dinoflagellates were found throughout the entire bay," Doliotis said.
His results showed Salt River Bay had a salinity of 36.47 and Mangrove Lagoon 37.98. Salt River Bay had a temperature of 29.86 degrees Celsius and Mangrove Lagoon had a temperature of 30.30 degrees Celsius.
Other student research topics included: high level of sedimentation, third-generation sorrel for plant vigor, distribution of disease in shallow reefs, designing an effective scheduling algorithm, and the necessary relationship between persistent and institutional satisfaction.