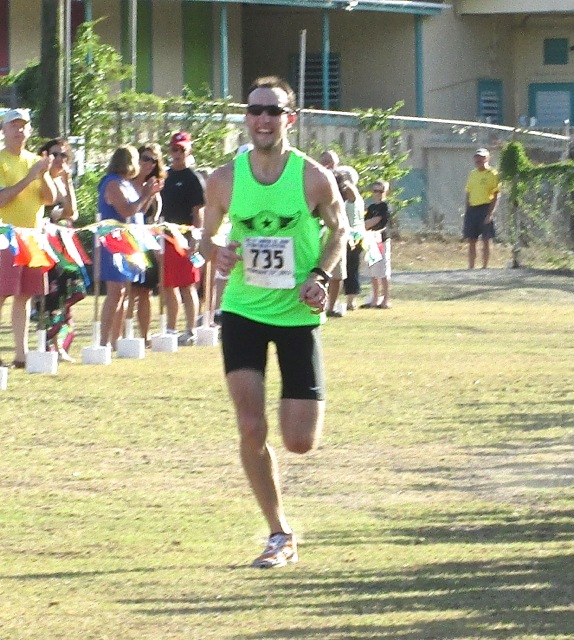 David Riddle, 31, an aviation engineer from Cincinnati, set a course record in Saturday's 8 Tuff Miles race with a time of 45 minutes and 46 seconds, 14 seconds faster than the old mark.
Riddle was the first of 1,207 runners to cross the finish line at the Coral Bay Ballfield. The race started in Cruz Bay.
"It was tough – the hills," he said.
He said he likes a longer course, and said the fourth mile was a brutal. And while he had a plan, he said it was hard to prepare unless you've actually run the course.
The crew from the Cincinnati area cleaned up at this race, taking the top three spots for the men.
However, it was hometown women all the way when it came to the top two finishers for the women. As she has numerous times, Ruth Ann David, 39, a personal trainer from St. Thomas, was the first woman across the finish line with a time of 58 minutes and 49 seconds.
She used the same word as Riddle to describe her race.
"Tough," she said.
She said life kept her busy and she had no time to train.
David was trailed by Devon Nemire-Pepe, 29, of St. John, with a time of one hour, one minute and 53 seconds. She finished seventh in 2012.
"It was hard," she said, adding that every hill was a challenge.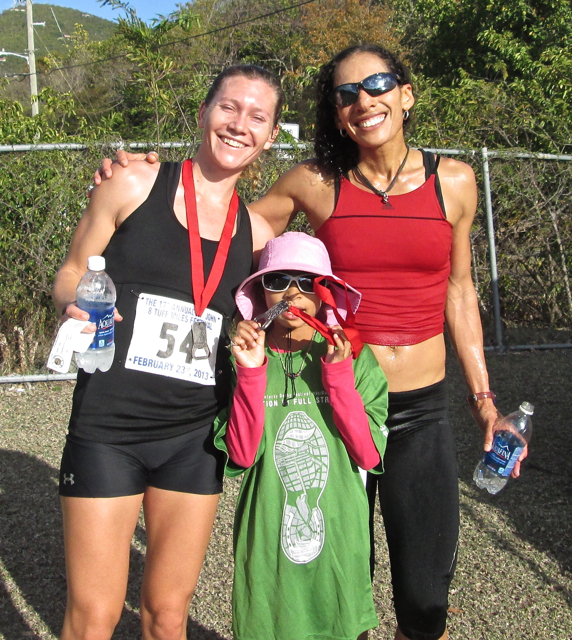 Third for the women went to Stephanie Remick, 27 of Arlington, Va. She had a time of one hour, five minutes and 49 seconds.
As for the men, last year's winner, Derrick Butler, 32, of Cincinnati took second.
"I pressed a little early and got off my game," he said, adding that Riddle ran a good race.
Third for the men went to the man who set the previous course record of 46 minutes in 2011, Chris Reis, 31, also of Cincinnati. His time was 49 minutes and 38 seconds.
He said he's now focusing on cross-fit competition because he wanted a change.
"I'm definitely not as strong on the hills as before," he said.
St. John resident Jeremy Zuber, who won numerous times in previous years, came in 10th for the men with a time of 54 minutes and 57 seconds.
Waiting about a half-mile up Centerline Road for a friend to finish, he said he knew he wasn't going to be a threat because he's busy with work.
"It's hard to find time to train," he said.
While the race is all about the runners, it wouldn't happen without a huge cadre of volunteers. No numbers were available on how many people came out to do such diverse jobs as fill goodie bags for the racers, cut fruit for post-race snacks and organize Gatorade and water in tubs of ice.
Aid stations lined the 8.375-mile course, with people handing out water and encouragement as the runners made their way toward Coral Bay.
While many of the volunteers live on St. John, plenty were on vacation.
Joan Sweeney of Wrentham, Mass., was headed toward the volunteer tent to help out. She said she'd watched the race before, but this was the first time to volunteer.
Frank Doherty of Berwyn, Penn., was busy cutting honeydew melon with Bill Milner of Pittman, N.J. Doherty spends about three months on St. John, but Milner was on vacation.
"My wife is walking," he said, explaining what motivated him to help.
Spectators lined the course and the finish line to cheer on their favorites. As they have every year for many years, a group from around the country gathered on St. John to root for two of their women. One of them, Lynn Chill, is a breast cancer survivor, and the team wore pink to celebrate her success.
"We don't see each other except for here," her husband, Ben Chill, said.
The V.I. Police Department closed Centerline Road for the race, and Deputy Police Chief Maria Jones said the runners told her they were grateful they didn't have to contend with passing cars.
She said there were no serious injuries reported.
Complete results are available online at www.8tuffmiles.com/index.htm .