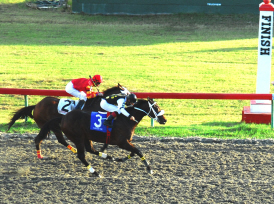 Tortola's Really Uptown leads a field of top thoroughbred imports in the featured Flamboyant Stakes, the second leg of the V.I. Triple Crown, on TRAXCO's Agriculture Fair Weekend race card at the Randall "Doc" James Race Track on Sunday.
The stakes, the 11th race run at a distance of 1-1/8 miles, will see the highly regarded Really Uptown trying to extend his dominance over V.I. racing. His main competition should come from Slevin, who will be trying to avenge back to back defeats.
Another Tortola entry, Good Prospecting, and St. Thomas' Sweet Sight should also be in the mix and could pull the upset at this distance. Two local entries in Gato Paso and Political Reporter round out the field. Gato Paso has been sprinting of late and now looks to stretch out to 1-1/8 miles. Political Reporter is a long shot to make the winner's circle, but then again this is horse racing and stranger things have happened.
The rest of the day's card:
Race 1 Class N-4 C/G –M/F 6F,
1. Victoria's Secret
2. Delilah
3. JPD YUNG
4. Miss Evadney's Pride
5. Midnight Redemtion(Debut)
6. Running Pryor
7. Mother Mel
8. Small Man
Race 2 Class I-5-M/F & I-6-C/G 7F
1. Lost Explorer
2. John the Baptist
3. Rey De los Ricos
4. Mamma Africa
5. Cash City
6. Quilla
7. Spitfire Red
8. Grace Alley
Race 3 Class N-3-M/F 7-1/2 F
1. Miss Kosi
2. Mama Linda
3. Hanna Boss
4. Hilary Boss
5. Diamond Colony
6. Crystal Blessing
Race 4 Class I-3-4(M/F) 7-1/2 F
1. Syrophoenician
2. Bab Bopy
3. Apron Dance
4. WhoShotthesheriff
5. Dona Gongui
6. Estrella Del Dia
7. Morning Sunday (debut)
Race 5 Class I-5 C/G 1M
1. Australia Forever
2. Blast of Macho
3. Joyful Minister
4. Burn the Harp
5. El Hombre Grande
6. Going Blue
7. San Viron
8. Black Machine
9. Johann Slew
Race 6 Open Race 6 F
1. Winning Actor
2. Bambi Bound
3. Broken Home
4. Twisted Dream
5. Drink At Last Call
6. Berberis
Race 7 Class I-4 1 M
1. Derby Nation
2. Lucky Lair
3. A Bit Of Madness
4. Costly Approval
5. Green Sand
6. Her Argument
7. Aerial Storm
8. X-Pleasure
Race 8 Class I-4-5 C/G 1M
1. Simon Sez Run
2. Beantown
3. Full House project
4. According to Jesus
5. Bruno's Burst
6. Black Jack Bob
7. Plotter
8. Tiger Glider
Race 9 "AG Fair Classic" 1 M
1. Puerto Rican Emblem
2. Mr. Unitas
3. Expect Smoke
4. Congo
5. Gaffalione
Race 10 "Rachael Canegata Classic" 7-1/2F
1. Blakesluckypenny
2. Turned to Gold
3. Ohbabyobeyme STT
4. Leggy Blonde
5. Lea the Punisher
Race 12 Open V.I. Bred, 1M,
1. Joe boss
2. Cruzan Emerald
3. Yahboribos Weapon
4. Creation Rebel
5. Super pop
6. Kings of King