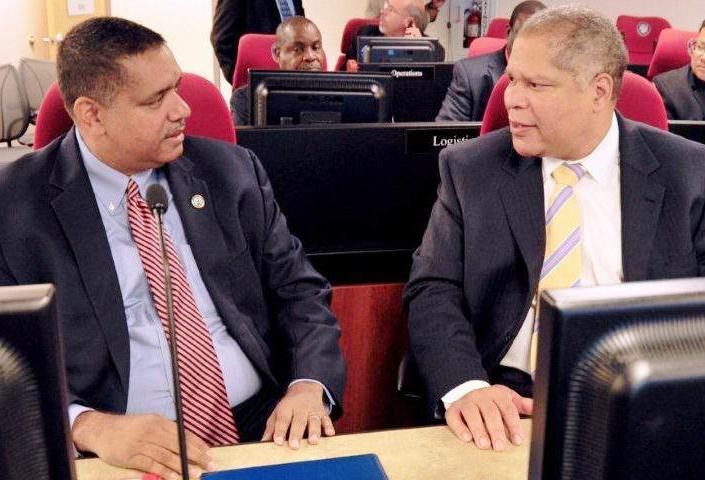 At a continuity of operations orientation briefing with federal and Virgin Islands Territorial Emergency Management Agency officials on Thursday, Gov. John deJongh Jr. said the territory has taken initial steps on an emergency continuity plan, but more needs to be done.
DeJongh led a delegation of V.I. government officials at the briefing, which was the result of planning between FEMA and VITEMA to ensure that in the event of a disaster, both the public and private sectors can continue uninterrupted, according to a statement from Government House.
DeJongh said at the meeting he recognized that continuity of operations builds in redundancy "so that the basic services such as law and order, healthcare can be provided to the 100,000 residents who reside in the Virgin Islands."
Since the Virgin Islands is made up of four stand-alone islands, it finds itself in a unique position, deJongh said. "Our options are limited due to the size of the island's land mass. Unlike states on the mainland or even Puerto Rico, we cannot simply pack up and move government operations to the next town, county, city district or parish; we must recover and resume operations within our islands."
DeJongh said there has always been a need for this sort of plan in the U.S. Virgin Islands. But that need, he said, was underscored by the events of 9/11 and the increased potential for man-made disasters.
"In 2010 and with significant assistance from FEMA, we began a process to reform the territory's emergency management apparatus. We reformed VITEMA and brought it to cabinet-level status; we developed new headquarters on St. Thomas and with various levels of redundancy, details which I should not disclose publicly, for obvious reasons," deJongh said.
Welcoming the FEMA officials to the territory, deJongh said they bring "a level of expertise to the table today to assist the territory in taking the next steps towards developing the continuity of operations plan for the Virgin Islands government and the private sector."
VITEMA Director Elton Lewis said the briefing was planned after a conversation with the governor when Hurricane Sandy affected the northeastern United States.
"The governor asked me whether we have a plan for such an event and whether we are ready," Lewis said, adding that he assured the governor that a plan was in place and the next step would be to bring the leaders of the three branches of government together to continue building out the territory's continuity of operations response plan.
The briefing was held at VITEMA headquarters on St. Thomas.