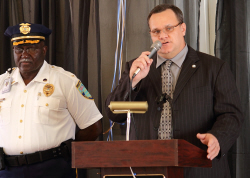 Police officers on St. Croix paused for an hour Friday to honor their own at the department's annual awards ceremony. Both sworn and civilian employees were recognized for actions involving grave personal danger, highly unusual accomplishments, and for laudable service to the community.
Acting Commissioner Rodney F. Querrard Sr. said police officers do not receive praise for their work often enough.
"I've seen in the past, way too many times, we are quick to put pen to paper when an officer commits an infraction. Unfortunately we don't do the same when an officer goes out and does his job on a daily basis," he said. "Officers need to be commended and acknowledged every time they do something well by their supervisors, who should in turn put something in writing and forward it up the chain."
The officers being honored Friday were all nominated by their colleagues. Seven police officers received the exceptional service award for actions taken in the line of duty.
Sgt. Anthony Hector received the award for twice responding to burglary reports while off duty—once in Mars Hill and once in Estate Calquohoun—and in both instances he apprehended the perpetrator.
Sgt. Richard Matthews was recognized for his efforts in obtaining convictions for the murder of Officer Cuthbert Chapman.
Detective Leon Cruz was honored for apprehending an armed suspect who was wanted in connection with a murder near Food Town. The individual was later charged with murder in the first degree.
Officers Roger Roberts and Jason Viveros received awards for disarming and subduing an individual who drew a gun during a traffic stop.
Officers Roland Richardson and Beverly Revan-Joseph were honored for chasing and apprehending three suspects wanted in connection with a robbery at Francis Metal #47 in Mars Hill.
Officers Eddie Stout and Mario Christian received the combat cross award after coming under fire from suspects while responding to a robbery at the McDonald's restaurant in Estate Golden Rock in February 2011. They pursued the suspects' vehicle, coming under additional fire, and succeeded in disabling the car. The suspects fled on foot, but the officers recovered their handgun.
Two civilians were also honored at the ceremony.
Melody Rames was recognized for her work as the department's public information officer. Acting St. Croix Police Chief James Parris said her efforts gave the department a voice.
Dr. Carmen Williams-Hendricks, an emergency room doctor at the Gov. Juan F. Luis Medical Center, was also recognized for supporting various police initiatives.
"Dr. Williams is a person we can call on at any hour of the night," Parris said.
Recently, Williams-Hendricks produced a training video to teach officers how to use mobile trauma packs to stabilize officers injured in the line of duty before ambulances arrive.
Sgt. Charles Orange and Officers Lydia Figueroa, Juan Cruz, Roland Richardson, Cuthbert Cyril and Beverly Revan-Joseph were given the morale booster award for their service at the 2011-2012 Festival Village.
Querrard praised the efforts of all the officers present, not just those receiving awards, and encouraged supervisors to do more to highlight the good work being done by their officers.
"We have to acknowledge people when they do good, and this is a start," he said.