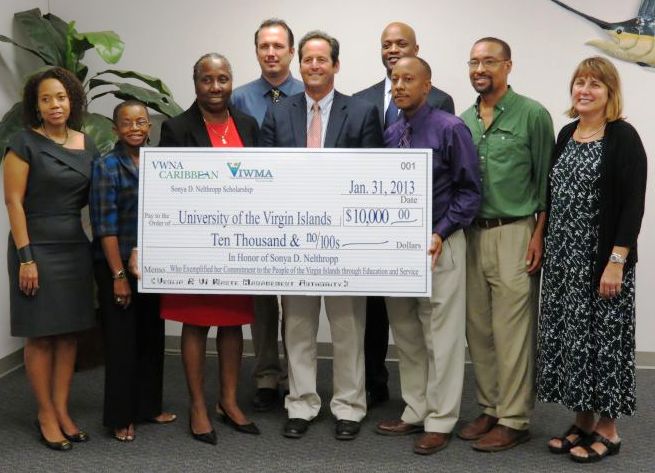 The official unveiling of a new scholarship for students attending the University of the Virgin Islands turned personal Thursday as V.I. Waste Management Authority officials remembered the life of Sonya Nelthropp and her desire to introduce more young people to the world of environmental protection.
Nelthropp, who passed away last April, was a driving force behind the creation of the Waste Management Authority. Because of her experience as a biologist, educator, engineer and manager, Nelthropp was hired in 1999 as a technical assistant to the commissioner in the Department of Public Works, charged with evaluating the status of the long standing issues with waste management in the territory.
She worked with a small but very dedicated team to create an agency, the Waste Management Authority, that would provide quality wastewater and solid waste management services to the community as well as protect the environment and public health and "preserve paradise." Nelthropp gave the authority the road map to follow to be successful and helped to build that foundation by first serving as the authority's interim executive director and then as the chief planning officer, officials said Thursday.
"Sonya had a heart as big as the universe," WMA Executive Director May Adams Cornwall said Thursday at a small ceremony held at the authority's Red Point Wastewater Treatment Facility on St. Thomas.
"And speaking about the heroism of Sonya Nelthropp, when she knew she wouldn't be with us past a certain time, we were talking about how we would remember her … and we talked about a scholarship and she said she liked the idea, but she also wanted it to be an apprenticeship that would allow young people to work in the industry and get a love for what we do."
Honoring Nelthropp's wishes, WMA teamed up with officials at Veolia Water North America Caribbean to create a $50,000 endowed scholarship to UVI for undergrads majoring in process technology on St. Croix and in science and math on St. Thomas. An internship at VIWMA is also included.
The first $10,000 payment into the Sonya D. Nelthropp Scholarship Fund was made Thursday, with VIWMA and Veolia pledging a total of $50,000 over five years. Officials said interest earned on the endowment would continue to fund the scholarship after the initial five-year period.
"There is always a huge demand for the university to be able to provide funds for students and this gives us an opportunity to do that and have more people being able to attend UVI," Dionne Jackson, vice president of the Office of Institutional Advancement at UVI, said during Thursday's ceremony.
Other speakers said the university has continued to see a large increase in students interested in studying engineering.
"Many of them are always looking for internships, and we see this as a powerful way of pushing them toward their career goals," added Sandra Romano, interim dean of UVI's St. Thomas campus.
Also attending the check presentation were Public Works Commissioner Darryl Smalls, who is also WMA board chairman, and Steven J. Kruger, regional vice president of operations for Veolia Water North America Caribbean.
Students seeking more information on the scholarship, or interested in applying, should contact the WMA's Office of Communications Management at (340) 715-9110 or (340) 690-4218.