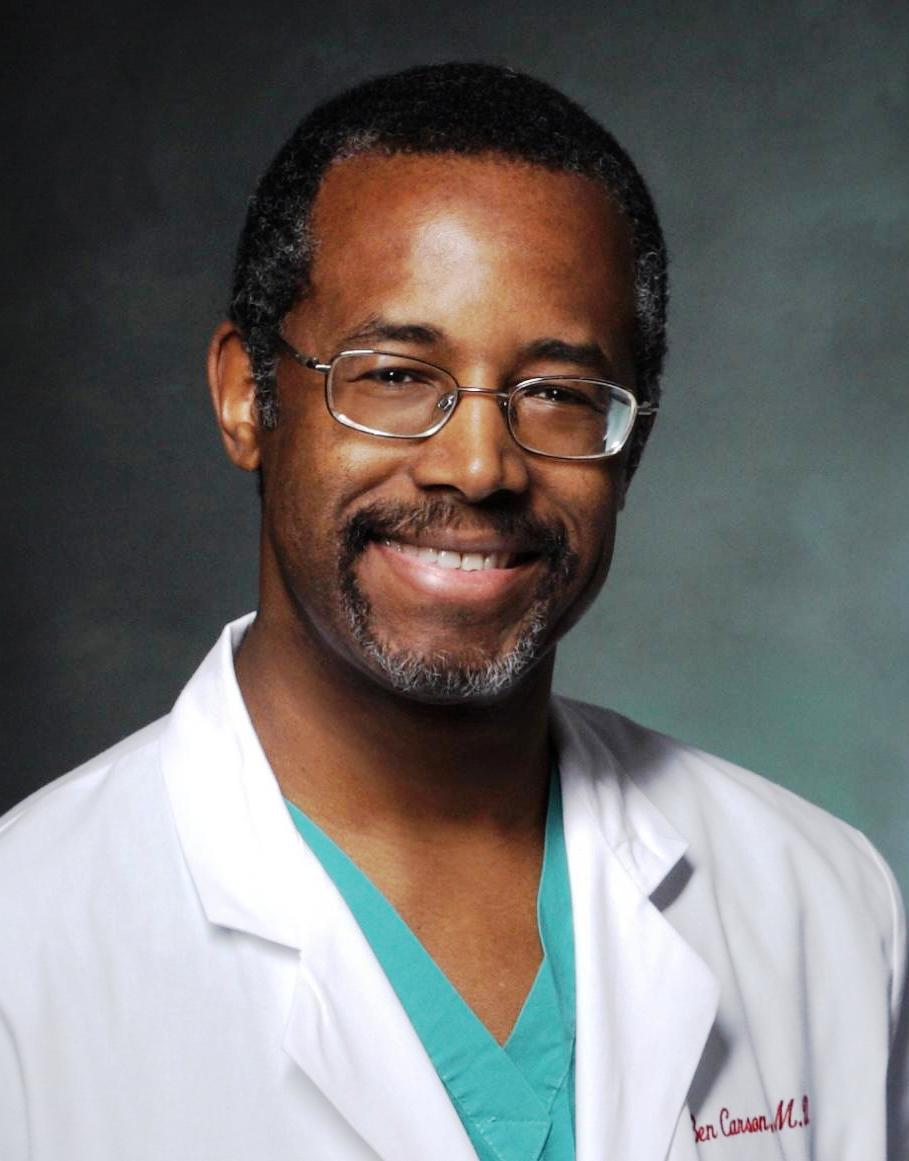 World-renowned pediatric neurosurgeon and New York Times bestselling author Dr. Benjamin S. Carson Sr. will be the keynote speaker at the University of the Virgin Islands' third-annual "Man-Up" Male Empowerment Conference, the college announced Wednesday.
The conference is scheduled over two days on two islands, Feb. 4 at UVI's Sports and Fitness Center on St. Thomas, and Feb. 5 on the Albert A. Sheen Campus on St. Croix.
In his youth, Carson struggled with poverty, low grades, a horrible temper and a low self-esteem, but his mother, who only had a third-grade education, encouraged him to strive for excellence. Today Carson is a celebrated surgeon and a pioneer in his field. His autobiography, "Gifted Hands," became a TNT original movie starring Academy Award winner Cuba Gooding Jr. and Kimberly Elise.
Carson is a full professor of neurosurgery, oncology, plastic surgery and pediatrics at the Johns Hopkins School of Medicine, where he has directed pediatric neurosurgery at the Johns Hopkins Children's Center for more than 25 years.
"He is the embodiment of the 'Man-Up' Conference's theme, 'Man-Up: Discovering Your Gifts and Talents'," said Haldane Davies, special assistant to UVI President David Hall. "He had the opportunity to turn his life around and now is a gifted surgeon able to help and heal people."
"This conference will give young men in this community the opportunity to hear from and speak with a world-renowned surgeon who serves as a positive role model," Davies said.
In 1987 Carson received global acclaim when he became the first surgeon to successfully separate craniopagus twins – twins connected at the back of their heads. In 1997 he separated two vertically joined craniopagus twins in South Africa and was the first to successfully place an intrauterine shunt for a hydrocephalic twin. Hydrocephalus is a brain condition that occurs when cerebral spinal fluid is unable to drain from the brain and forms pools, causing a backup of fluid in the skull.
Carson holds more than 60 honorary doctoral degrees and has received hundreds of awards and citations. He sits on the board of directors of numerous organizations, and his inspiring talks make him a popular speaker around the world.
In 2001 CNN and TIME magazine named Carson one of the nation's 20 foremost physicians and scientists. That same year he was selected by the Library of Congress as one of 89 "Living Legends." Carson is the recipient of the 2006 Spingarn Medal, the highest honor bestowed by the National Association for the Advancement of Colored People.
In June 2008 he was awarded the Presidential Medal of Freedom by President George W. Bush, which is the highest civilian honor in the U.S.
Also selected to speak at the conference are professor, author and director M.K. Asante Jr. and Mothers Against Guns Executive Director Celia Carroll.
The author of four celebrated books, Asante is a recipient of the Langston Hughes Award. His latest book, "It's Bigger than Hip Hop," was hailed by the Los Angeles Times as "an empowering book that moves you to action and to question status quo America." Asante also directed "The Black Candle," a Starz original movie that he co-wrote with poet and author Maya Angelou. He has been featured on the CBS Early Show, NBC News, BBC America and National Public Radio.
Months after her son Jason Carroll was gunned down in a daylight shooting on Main Street in 2000, Celia Carroll started the St. Thomas chapter of Mothers Against Guns and has since been engaged in activities that promote the value of life and speaks against gun violence in the Virgin Islands.
This year's conference will also feature performances by Iyaz and Wally Kyat. Iyaz, born Keidran Jones, recorded his first studio single, "My Life," in 2010. Iyaz was born on Tortola, BVI, and studied digital recording in college. His talent was spotted by recording artist Sean Kingston in 2008. Iyaz's song "Replay" peaked at number two on Billboard Hot 200 and in the United Kingdom it ruled the country's singles chart.
Wally Kyat, born Omari George, became one of the most requested artists on V.I. radio with his first recording, "From the V.I.," in 2010. The thought-provoking antiviolence song chronicled one of the most murderous times in the territory and the personal pain Kyat experienced at losing friends to gun violence. Since then he has recorded several other singles and performed in the territory, Florida and Georgia. He holds a bachelor's of science degree in electronics engineering and works at the V.I. Water and Power Authority as an engineering technician.
For the first time, the "Man-Up" Conference will feature the finals of a live poetry contest. Other entertainment includes the UVI Dance Squads and the Ivanna Eudora Kean, Charlotte Amalie, Central, and Educational Complex high schools' marching bands.
The "Man-Up" Conference was started in 2011 in response to rising violence in the community and the low enrollment rate of young men in higher education. It is an initiative of "Brothers with a Cause," a UVI program that seeks to attract more male students to the university and provide tools and support to help them graduate.
"The 'Man-Up' conference is an opportunity to reach young men in the territory," Davies said, noting that it provides young men with options to advance in life and be productive citizens in the community.
Pre-registration and more information are available from the Male Initiative home page at http://www.uvi.edu/sites/uvi/Pages/President-male_initiative.aspx?s=CS, or by calling the Davies at 340-693-1000.
The conference is sponsored by UVI, the V.I. Department of Education and the V.I. Department of Human Services.