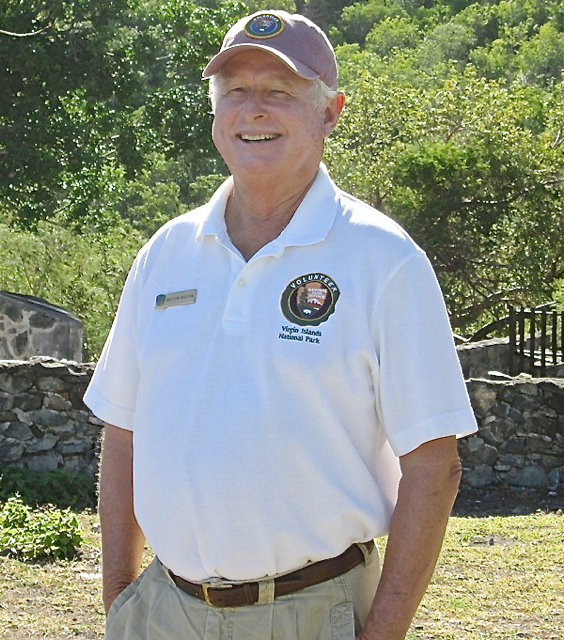 While some winter residents are happy to spend their days at the beach, Weldon Wasson spends his Thursdays as a Friends of the Park volunteer docent at V.I. National Park's Annaberg Plantation.
Many other days he can be found hosting Friends seminars, and last year he was a dedicated member of the crew that built the handicapped accessible trail at Francis Bay.
"I enjoy it and I feel like it's a small way to give back to the park. And I get a lot more than I give," Wasson said.
To honor is efforts, the Friends of the Park on Sunday named Wasson Volunteer of the Year.
"He volunteers for anything we need when he's here," Friends President Joe Kessler said.
Kessler said that every year the Friends look at who stands out from among the volunteers, and this year it was Wasson.
Wasson, who is joined at Annaberg by his wife Ellie, said the volunteer post lets him meet people from all over the world who want to explore the island's history at Annaberg. He said people are surprised by the stories he has to tell and love seeing the ruins.
They're also delighted to find that, thanks to the presence of the national park, St. John isn't crowded and congested like other Caribbean islands, he said.
"I think they are surprised," he said.
Volunteering at Annaberg has pushed him to delve further into the island's history. For instance, he said someone asked about blackstrap molasses so he did more research.
"It's from the third boiling of molasses," he said, adding that gathering this sort of information is what keeps it interesting.
Wasson first got involved at Annaberg 11 years ago when he met another snowbird, Paula Savel, at the gym. Savel and her husband Kent Savel had started the volunteer docent program at Annaberg and were recruiting volunteers.
The Wassons first visited St. John in 1978 on a day trip from St. Thomas. He said they rented a car and drove around the island. In 1980, they bought a condo at Villa Caribe, and in 1997 bought their house.
They have no plans to stop what they're doing. Now 68, Wasson said he loves the warm weather and outdoors lifestyle afforded by winters on St. John.
"And I love the water," he said.
He also likes St. John's small town atmosphere, and over the years he and his wife have made many close friends.
When they're not wintering on St. John, they spend the rest of the year at home in Hillsborough, Calif. Laughing, he talked about how in retirement you just "do stuff."
"I walk the dog, go to the gym and play quite a lot of golf," he said.
Before he retired, the Oakland, Calif., native owned a temporary services business that provided workers to the area's high-tech industry. He sold the business in 1996, stayed on for three more years and then called the work-a-day life quits for good. Along the way, he served nine years as chairman of the non-profit Freedom from Hunger board. A global agency, it works to fight world hunger. He's now an emeritus member of the board.
He and his wife also like to travel, with trips both near and far on their agenda.
"We're very fortunate," he said, summing up his life.