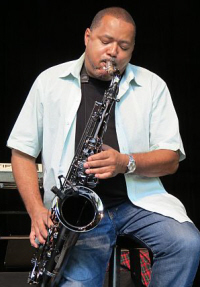 Smooth jazz icon Najee will be playing to a packed crowd at the Reichhold Center for the Arts Saturday, but Friday morning, about 30 kids from Wesleyan, Antilles School and Ivanna Eudora Kean High got to play with the talented saxophonist and flutist.
Every year during its season, the Reichhold (in conjunction with the V.I. Council on the Arts) offers a series of residency workshops that gives local students a chance to interact with many of the musicians, dancers and actors performing in the territory. Friday's event specifically worked with music students, who toted along instruments from horns to strings.
"We want you to see what it really takes to be a musician, what it takes to perfect your craft and become good at what you have a passion for," Reichhold Marketing Manager Karen Gutloff said to the students Friday. "We want to give you the kind of music education that you desire."
Gutloff said students would be able to relate to Najee, whose mother and grandparents were born on St. Thomas, but also be inspired by his determination and success.
Born Jerome Najee Rasheed in New York City, Najee told students how he got the opportunity to play the saxophone in junior high school, where he also experimented with the clarinet and flute. He later attended the August Martin High School in Jamaica, Queens, thinking he wanted to become a pilot. But he was still so active in music that he "ultimately decided to do that for a living."
So, at the young age of 18, he began touring and played with a variety of different bands before attending Bronx Community College. Najee said that he was later able to attend the New England Conservatory of Music for three years, but couldn't afford to finish up. Still, he studied with jazz legends including the late Frank Foster and Jimmy Heath.
"But I was lucky," he said. "I went back to New York and within a week, I was sitting in a club one night when a young lady named Chaka Khan hired me to go on the road with her." The rest was history – from there, Najee's story turned from record deals to Grammy nominations, gold albums and three-year tours with Prince.
"When I'm in the States, I get do to a few of these workshops with students, and I'm always happy to talk and share these experiences," Najee said, adding that what's most important for budding musicians is to understand both the artistic and business sides of the industry. He also took some time to answer questions from the students, talking to them about being a recording artist and what tour life is like, before bringing them on stage for a jam session.
Each student that participated in Friday's workshop also received a free ticket to Saturday's concert at the Reichhold, which they will be able to attend with a parent or guardian.