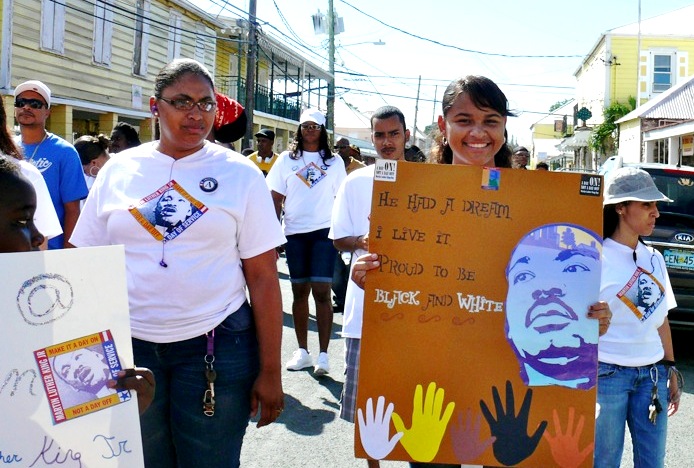 The mood was joyous and celebratory, the weather breezy and fine, and Frederiksted's King Street was lined Monday morning end to end with marchers celebrating the memory of slain civil rights icon Dr. Martin Luther King Jr.
Just after 10 a.m., the bands struck up the tune, and two police officers on motorbikes briefly blew their sirens clearing the route. The St. Croix Central High JROTC Color Guard began the progression, which grew to a throng several hundred yards long. Squad after squad of smartly uniformed Central JROTC cadets marched down the wide boulevard, spanning nearly two blocks.
"It's great so many of the kids marched," said Frederiksted resident W. Thomas, one of the many who came out and lined the streets for the parade. "It is always good to see that the kids here know of the message King delivered: that we must come together," he said. "Not just African American people but everyone."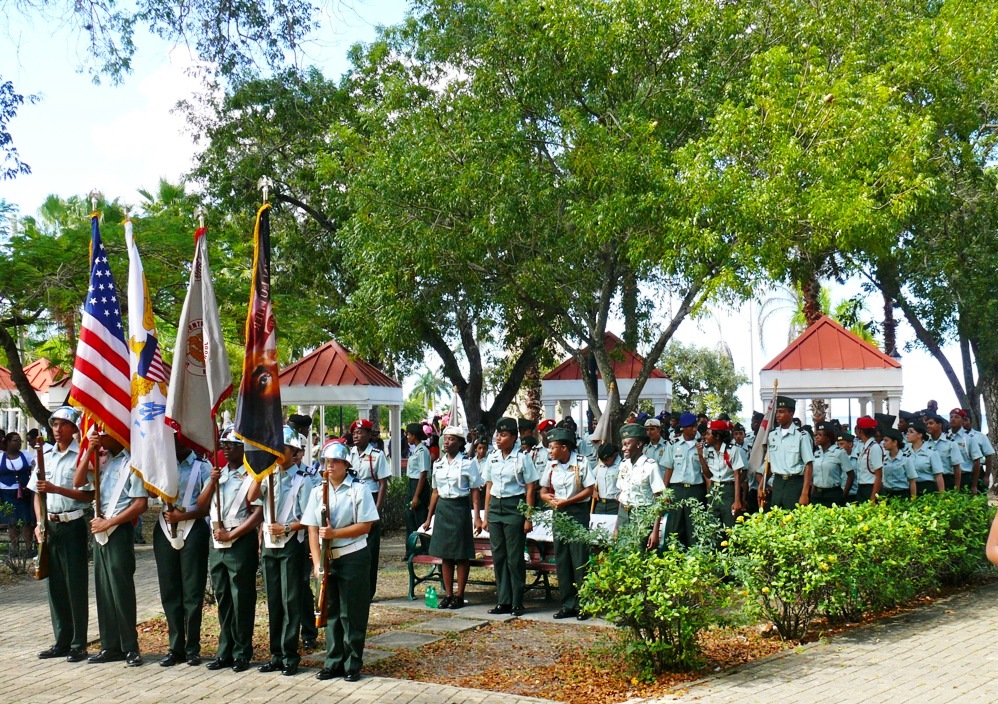 Police cars with blue flashing lights led the way as contingents from local schools, community organizations, clubs, unions and private citizens strolled from Claude O. Markoe Elementary School, around and down King Street to Buddhoe Park. Flags waved and the big bass drums of St. Croix Central Marching Band beat the air and majorettes performed their routine.
The American Federation of Teachers and other unions were well represented among the marchers. Some marched behind a union banner. Some held signs with messages.
Public schools like Arthur Richards Junior High, Ricardo Richards, Alfredo Andrews, Eulalie Rivera, and Evelyn Williams elementary schools were out in force, as were private schools. St. Mary's School, the School of the Good Shepherd, Country Day and Good Hope Academy were among the schools marching with students in commemorative T-shirts holding signs and pictures.
"I learned Martin Luther King Jr. was a good man, dedicated to helping black people get their rights," said Rex Cazaubon, a 12-year-old student at School of the Good Shepherd, who marched in the parade. "He understood the problems that were happening at the time and he took action to help solve those problems," Cazaubon continued.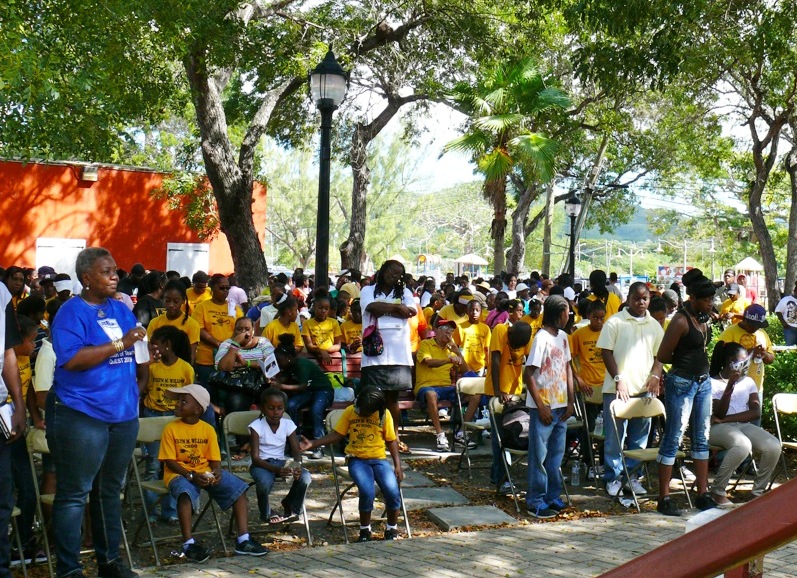 Alpha Phi Alpha, Zeta Phi Beta and other fraternities and sororities were out in force too, marching behind their chapter banners.
Along the route, people began to stake out good spots in the shaded walkways of the town's old buildings, some setting up folding chairs or holding parasols to shade from the sun, which peaked out from behind scattered clouds.
The Central Labor Council of the Virgin Islands (CLC), which has been organizing the march for 20 years now, had a speaker truck broadcasting some of King's most famous speeches as it rolled slowly down the road.
Every year the CLC chooses a new theme for the commemoration. This year's came from a quote from Dr. King: "The Time is Always Right to Do What is Right."
After the parade flowed into the park, hundreds gathered around the old bandstand for a rally. The spirited crowd sat in clusters of matching school, club, and group T-shirts making a colorful patchwork on the park benches and rows of folding chairs set up in the dappled shade of Buddhoe Park.
St. Croix musical stalwart Wilfred "Juni Bomba" Allick blew the conch shell. Kathleen Hamilton Rivera sang the Star Spangled Banner, V.I. March and Black National Anthem.
Ten-year-old Brianna Campbell brought tears to the eyes of many in the crowd with a soul-stirring rendition of the classic hymn "Holy, Holy, Holy."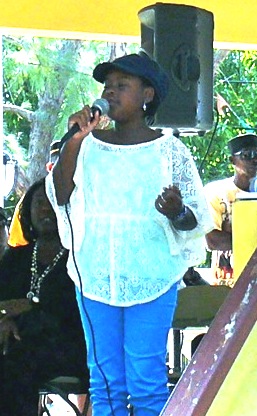 Campbell, a diminutive fifth-grader at Country Day School, sang with a depth, resonance and style far beyond her years and beyond many full-grown adults who sing professionally, soldiering on, unperturbed, as her recorded musical accompaniment first skipped, then was shut off.
Campbell finished needing no accompaniment, belting out the old hymn over the loudspeaker a cappella.
"It's just a gift from god," Campbell said when asked how she learned to sing so beautifully so young, referring to her parents to tell the story.
"She learned to sing before she learned to speak," said her mother Barbara Campbell, with father, Dr. Lyn Campbell, next to her, agreeing and adding some details. "She was 2 or 3 and I was singing to her to get her to sleep," her mother said, adding that she heard an echo and that it was young Brianna singing along. "She hasn't had any voice lessons or anything."
Collin Hobson, a sixth-grader at Alexander Henderson Elementary, took the bandstand's podium and spoke to the crowd of hundreds, reading aloud the full text of King's "I Have a Dream" speech, from beginning to end.
Pastor Gary Moore gave a bittersweet lecture, contemplating the history of race in America and contrasting the promise and the reality of the Virgin Islands.
"I was born in Chicago, born into legalized slavery in 1958. Jim Crow controlled the South and institutional racism controlled the North," Moore said. He said he listened to theologians argue that "if blacks were given an opportunity to rule their own world they would rule more justly."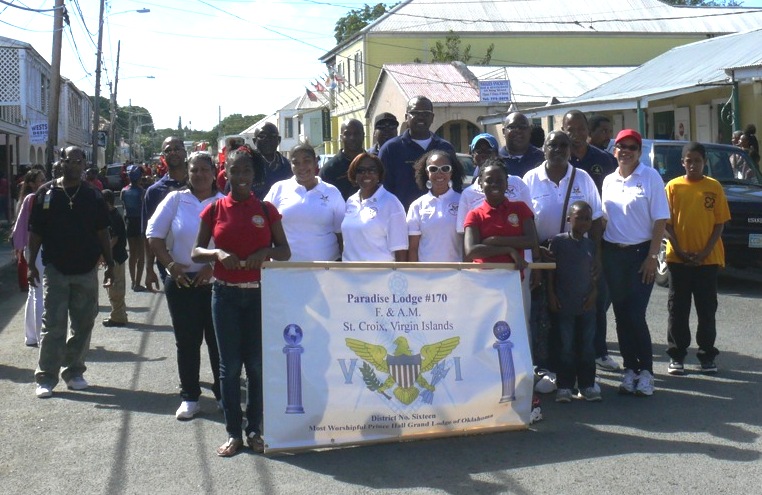 Moore said he "dreamed of a place I could come with a black governor and black lieutenant governor and senator." "But I have to tell you, I came here 10 years ago to these shores and for 10 years I have waited for us to become the nation we are worthy of, and I am greatly disappointed with what I have seen," he said, going on to outline some of what frustrates him.
"What are we really coming here to honor today? Are we here to really change things or to fantasize about what we could be, but have no real way to get there from here? We must take hold of the future or the future will take hold of us," Moore said.
Reuben Molloy, director of the V.I. Bureau of Information Technology and a member of Alpha Phi Alpha, gave the keynote address, urging young men and women to get involved and "do something."
"Martin Luther King Jr. led by doing something about the issues of the day," Molloy said. "In these most difficult economic times, we can get involved with these most pressing economic issues and, at a time when many young people have little value for their own lives, we can help them to value their lives," he said.
"Today, thanks to Martin Luther King Jr.'s legacy, Barack Obama was able to be sworn in for his second term as president of the United States. And Obama is using Martin Luther King's bible for the swearing in, to show him honor," Molloy said. "So I say to you and leave you with these words: Do something," he said.
Sen. Terrence "Positive" Nelson and Senate Vice President Sammuel Sanes took to the bandstand side by side.
"We decided to come here together because there is a lot of talk in the community about division and separation," Sanes said. "We want to show the people that regardless of our political affiliations, regardless of party, we stand as one for the people of the Virgin Islands and especially for St. Croix," Sanes said.
Pastor Linnie Francois closed the ceremony with a rousing prayer in the form of a Calypso song, followed by a brief spoken prayer.
The festive atmosphere continued apace, as everyone took their time, talking with friends and neighbors before winding their way to their cars to spend the rest of the holiday.