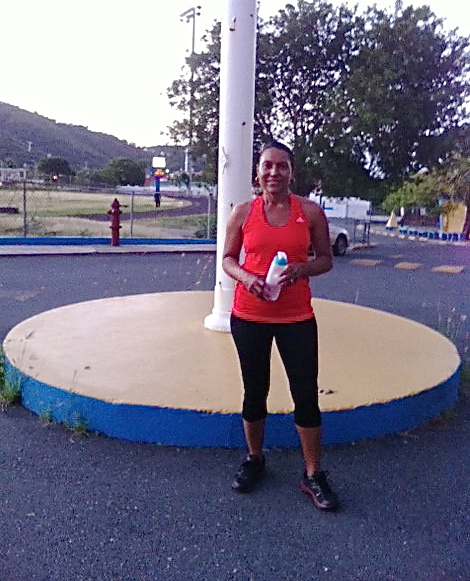 Work is about to get busier for Annette Nicholson as St. Thomas residents make good on New Year's resolutions. That's because she leads exercise classes at the Extreme Fitness gym in Market Square East and also serves as a personal trainer to many clients.
With 58 years of healthy living neatly arranged into a body that looks half that old, Nicholson is a walking advertisement for the benefits of regular exercise.
"I've just always been athletic," she said.
When she served in the military, she came in second place in a European power lifting championship.
It was in Frankfurt, Germany, that she took her first fitness course and earned her first certificate.
"I've got tons of certificates," from U.S. and international organizations, she said, including ones for aerobics, nutrition, personal training, and strength training.
Her degree is in criminal justice, and she's working now on a master's degree in Biblical studies, but for more than 15 years her career has been primarily physical. She moved to St. Thomas from Atlanta in the mid-1990s and took a job at what was then Gold's Gym. Then she taught health and physical education at Sts. Peter and Paul Catholic School for many years. Now she's full-time into training.
"I've got a portable gym in my car," she said. "Some clients like to work outdoors."
From 5 a.m. to 6:30 a.m. this past Friday, she worked with three women on the grounds of Charlotte Amalie High School.
"We walk first – four times around the track, that's a mile – then we go to the flagpole for strength training … then we do our stretches."
Another favorite spot is Magens Bay Beach. Nicholson likes to start off with a brisk walk uphill from the beach to the curve where St. Thomas Dairies is located, then back down, with perhaps a detour by the turnoff to Estate Peterberg, then back to the beach for some weight training, squats, lunges, jumping jacks, and maybe some triceps dips and step-ups at a picnic table.
"It's amazing some of the things you can do on a bench or a picnic table," she said.
"You can exercise almost anywhere," Nicholson observed. "I was in the DMV (Department of Motor Vehicles) and I got a whole workout" – at least for her calves, which she discreetly exercised while waiting in line.
Before starting a program with clients, she makes sure they are cleared by their doctor and finds out if they have any special needs or problems. She can provide sample menus to those who want diet guidance and will provide weigh-ins, if requested, but said most people don't want that. They are more interested in maintaining a healthy lifestyle than in a weight-loss regimen.
Back at the fitness center, Nicholson leads a group of regulars three times a week in a class she started in 2008. Most of them are in their 70s or 80s.
"I designed it especially for seniors," she said, because she had noticed that some of the older members of the gym seemed to be intimidated by younger enthusiasts. Originally, it was offered only on Wednesdays, but it was highly popular – about 20 people showed up for the first class – and soon "they said, 'this once a week is not going to cut it.' "
So now it's offered Mondays, Wednesdays and Fridays.
The group is putting the final touches on a DVD called "Seniors Sweatin' in the V.I.," she said.
In addition to her work commitments, Nicholson volunteers, leading exercises twice a week for residents at the Eldra Schulterbrandt Living Facility, and she conducts a class at her church, Impacting Your World Christian Ministry.
"I try to make it fun," she said. "I incorporate dance moves," infusing routines with a little Latin and other styles. "I know I help people, and it also keeps me in shape. So it's a win-win."
Nicholson proudly read from some of the holiday cards she received from clients.
"Thanks for making my life healthier and happier," one read. "Thanks for saving my life" said another.
"When people respond to you this way, you know you're doing what you're supposed to be doing," she observed.