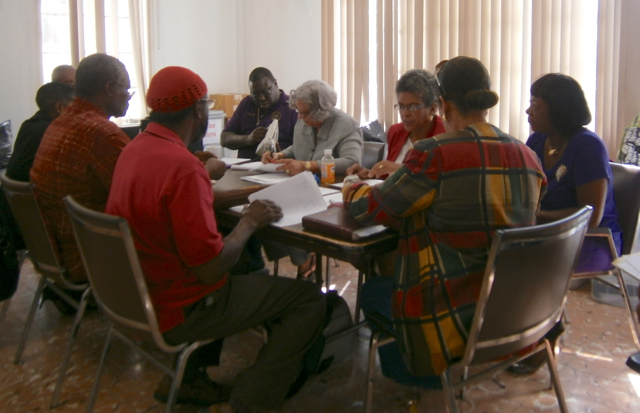 The Joint Boards of Elections voted Thursday to grant back pay and issue a formal apology to Deputy Supervisor Mable Maduro following a 30-day suspension.
In its meeting on St. Thomas, the board voted that a formal letter of compliant received Sept. 8 from Elections Supervisor John Abramson asking for Maduro's termination, be rescinded and her record expunged.
Ross had the letter in his possession since Nov. 8, choosing Thursday's joint meeting, the first formally scheduled meeting since the general election, to address the combined boards.
"It was my decision to table the letter until after the elections." said Ross. "No one is at fault but me."
Abramson asked for Maduro's dismissal in a Sept. 8 letter, citing poor job performance and going so far as to call her a "serious liability" heading into the General Election. The complaint arose during Maduro's bid for the senate-at-large seat and Abramson's belief that it would constitute a conflict of interest with her elections job.
The motion to terminate failed at a September meeting. Instead the board issued a 30-day suspension of duties without pay.
At Thursday's meeting, St. Croix Board member Claudette Georges moved that Maduro receive full back pay. Board member Adelbert Bryan proposed an amendment that a public letter of apology be issued. The motion passed 8-0, with Ross abstaining.
Maduro's apology was the last act of business of a contentious morning meeting during which presentation of reports by both districts were repeatedly interrupted. Heated conversation between Bryan and Ross on the subject of absentee member Alecia M. Wells threatened to bring the meaning to a halt.
At issue was the legality of Wells' participation via teleconference. Assistant Attorney General Kimberly Salisbury, sitting in as the board's counsel, that a board member could participate in discussion via telephone, but was not allowed to vote on any decisions brought forth. Wells then gave her post-election report for the St. Thomas/St. John District, over Bryan's objection that the report was not submitted in writing.
Maduro, reporting for absent supervisor Abramson, said her suspension and a medical leave were the reason the relocation of the St. Thomas-St. John Elections has not been completed. The office is being moved to an upstairs site at Banco-Popular in Estate Thomas. The move is scheduled for Dec. 19-21, following building and fire marshal inspections.
In other action, Ross reported on the territory's newly purchased voting machines. At a cost of $646,000, the purchase, approved in July, also included new voting tabulators. The machines are slated to begin use in 2014.
The Election Assistance Commission, the federal office that accredits and certifies voting machines, had already begun the certification process, Ross said, and was working in cooperation with the machine manufacturer to speed the process along.
The meeting was attended by St. Croix District Board members Ross, Bryan, Ana Davila, Lisa Harris-Moorehead and Raymond J. Williams, and St. Thomas/St. John District Board members Harry A. Daniel, Claudette Georges, Colette White-Amaro and and Wilma Marsh-Monsanto.
The St. Thomas-St. John Board was scheduled for Thursday afternoon but could not be held due to lack of a quorum. On the agenda had been addressing the petitions for a recount of the 2012 General Election filed with the Board of Elections on Monday Dec. 3. The petitions were filed by Lawrence Olive, Diane Magras, Harriet Mercer and Wilma Marsh-Monsanto, who is vice chair of the board.
Members present were Harry A. Daniel, Claudette Georges and Marsh-Monsanto.
Daniel asked that Marsh-Monsanto be recused from the meeting as she was a co-petitioner, but Salisbury pointed out the issue was moot since they lacked a quorum to proceed.
"You all have the same recourse, and that is to file in District Court," Salisbury said.
Marsh-Monsanto criticized her fellow board members who did not attend for the "utter lack of professionalism."
"The board has a responsibility to the public to avoid additional court costs if at all possible." she said. "This board continues to disrespect not only the petitioners and fellow board members, but the public who elected them to office. Today's absences were clearly orchestrated with the intent of leaving petitioners no other recourse but to go to court."