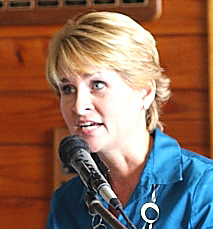 Five women were elected to the V.I. Legislature this year – one-third of that body – while the U.S. Senate reached a record 20 percent female this year, prompting talk of a potential women's majority locally and the increasing political power of women nationally.
But how significant a shift is this for the territory? Is a women's majority likely? And will it affect how the legislature runs?
The U.S. Virgin Islands now has a higher percentage of elected women than the U.S. Senate or House of Representatives (17.2 percent), and the national average for state legislatures (23.6 percent according to the National Conference of State Legislatures website). That puts the territory well behind Colorado, which leads the nation with 41 percent of its legislature female, but well above South Carolina, which brings up the rear with 9.9 percent.
But women have played a significant role in V.I. politics – and the Legislature – for many decades, nor is this the first time five women have served together in the same Legislature. The 20th Legislature, from 1993-1994, was one-third female too, with Sens. Alicia "Chucky" Hansen, Mary Ann Pickard, Judy Gomez, Lorraine Berry and Liliana Belardo deOneal.
And while this is only the second time five women have been elected, four women have served together on numerous occasions, including the 17th Legislature, from 1987-1989, during which Sen. Ruby Rouss of St. Croix briefly led a majority, with Hansen in the post of secretary of the Legislature.
Holding the post of president of the Legislature brings with it the power to set the legislative agenda and decide if a bill is sent to committee or not, making it perhaps more important than a single seat.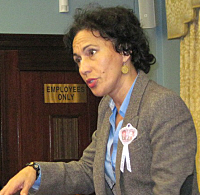 Rouss was the first to hold that position, way back in 1981 in the 14th Legislature, which had three female senators: Belardo and Sen. Ruby Simmonds, who served as secretary.
Rouss headed the V.I. Legislature long after the first head of a state house: Minnie Craig, who was speaker of the North Dakota House of Representatives in 1933. But she was 26 years ahead of Rep. Nancy Pelosi, (D-Ca.) who became the first female speaker of the U.S. House of Representatives in 2007. The U.S. Senate has never had a female majority leader, the equivalent post in that body.
Gauging the impact of this year's guava crop of elected women is not straightforward. The five women elected this year come from very different perspectives and disagree on many issues, including on whether there should be a women's majority that crosses party lines. But, in talking with the Source, most seem to feel it will have some effect on the margins, on the tone and focus of the body if nothing else.
"I do think it will have an effect," said Senator-elect Judi Fricks-Buckley (I, St. Croix) , in an interview with the Source. "I think it will be a more peaceful legislature – that's certainly no discredit to men, but we function a little differently. I think it will be a positive for the Legislature," she said.
Asked why this year saw more women elected than in the recent past, Fricks said more women were running on St. Croix and there was a bit more focus on women running.
"There were two female-only candidate forums this year. We did not see that two years ago," Fricks said.
As an independent, Fricks would be open to a nonpartisan majority, whether it included all the female senators or not. She said at the time of the interview a few days after the election there had been some talks among the elected and re-elected senators on that front, but nothing concrete.
Fricks and all the female senators interviewed emphasized that the territory's pressing issues would drive the 30th Legislature's agenda, regardless of gender, however.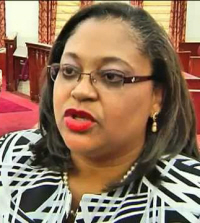 "I think our energy crisis is going to be at the top of the agenda," she said. "A lot of the candidates and newly elected senators have spoken about it. And we have to work with WAPA to do whatever we can as a body. This is the one issue that is crippling everybody. No one is immune to it."
Sen. Nereida "Nellie" Rivera-O'Reilly (I, St. Croix) similarly said women may legislate a bit differently.
"I think it depends on the women," O'Reilly said. "Just because you are a woman doesn't mean you would advocate on issues that impact women and children, although I would hope so," she said.
But women may take a different approach that goes beyond advocacy for issues affecting women and children, O'Reilly said, suggesting that women may take more attention to detail and arrive at decisions with an emphasis on the general welfare.
"As a constituent, I would be looking for more women legislators to work towards results that aim for the greater good of the community. And I think, secondly, they hopefully would look at issues that have a direct impact on issues that affect women," such as health, education and providing opportunities for women, O'Reilly said.
Regarding the role of women in a new majority, O'Reilly said she had not been approached but is "definitely interested," in forming a St. Croix caucus, if not a women's caucus. "St. Croix has been left out in the cold for decades," she said.
She said she had heard the Democratic Party had been meeting and talking about a Democratic majority, which she found objectionable.
"It makes me sick that people who were not elected by the public would determine what the majority looks like," O'Reilly said.
A Democratic partisan majority would include Democrats Sen. Janette Millin-Young (D, St.Thomas) and Senator-elect Diane Capehart (D, St. Croix) but not independents Fricks, O'Reilly and Hansen.
Millin-Young said women have long played a role in the Legislature, so it should be no surprise that they continue to.
"My grandmother Lucinda Millin, she was the first woman elected to the V.I. Legislature, and since we have been electing women since the 1950s it seems it should come as no surprise that we have five today," Millin-Young said. "Many of our pivotal points in history have been led by women," she said, pointing to the "queens" like Queen Mary who helped lead the 1878 Fireburn worker's revolt on St. Croix and Queen Coziah, who led the 1892 coal worker's strike on St. Thomas.
"I'm happy to serve with the women who were elected and I look forward to maybe forming a women's caucus," Millin-Young said. She felt a nonpartisan majority was unlikely, however.
"I don't want to preempt anything, but the territory did elect 10 Democrats," she said. "But there could be a sub-caucus addressing issues of interest to women," she said.
But she believes that being a woman is a secondary political issue.
"I'm happy we are moving away from whether the person is a woman or a man," she said. "I've never seen myself as a woman so much as a person. I've never proceeded in my career as (a woman) but I'm happy to stand as a role model for women to show that anything is possible and all careers are open to them."
Capehart agreed with Millin-Young that a Democratic Party majority was more likely than one that included all the elected women.
"There were only two women Democratic Party candidates elected, so I don't think it will impact how the majority is formed," Capehart said.
But that doesn't mean the influx of women will not affect the body, she said.
"Us being women and mothers, knowing how to manage families and money and balancing all of that knowledge, we will be able to apply some of those skills to the Legislature. So I think it will work out well having five women in there," Capehart said.