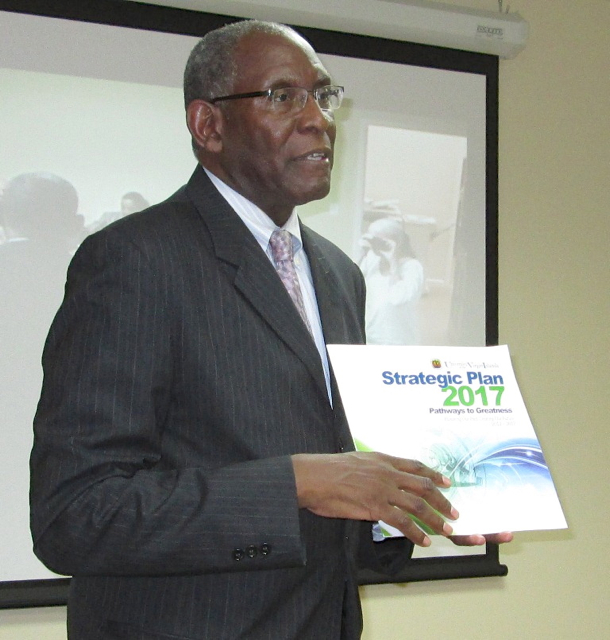 The University of the Virgin Islands unveiled its "Strategic Plan 2017: Pathways to Greatness" Monday at a meeting held at its St. John Academic Center in the Marketplace shopping center. Throughout the presentation UVI President David Hall stressed that the university doesn't operate in bubble.
"We need to respond to the needs of the territory," Hall told the dozen St. John residents and UVI staff members who attended the meeting.
Among the responses will be new undergraduate and graduate programs, exploring the feasibility of establishing a medical school, offering online bachelor's and master's degree programs, and establishing a doctorate program.
"We are committed in five years to have a Ph.D. program," Hall said.
Hall also said the university needs to be involved in finding a solution to the violence that plagues the territory. He spoke about the "assassination" of UVI graduate David Payne Jr., who was studying for a master's degree at the university when he was shot to death on St. Thomas Sept. 7.
"We lost a very precious individual," Hall said.
He said students indicated that on-campus child care was on their wish list, but Hall said the university would link it tp the university's early childhood education program to provide research-based child care.
The plan also includes stepping up philanthropic gifts and convincing the Legislature to restore the $5.5 million in local government funding it removed from the university's budget in the last two years as part of its austerity measures.
"Our hope is the economy of the territory will turn around," Hall said.
Haldane Davies, who serves as Hall's special assistant, outlined what went into creating the strategic plan.
"The process has been all-inclusive," he said, indicating that students, faculty, staff, administration, and the public had input into the plan.
As part of the plan, the university seeks to broaden its horizons by encouraging students to take a semester abroad and enticing students from around the world to attend UVI, Davies said.
Additionally, Hall said that while valedictorians and salutatorians from the territory's schools attend UVI because they get scholarships, the university needs to attract more high-achieving students from across the territory.
The development of a Caribbean Cultural Center is also part of the plan. He said that should happen in the plan's first year.
Improvements to the university's physical plants are also included in the five-year plan. Hall said an indoor sports complex on St. Croix, a major science building on St. Thomas and improvements to existing buildings as well as other improvements were planned.
The school plans to cut its fossil fuel consumption by 50 percent and to be a leader in the use of alternative energy.
Similar meetings will be held at 2 p.m. Tuesday in the Great Hall on the St. Croix campus and at 1 p.m. Wednesday at the Administration and Conference Center on the St. Thomas Campus.