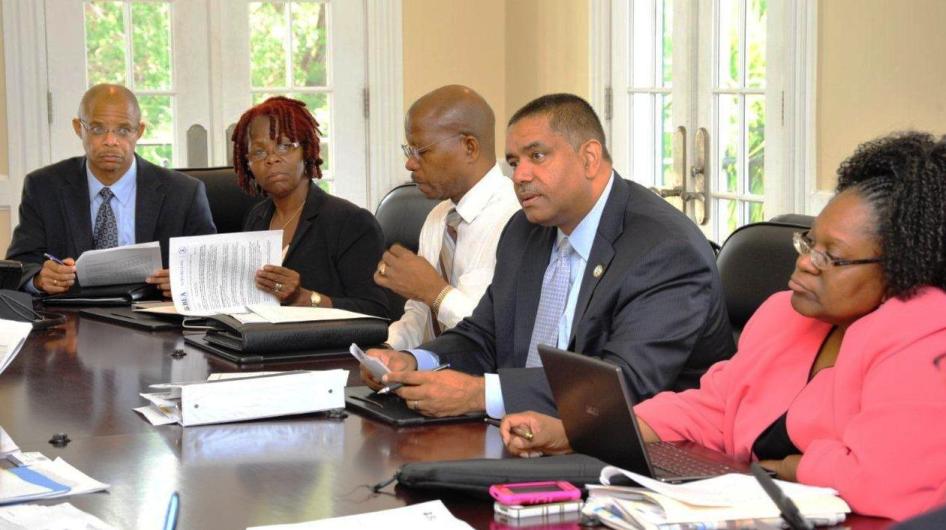 Gov. John deJongh Jr. and his financial team met with representatives from Fitch, Moody's and Standard & Poor's, the three national bond rating agencies on Friday and Monday to request ratings on the V.I. Public Finance Authority's pending sale of Gross Receipts Tax bonds, according to statement from Government House.
"Should the Legislature take final action of the my proposed energy savings initiative and capital projects, these bonds will provide funding for those projects as well, enabling us to move forward to implement energy saving projects and projects that will meet public need and provide economic stimulus," deJongh said Monday.
The PFA is planning to sell Gross Receipts Tax bonds to refund the outstanding Gross Receipts Tax bonds, Series 1999A, and lock in a lower interest rate. Refunding those bonds is expected to produce as much as $10 million in savings to the government over a multi-year period, Government House said. It is also anticipated that proceeds of the bonds will be used to pay off outstanding bank loans that provided funds for working capital and for the government's broadband initiative.
In Spring of 2012, in the wake of the Hovensa closure announcement, each of the bond rating agencies conducted reviews of their ratings on the territory's Gross Receipts Tax bonds. At that time, Moody's downgraded the Gross Receipts Tax bonds from Baa1 to Baa2 due to the anticipation of the adverse economic impact of the Hovensa closure on the territory, Government House said. Moody's also changed the outlook on the rating from stable to negative, also reflective of the consequences of the Hovensa action.
At that time, Fitch Ratings and Standard & Poor's affirmed their BBB and BBB+ ratings on the Gross Receipts Tax bonds, and Fitch also moved the outlook from stable to negative, indicating that a downgrade is a possibility, primarily based on the ultimate impact of the Hovensa closure on the territorial economy and on gross receipts tax collections.
"These were productive meetings. The bond rating agencies, and the institutional investment community for which they serve as important intermediaries, are critical stakeholders for our community," deJongh said. "They have consistently paid close attention to our efforts and provided important feedback."
"They understand that this is an important moment for our community," deJongh added. "The action by Hovensa came right at the moment that we have been anticipating recovery in our economy and key revenues."
The rating analysts' questions focused on the important balance between achieving fiscal balance and ending deficit financing, while at the same time supporting economic growth at this critical time, he said.
"Institutional investors demonstrated their strong support for our efforts when we sold Matching Fund Bonds in August," added PFA Executive Director Angel Dawson. "We were able to secure our financing needs at costs that were significantly lower than we anticipated. We are moving this financing forward now, as we have significant remaining investor demand for our securities."
The meetings with the rating analysts were productive and the department plans to continue to respond to their information requests as they complete their rating analysis, Dawson said in the Government House statement.