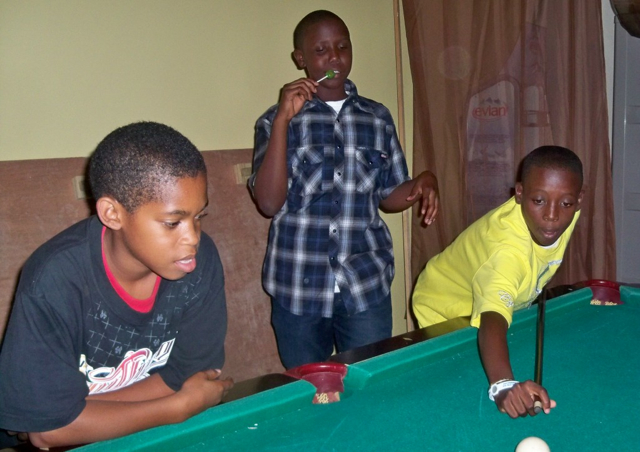 Victorious Believers Ministry has taken the lead on St. Croix in providing an evening of fun for youth at Friday Night Live.
The Ministry in Peter's Rest offers a safe and secure place for youth to make friends, learn Biblical teachings, and unwind after a week of school.
"I wish all of the churches that aren't doing this type of youth ministry would join forces and provide regular activities for local youth," the Rev. Reginald Perry said. "We offer a safe place for teens where there's no drinking or drugs."
Perry said the activity gives youth a fun place to hang out for three hours instead of being on the streets.
On St. Thomas, Transform 32, for youth is held every Friday night, sponsored by Living Hope Cathedral at Palms Court Harbor View Hotel.
"We offer clean fun with no threat of harm," the Rev. Carl Richardson said about the evening of fun and Bible teachings for youth.
At Friday Night Live teens can play pool, eat, socialize, and sing and dance to music provided by disk jockeys. On the fourth Friday of the month, youth can also attend Gospel Bowling at Tropical Ten Pins. Younger children, up to age 10, learn Scripture, play games, have contests, sing and let loose.
Youth pastor Rhea Jenkins said the youth can see that being a Christian isn't boring.
"They can still be a Christian and have fun," Jenkins said. "This type of activity is definitely needed in the community. This is a place to get the message out. It's casual on Friday, it's not like church, but a place to have fun and not worry about all the craziness that's out there."
Friday Night Live begins with Scripture lessons, worship and singing Christian songs.
"This is a fun place to learn about God and what he has done for us," said Martisha Charles, 11. "I like to get together with my friends here on Friday to sing and play games."
On a recent Friday the younger children made paper airplanes and then had a contest flying them. The noise level was high as they laughed and ran around. They sang religious songs and had a contest to see who knows the most Bible verses. The older kids danced in a darkened room with a colored disco ball spinning. Music was provided by Armani McLeod, age 16, and Chandy Jeremiah, 19. There was a little stand where the kids could buy refreshments.
Perry said they have been sponsoring the evening for youth, ages six and older, for five years. In the past they have had as many as 120 young people in attendance, he said. Right now they are averaging around 25 participants. Perry said he encourages parents to drop off their children for three hours and they can go off for a break and an evening out alone.
Janice Ford waited outside the ministry with other mothers while her children, age 19 and 12, took part in the evening's activities.
"The kids love to come here," Ford said. "We live in Frederiksted and they insist on coming. They're that excited about coming."
"I can't wait until Friday night," said 9-year-old Kendalisse Languedoc. "I get so excited. I like to be here with my best friends and run around and joke."
Perry said people have brought their children to Friday Night Live and ended up joining the church.
"We are always excited with new people attending and we do our best to welcome them and make them feel at home," he said.
"This is the best church I've ever been to," said Kylanny Titre, 11.
Victorious Believers Ministry is located behind the Brass Key home furnishings store in Peter's Rest. Friday Night Live is from 7 to 10 p.m. Information is available by calling 1-340-779-3733.
"I would really like to see youth ministries like these grow," Richardson said, on St. Thomas. "I would like to see more youth engaging in positive activities. We need this at this time."
He said about 40 youth of all ages join them every Friday and discover their gifts and God-given talents. Older youth are giving back and mentoring the younger children, he added.
Those who want to learn more about the Transform 32 youth program can call Richardson at 1-340-714-HOPE.