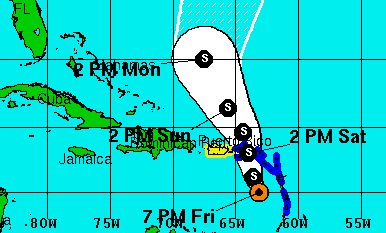 The National Weather Service issued a tropical storm warning for the Virgin Islands Friday as newly named Tropical Storm Rafael chugged north across the Caribbean.
After dithering about for a several days, a tropical wave skipped the tropical depression stage and pumped up to tropical storm strength. The warning means that a tropical storm is expected within 36 hours.
"The impact will be mainly rainfall, but there will be some gusty winds," Krizia Negron, a meteorologist at the National Weather Service in San Juan, said at 8 p.m. Friday.
She said the territory should expect sustained winds of 40 mph with gusts reaching 50 to 60 mph as the center of Rafael passes over or very close to the Virgin Islands. Residents should "secure loose objects," she said.
As for rainfall, Negron said the territory should see at least one to three inches. She urged residents to avoid low-lying areas because of the flooding danger.
According to Negron, conditions will start deteriorating later Friday night, with things starting to go really south by about 10 a.m. Saturday. She said Rafael will stick around all day Saturday into Sunday.
"The outer bands are already affecting St. Croix," she said.
At the 7:30 p.m. update issued by the National Hurricane Center, Rafael had winds of 40 mph. The storm was moving north-northwest at 12 mph. It was located about 220 miles south south-east of St. Croix.
Raphael is located at 15 degrees north latitude and 63.1 degrees west longitude. The pressure stands at 1006 inches or 28.71 millibars.
Small craft advisories were issued Friday afternoon. They extend until early Tuesday morning.
The V.I. Water and Power Authority announced it was monitoring the situation. WAPA's storm response teams are prepared and will respond as quickly as possible to service interruptions.
The Puerto Rico Symphony Orchestra and the Rising Stars concert scheduled for Saturday at the Reichhold Center for the Arts is postponed until Nov. 2.