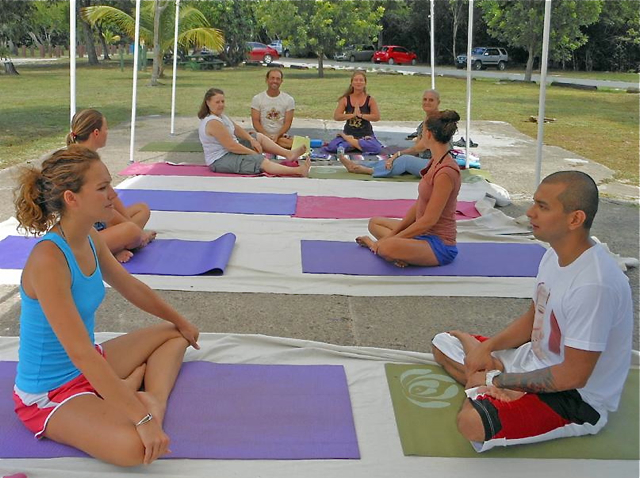 While about 300 school children celebrated the U.N. International Day of Peace Friday in song and dance at the Montessori School and International Academy, about 50 or so adults made their global pleas for peace Saturday at Magens Bay in a quieter fashion, on yoga mats where they performed 108 sun salutations.
But, that was later in a day that started at noon for the Magens Global Mala Yoga for Peace Day and Body, Mind, Spirit Fair. The sun salutations were at the end of the day when the sun was slowing.
While Montessori students worldwide sang "Light a Candle for Peace," one country after another, the 108 sun salutations for peace are offered world wide in an effort to promote health, wellness and peace in their communities.
Magens Beach shed three was a peaceful reserve Saturday, Tibetan prayer flags decorating the trees, music, drums, good food, good company, and all the activity you might want, whether dancing to the rhythm of the drums, taking a hula lesson from Diandra Jones, practicing yoga, or finding a nice shady spot to visit with an old friend.
Organizers Jennie Alveraz and Laura Nagi gathered together a wide swath of the healing community – practitioners offering various kinds of yoga, an assortment of massage treatments, including magnetic massage, reflexology, face reflexology, reike healing, all manner of herbal scents, oils and creams, vegetarian foods and even lemon macadamia cupcakes, (vegan, utterly divine) and harmless, according to Elisa Lacantena of Sweet Life Bake Shop.
And then there's Coach Freddie, a lifestyle coach who has turned to treating diabetes with what he calls "Common Sense," an online program he has devised.
Freddie said, "As a lifestyle coach, I saw several people who were suffering from diabetes. They were overweight, and the more I talked to them and asked about their diet and exercise, I realized how many people here have the disease with no idea how to treat it."
Bernita Samuel brought her usual bounty of fresh produce from her Green Thumb Farm in Bordeaux, bustling about unloading her bright green produce.
Loren Mahaffey, who founded 5Element Studio, is an essential element of the healing community herself. She spoke Saturday about the her yoga classes and body therapy, which includes treatments in Zen Shitsu, Craniosacral therapy. It is her aim to empower individuals through holistic integration of mind, body and spirit to lead a more balanced life.
And then there was Partners Yoga. Early in the afternoon, under white tents, yogis Katie Cunningham and Vitale set up shop, and before long 10 or so eager participants took to the mats, facing one another. Cunningham was funny in her introduction: "Thank you for being adventurous enough to try this," she said. "It's really the play of opposites. A sense of humor is a help, in case you fall or tumble over one another."
At four in the afternoon, when the sun was slowly moving downt he sky, the call to sun salutations began with about 40 or 50 practitioners and 12 teachers, with the calming chants of Kirtan, an ancient music tradition.
And the day ended. Peacefully.
Proceeds from the event will benefit the not-for-profit Ananda Nilayam Center for Conscious Living, which has created a program teaching local youngsters tools to promote peace in their lives and communities, including conflict resolution skills, yoga, meditation and breath work. Ananda Nilayam is currently teaching these skills to a group of girls participating in the Girl Power Kidscope Camp.