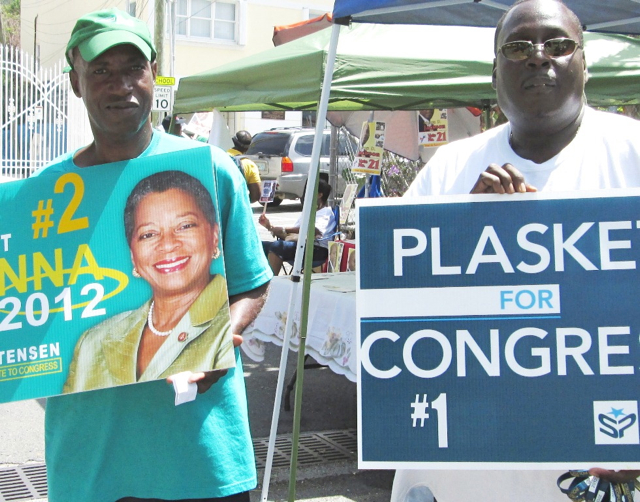 St. John residents Alvis Christian and Aubrey Bridgewater were supporting different candidates for delegate to the U.S. Congress, but they gave nearly identical reasons for doing so as the campaigned during Saturday's primary election.
"To make sure St. John gets its fair share," Aubrey Bridgewater said.
Bridgewater hoped voters would send Stacey Plaskett to Washington while Christian hoped they would keep Donna M. Christian there.
"Money comes from Washington, but why aren't we seeing more progress," Christian said, citing the lack of repairs to a crumbling Centerline Road and the lower portion of King Hill Road as examples.
While several of the candidates' supporters said the candidates had stopped by Saturday morning, Plaskett, along with senatorial candidate Clifford Graham and Sen. Shawn-Michael Malone, were at Julius E. Sprauve School campaigning at mid-morning.
"St. John is not the forgotten stepchild," Graham said.
The two other candidates had similar responses when asked why they were campaigning on St. John.
"I like to be accountable," Malone said.
Plaskett pointed out that St. John, which is home to the federally-owned V.I. National Park and has porous borders, has many issues that concern the federal government.
Turnout was slow, particularly by voters who normally cast ballots at Guy Benjamin School in Coral Bay. To save money, voters from both the Coral Bay and Cruz Bay areas voted at Sprauve School in Cruz Bay. At 11 a.m., 83 people had voted from the Cruz Bay area but only eight from Coral Bay. Those from Coral Bay usually vote at Guy Benjamin School.
"We've done better than that," Yvonne Wells, the Board of Elections judge overseeing the St. John polls, said of the numbers.
She said there were a few snafus when the polls opened at 7 a.m. because the election workers had to wait 10 minutes for the list of those registered to vote at the Sprauve polling place. Wells said it also took a few minutes to work out the logistics in the school's cafeteria.
"But by 7:30 we had worked it out," Wells said.
The poll workers kept the short line of those waiting to vote moving quickly. Calvin George was waiting for his father, Calvin George Sr., to finish voting, and said he too cast a ballot because it was his right.
"I want the best representation for the community where I live," he said.
He was chatting with Tony Boynes, who suggested that the territory needs some different people in office.
"Some people think nobody can defeat them," Boynes said.
Calvin George Sr. had a quick response when asked why he came out to vote.
"Because I'm a Democrat. It's my right and I've never missed an election," he said.
Several other people said they voted because it was their right, but Victor Johansson took it a step further.
"We are trying to keep society functioning. Always look forward," he said.
More than a dozen people supporting senatorial candidates agreed on one thing. Their candidate was the best, the one that would make a difference in the territory.
Some said they had a personal connection, others said they thought their candidate would be fair and still others said the territory needs a change. While most listed what they saw as their candidate's attributes when asked why they were out campaigning for a particular person, Vera Powell-Payne was more concise.
"I should have a voice," she said, supporting Clarence Payne for a seat in the Legislature.
The polls remain open until 7 p.m.