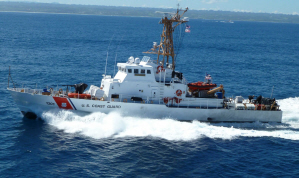 It's been a busy summer on the sea for law enforcement in general and the U.S. Coast Guard in particular. The Coast Guard cutter Farallon's crew offloaded approximately 2,035 pounds of cocaine Friday in San Juan, Puerto Rico – an estimated $25 million haul.
It was the ninth major drug interdiction the service has been involved in since May and was part of a larger seizure that totaled 3,300 pounds, the Coast Guard reported.
According to Capt. Drew Pearson, Sector San Juan commander, the Coast Guard "has been involved in keeping over 7,000 kilograms of illicit drugs from reaching our shores and bringing 29 criminals to face justice.
"Each interdiction has been the result of coordinated efforts between all law enforcement agencies here in Puerto Rico, the Virgin Islands, and in this, case the Dominican Republic Navy."
The seizure, which took place Monday at sea, had a value of more than $25.5 million, according to a statement from the Coast Guard. The drug shipment was transferred to the custody of Drug Enforcement Administration special agents, working as part of the joint federal law enforcement Caribbean Corridor Strike Force Initiative, for further processing and proper disposal.
A news release from the Coast Guard told this story of the seizure:
While on routine patrol late Monday night, a Coast Guard Air Station Miami HC-144 Ocean Sentry aircraft spotted a high speed vessel, known as a "go-fast boat," headed north towards the Dominican Republic, approximately 21 nautical miles south of Isla Saona, Dominican Republic. The Ocean Sentry crew directed Farallon into pursuit and saw the suspected smugglers tossing contraband overboard from their vessel.
The Coast Guard lost contact with the vessel but was able to recover 37 bales of cocaine from the water with the assistance of the Ocean Sentry aircraft and a Coast Guard Air Station Borinquen MH-65 Dolphin helicopter. After being contacted to assist, the Dominican Republic Navy was also able to recover an additional 23 bales of cocaine. The combined estimated weight of the shipment recovered was 3,300 pounds with an approximate street value of $41 million.
The interdiction was part of federal law enforcement efforts in the eastern Caribbean to deny transnational criminal organizations air, land and maritime use of eastern Caribbean transshipment routes for illicit drugs, weapons and cash. Patrol boats such as Farallon are the workhorses of America's littoral maritime fleet. Coast Guard patrol boats' speed and flexibility deliver a blend of military capability, law enforcement authority and lifesaving expertise wherever needed along the coast, the Coast Guard said.
The 110-foot Farallon is home-ported in San Juan along with three other similar vessels.
The summer's activity at sea started with a seizure south of St. Croix. In circumstances similar to those of Monday's action, the smugglers were first spotted by helicopter, then chased by Coast Guard cutter Sapelo. The boat eluded capture, but not before jettisoning cargo which turned out to be 2,833 pounds of cocaine valued at more than $25 million dollars.