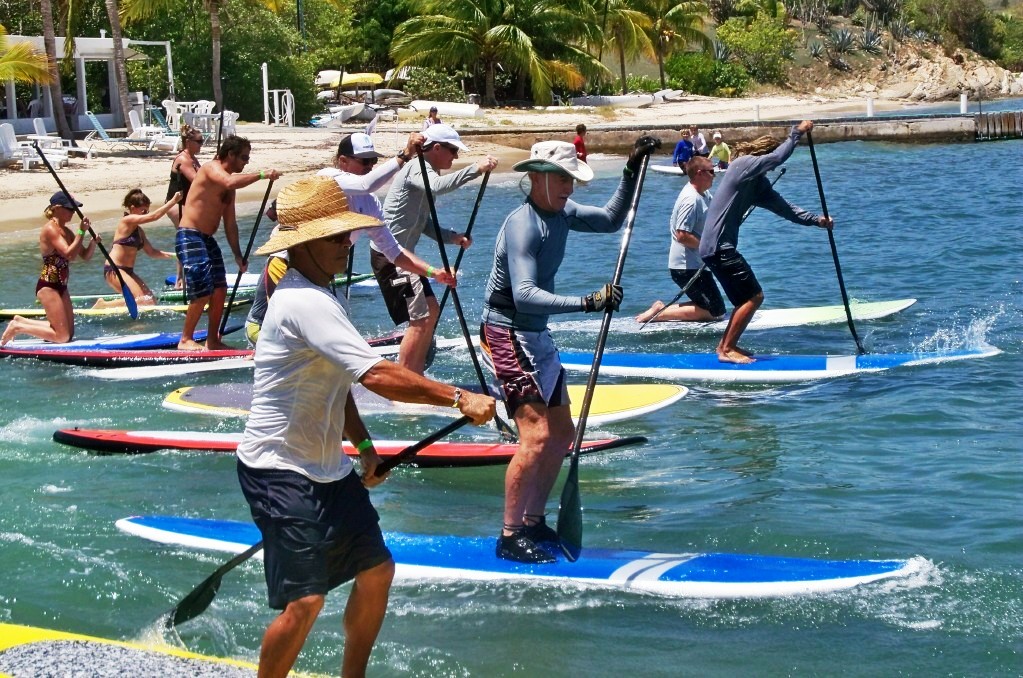 The water was flat and calm Saturday on the east end at the St. Croix Yacht Club, making it a great day for competitors in the second annual Stand Up Paddle Board Race fundraiser for St. Croix East End Marine Park.
The Friends of the St. Croix East End Marine Park sponsored the race to help expand existing park programs such as its education and outreach programs and to create additional community activities.
Some contestants breezed through the race on the stand up paddle board that requires upper body, core and lower body strength. Half-way through the race some folks knelt and some sat on their boards drifting in the breeze.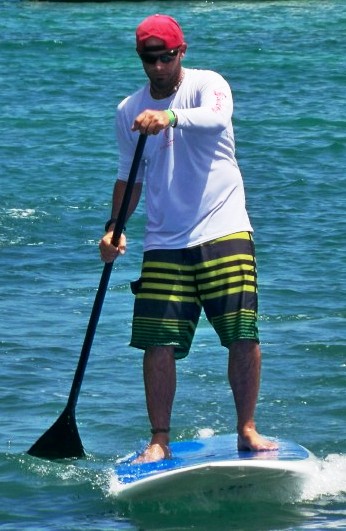 In the 1.5 mile open race entrants had to paddle out and back, get off the board, run a few yards down the beach and hop back on the board. One woman said she was working on her tan as she took her time in the foot race. Another young lady appeared to be around seven months pregnant.
Race coordinator Marija Micuda said they chose the Stand Up Paddle Board race because it is a growing sport on St. Croix. It attracted a number of buff-looking young folks and some healthy older folks as well.
Bobbie Cooper, 66, looking tan and fit in a pink bikini, said this was her second year competing. "I'll do anything to support the Marine Park," Cooper said. She added it was a tough race, but she is happy she did it.
Challis Diaz, 17, said she did the race for the fun of it. "I'm really tired," she said after finishing third in the women's race. Diaz appeared to handle the board effortlessly, and as a sailor, she spends a lot of time on the water.
Peter Stanton, who came in third in the men's division, said it was his second time stand up paddleboarding, but since he grew up on the water and windsurfed as a kid, it came easy to him.
Isabelle Piccard and Bill Kraft, owners of Kite St. Croix, raced with their own boards, as well as providing boards for others to use.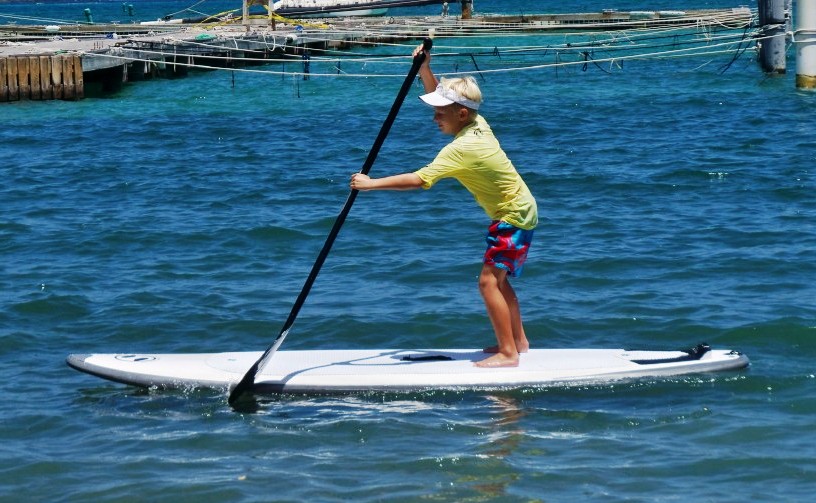 There was a limited number of boards and there were so many entrants that they had to race in heats. The race was suitable for everyone with open races, a relay, and races for kids and parents.
There were 35 racers participating, including in an added kids relay. "The kids requested a relay race, which was great to see them so excited," Micuda said.
Chris Ferreras won first for men, John Harper was second and Peter Stanton came in third.
In the open women's division, Debbie Schreiber took first, Diane Burns was second and Challis Diaz got third place.
Spectator seating was perfect on the beach at the Yacht Club. There was a good view of the racers and the Caribbean Sea that is part of the park.
Art glass trophies by Jan Mitchell were awarded and a raffle was held for a wide array of items.
The St. Croix East End Marine Park encompasses an area of approximately 60 nautical miles with 17 miles of shoreline. Its mission is to manage these natural and cultural resources for current and future generations.
The park is overseen by the Department of Planning and Natural Resources Division of Coastal Zone Management division. Programs include biological monitoring of park resources as well as public outreach that includes classroom presentations, bayside walking and snorkel tours, and the mobile ECO-Van.
The Friends of the St. Croix East End Marine Park, a sponsored project of the St. Croix Foundation, was established to assist the park in fulfilling its mission of resource protection. The Friends is a membership-based organization that supports the East End Marine Park to promote the responsible enjoyment of this natural treasure.
Visit www.friendsofstxeemp.org or contact Micuda at 718-3367 for more information about the Friends of the St. Croix East End Marine Park.