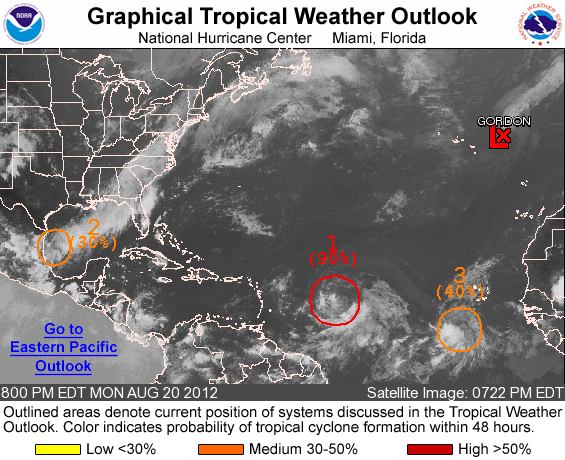 While the area of low pressure now heading westward across the Atlantic isn't yet a tropical depression, it's poised to become one at any moment. And the territory will definitely get some weather out of this system, according to Jose Alamo, a meteorologist speaking from the National Weather Service in San Juan.
"Regardless of the development there is a chance of a significant increase in shower and thunderstorm activity Wednesday through Thursday," Alamo said Monday evening.
With those thunderstorms will come some wind, Alamo said.
Whether it's Tropical Depression 9, Tropical Storm Isaac or just a tropical low, Alamo said it will pass about 100 miles south of St. Croix around 2 a.m. Thursday.
"That's a very rough estimate," Alamo said.
Small craft advisories have been posted for Tuesday evening through Friday afternoon.
At the 8 p.m. update on Monday, the National Hurricane Center gave this low a 90 percent chance of developing into a tropical depression or storm within the next 48 hours.
Alamo said the Hurricane Center is just waiting for thunderstorms to increase around the center to give it a number or a name. He said if it doesn't happen at the 11 p.m. update, it will by the 5 a.m. update on Tuesday.
The low is now located 800 miles east of the Lesser Antilles. It's moving west at 20 to 25 mph.
The National Hurricane Center update said tropical storm watches could soon be posted for the Leeward Islands.
There is still uncertainty with this weather system, and Alamo said if it slows down, the territory will be under its influence even longer.
It's a large system, and Alamo said a lot of moisture is coming with it.
Another area of low pressure is about a week behind it. It's moving west at 15 to 20 mph. Alamo said it's way too early to know for certain whether it will be a tropical wave or a "cyclone" when it passes the area. If it gains tropical storm or hurricane status, its name will be Joyce.
"And some models have it dissipating by the time it gets here," Alamo said.
Hurricane season officially ends Nov. 30.