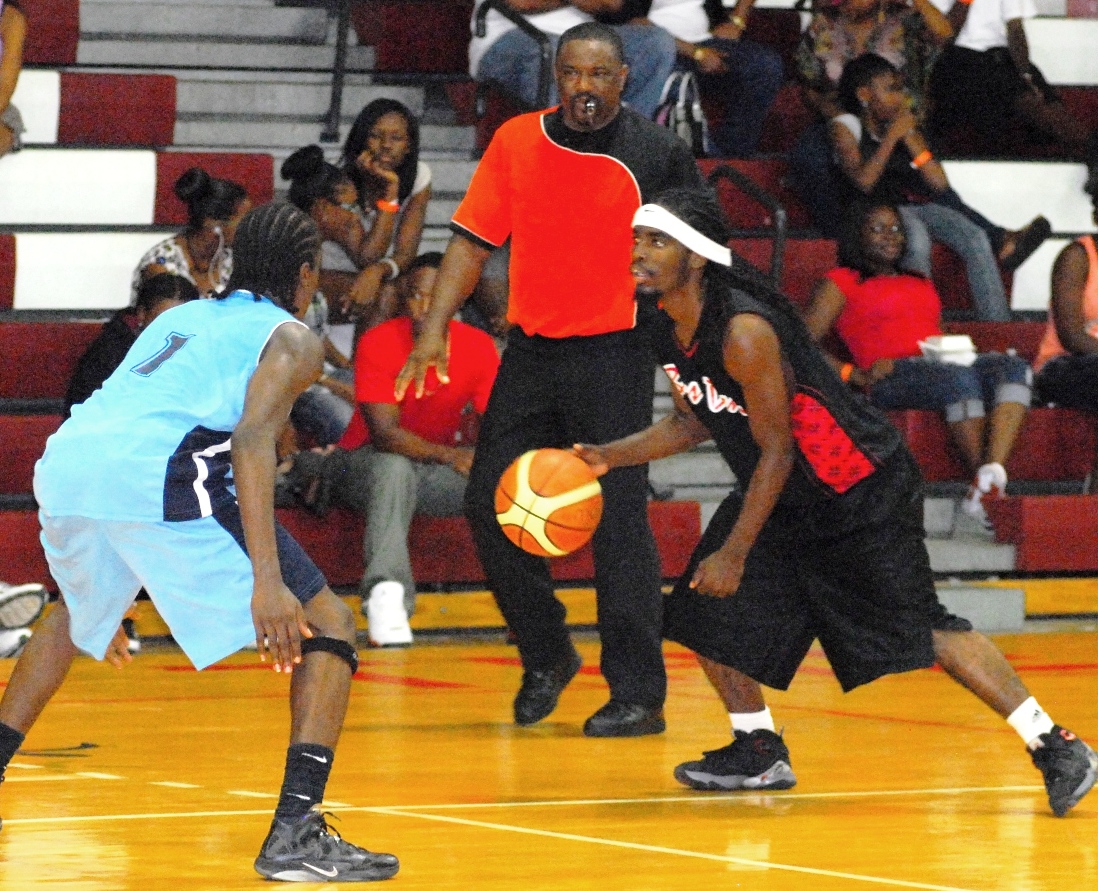 Boys Dem outlasted Guidance, 90-88, in a hard-fought first game of the New Breed Basketball League 2012 finals on Saturday at the Ronald Charles Gymnasium on the Central High Campus. The teams battled like two heavyweights throwing haymakers, staggering the opponent, but neither could not deliver the knockout blow. One team would gain the advantage only to see the other storm back moments later.
Boys Dem started fast and had the advantage early, and led by Zomari Swanston with seven first-quarter points, they outscored Guidance, 25-14, to lead by 11 after one.
Guidance came out swinging in the second quarter, however, with Jerome Nathaniel hitting back-to-back three-pointers and Ryan Rawlins scoring seven in the period to help their team outscore Boys Dem, 27-17, to trail by just one at, 42-41, heading into the locker room at the half.
Zomari Swanston and Wilson Ferrance exploded for 12 and 10 points respectively for Boys Dem in the third period, but their tally was neutralized by a balanced attack from Guidance, who was able to knot the game at 70 by taking the third period, 29-28.
The scene was now set for what was arguably one of the league's best finishes of the year. Urged on by their respective fans, both teams let it all out on the court. Back and forth they went, shot for shot. Boys Dem got a bit of breathing room on a couple of occasions by going up four points or so, but back came Guidance to take a lead of their own.
With less than a minute to play, Boys Dem led by two at 87-85, but there was Nathaniel again hitting a clutch three to give his team a one point lead, 88-87. Kadeem Jones then dissected the Guidance defense for a tough layup and a one point lead for Boys Dem, 89-88.
Guidance failed to score on their next trip down the court and was forced to foul Ferrance with about three seconds left. Ferrance hit one of two and Guidance's last-ditch desperation shot fell way short as they lost the opener, 90-88.
Zomari Swanston led Boys Dem with 27 points and nine rebounds. He got good support from Ferrance who finished with 19 points, Jones 15, and brother, Rasheed Swanston, chipped in with 13.
For Guidance it was Mr. Everything, Nathaniel, leading the way with a game-high 31 points. Rawlins, Joelfri Polanco and Charles Sealy each had 12 points, and Stephaun Adams knocked down 10.
The action continues on Monday at the RCG, but while Guidance will be reinforced by their off-island players, Boys Dem will be losing their No. 1 ball handler and floor general, Kadeem Jones, who will be heading back to school on the mainland on Monday.
"It's a big loss, but we will just have to adjust," said coach Keith "Zoro" Swanston. "I have a few people who I can put at the point; we will see what happens."