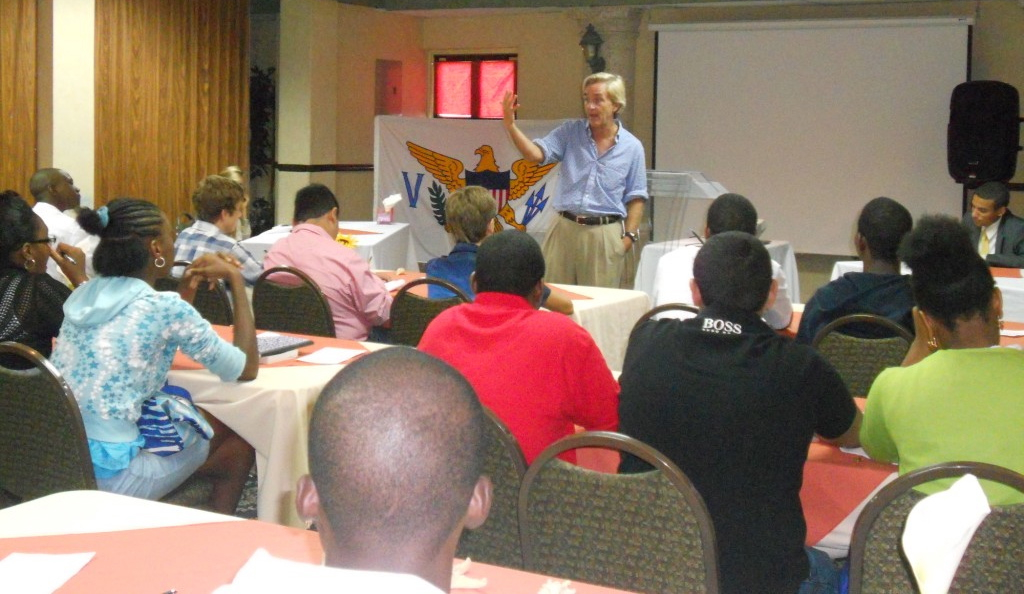 Opportunity was the word of the day Saturday at the 2nd Annual Expert Series, hosted by the V.I. Scholars Summer Leadership Institute.
Keynote speaker Noreen Michael and institute chief executive officer Lincoln Liburd highlighted the importance of opportunity in beginning the journey towards success.
More than 40 people, including 14 students in the scholar program, joined Saturday morning at Windward Passage Hotel for the Expert Series, in which successful people from the territory and beyond spoke about everything from social media to crime.
"Every day of your lives, there are bumps. Around here, we have potholes and the more we fix, the more we have, but that's how things are in life. We cannot be deterred when we find an opportunity to give back and fill in the holes," said Noreen Michael, former commissioner of Education and chief of staff at the University of the Virgin Islands.
Michael encouraged those present not to look elsewhere for opportunity, but to find it within and act on it. She stressed the importance of leadership and positive thinking, pointing out Liburd as a great example of what youth should strive for.
Michael and Liburd also discussed statistics in the territory, explaining that the U.S. Virgin Islands has high poverty, sexually transmitted disease and murder rates, but that in itself is an opportunity to act and better the lives of those in the region.
"We have to try to identify a different response to these types of challenges," Michael said. "I encourage each of you to consider each day of your life as an opportunity. Every single day of our lives represents and presents opportunities for us."
Liburd said that, in order to take advantage of these opportunities, students have to be passionate about giving back. Once young people have the will to succeed, they're empowered to bring about change.
Students in the program agreed that the institute and has helped them build a foundation for success and opened the door to numerous opportunities.
Marcus Norkaitis, a 13-year-old who will be a freshman in the fall, listed a number of classes he took over the summer, including non-traditional classes on things like how to use Google, and said he's excited to begin his social impact project.
"We combine all the information we're learning for every class to our social impact project. We present to the community and see if we can make a difference. It's awesome!" Norkaitis said, noting that he wants to do his project on the environment.
Igdaliah Pickering, a 14-year-old at Sts. Peter and Paul Catholic School, said her favorite part was learning how to communicate well with others. She said she had been looking for a summer job, but was excited to get a head start in school instead.
Jamal Forney, 16-year-old about to begin his senior year, said the institute prepared him for filling out college applications and said his program mentors have really prepared him to take the next step in his education.
The Expert Series is one of four components covered at the institute. There is also an academic program, leadership series and a mentoring program.
In the academic program, students study a range of topics, from public speaking to entrepreneurship, while they begin social impact projects. The leadership series brings out successful individuals in the community to speak about their experiences. The mentoring program gives participants the opportunity to help other kids in the community.
Liburd said he started the institute because he felt youth should be empowered to think critically, ask questions, learn and have access to expert opinions. He said the institute is still developing the four-year program, in which activities will change each year.
Liburd is working with schools and government offices to recruit youth for the program. The institute encourages parents, siblings and residents to get involved as well. Those interested can send an e-mail to contact@vischolars.org for more information about the institute.